Lisa Gartner
Lisa Gartner (BSJ10)
Pulitzer-prize winning journalist, investigative editor at the San Francisco Chronicle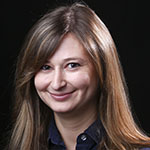 Why did you choose Medill?
I was a nerdy kid in South Florida looking to get out of my comfort zone while exploring my love for writing. I had been taking journalism classes since the ninth grade and loved that I could do that starting Day One freshman year. Basically, I was looking for top-tier academics and journalism, and that made Medill a no-brainer. Plus: snow. I had romantic notions of winter. (They were quickly erased.)
What was the greatest challenge you faced during your Medill career?
I was editing North by Northwestern when a student went missing and, days later, was found dead. That was an incredibly difficult time for me as a journalist and as a person. On the one hand, you're learning how to be a journalist; but in situations like that one, I put so much pressure on myself to get it right – down to the wording on captions. We tried to be accurate and first, but sensitive, too. I think we ultimately succeeded, and yes, I was crying the whole time. I do think about that week from time to time.
Why do you think Medill is unique?
Medill teaches journalism as both an intellectual pursuit and a trade. Students learn by doing, but also think critically about what they're doing and why they're doing it. It's such a rare environment and just the start of a conversation about journalistic practices and ethics that students will find themselves having for the rest of their careers.
What was your greatest achievement or best experience during the program?
Medill professors entered some of my stories into the national Hearst awards. I placed in both the features and profile writing categories and went on to win third place at the championship in New York. It was pretty neat. We all interviewed then-Mayor Michael Bloomberg, and I met some really cool student journalists from all over the country. On our last night in New York, we all went out together. We stayed up so late that we tracked down one of The New York Times delivery trucks and nabbed a paper. If that isn't journo-nerdery, I don't know what is.
How has your Medill training helped you in your career so far? Are there skills or lessons you learned at Medill that you still use today?
Absolutely. I learned that the most important questions you can ask aren't the ones that show off how smart you are but allow you to listen to what other people have to say: "How do you know that?" "Why?" "What did that make you feel?" I learned that the best thing you can do in an interview is make people feel comfortable and listened to. Not a bad life skill, either!
How have you tapped into the Medill network in your career?
I was living in a cruddy little apartment above a liquor store in Dupont Circle with a few Medill friends when a recruiter for the Tampa Bay Times reached out to Libby Nelson, a former intern there and Daily Northwestern EIC. She had just started a new job in D.C., but she gave my name to the Times, and that's how I got on their radar and ended up getting the job. Pretty lucky, but hey, the Medill network in action.