Sarah Schmidt
Sarah Schmidt (BSJ10)
Director of Editorial Operations at GQ Magazine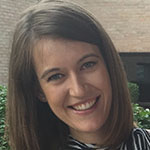 Why did you choose Medill?
I grew up outside Chicago and really wanted to go away for school. I had my sights set on New York. But when I got into Medill at Northwestern, I knew it was the right choice. Northwestern University offered the strongest academics of all the schools I applied to, and I knew the professors at Medill would teach me the skills I needed to land a magazine job in New York after graduation. And Medill's Journalism Residency program sealed the deal.
Why do you think Medill is unique?
Northwestern offers stellar academics but Medill offers a high-caliber education plus expertise and experience. Professors (who are often also working in the field) teach students real technical skills from basic reporting techniques and video editing skills to data analytics and graphic design and more. Students graduate with the unique combination of a liberal arts education and practical journalism skills.
How has your Medill training helped you in your career so far? Are there skills or lessons you learned at Medill that you still use today?
My Journalism Residency experience launched my career. I spent my fall semester senior year at Self magazine, where I contributed to an in-book feature, researched stories, transcribed interviews, pitched ideas, met with press representatives and more. Medill taught me how to work with accuracy and perfection. I'd like to think these skills are why I got a call from Self a week before graduation offering me a job as the assistant to the editor-in-chief. Without that crucial internship, I wouldn't be where I am now.
What advice do you have for someone who might be looking to pursue a degree in journalism?
Other than "Go to Medill," I think it's really important for anyone interested in studying journalism to start by consuming journalism. Read newspapers, watch the news, listen to podcasts. Develop an informed opinion on which outlets are doing groundbreaking work and why they are succeeding. Start your career in journalism with a keen appreciation for excellence in journalism.