Shelly Banjo
Shelly Banjo (BSJ07)
New York Bureau Chief at Bloomberg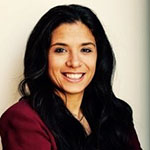 Why did you choose Medill?
I was drawn to the great, talented faculty and storied history of the school. I liked the emphasis on hands-on experience as opposed to just learning in the classroom, as well as the opportunity to double major and study abroad.
What is your fondest memory of your time at Medill?
I have two: My teaching media, as it was called at the time, in South Africa, the most life-changing experience I had in college. I also look fondly at starting our own news magazine, NUDE (Northwestern University Does Everything) with a handful of good friends from Medill, who I am still in touch with, many of whom were bridesmaids at my wedding last year.
What was the greatest challenge you faced during your Medill career?
They would probably be the same things as above. Jumping in to a foreign newspaper in South Africa with little experience working at national newspapers was a huge shock. But it taught me that as long as you are excited, eager and willing to work your butt off, you can really turn any difficult challenge into a memorable achievement. The same goes for starting a news magazine from scratch. Surrounding yourself with smart and driven people also helps when attempting something that once seemed completely out of the realm of possibility.
Why do you think Medill is unique?
Medill is unique because of the high caliber of teachers and students who have no concept of the word no. Really, anything can happen, and you'll have the institutional support as long as you have a great idea and are willing to work hard on it.
How has your Medill training helped you in your career so far? Are there skills or lessons you learned at Medill that you still use today?
Wow, I can't believe it's been 10 years since I graduated from Medill. I use many of the same lessons I learned there in my daily life, like the lesson behind the Medill "F," working hard to never make errors. I also learned how to utilize every resource at my disposal and always reach out to others for help and advice when I need it, making sure to also be there to help others when they come to me.
What advice do you have for someone who might be looking to pursue a degree in journalism? Or IMC?
No one goes into journalism for the money; it's a job of passion that takes real commitment and work. If it's not fun--the reporting, interviewing, researching, digging part--and you're not learning, then it's not worth it. Also, be careful about taking job X just because you think it might lead to the job you really want. Instead of taking the job before the job, find a way to do the role you really want, even if that means going out on your own or going to a less prestigious place.
How have you tapped into the Medill network in your career?
At every place I've worked, I've been able to tap into the Medill alumni network, whether that's bosses or colleagues. I've also been able to pay it forward, helping usher in interns and young reporters from Medill into the companies I've worked for, knowing you tend to be able to depend on anyone who graduated from Medill to hit the ground running right away.