Andrew Stroth talks representing Dwyane Wade, Michael Vick, Donovan McNabb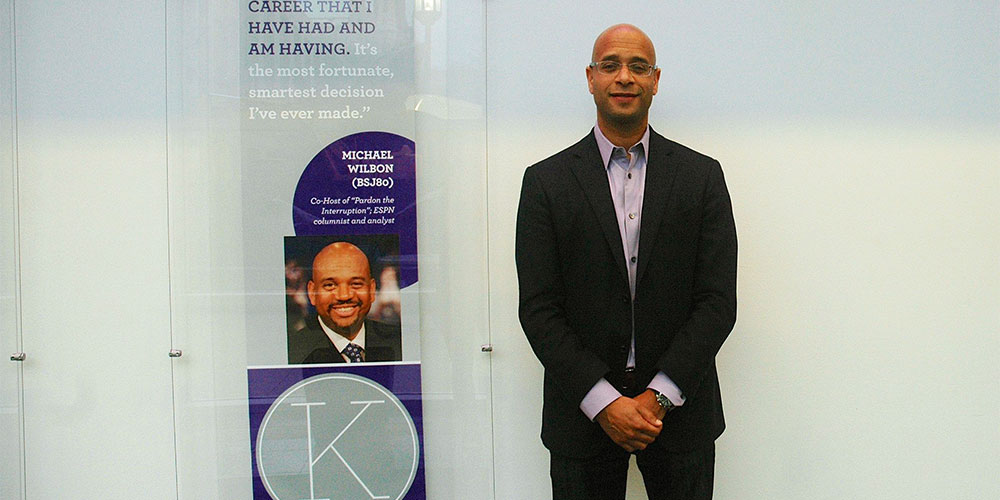 Andrew Stroth is perhaps best known in the sports marketing industry for negotiating an endorsement deal with Nike for NFL quarterback Michael Vick, after the brand had dropped the athlete for federal dog fighting charges.  
"Everyone deserves a second chance," said Stroth, president of Impact Talent Associates, Inc. and managing partner of Action Injury Law Group. "We convinced Nike management to do something they've never done before—never in Nike's history have they terminated an athlete for criminal conviction and then re-hired that athlete."
Stroth spoke to graduate students in Candy Lee's IMC Sports Marketing class about such notable career experiences, while highlighting the importance of strong personal relationships and integrity in a business that can often be cut-throat.
However, Stroth wasn't always in sports marketing. He started off working in client services for Leo Burnett, and left the company about four years later to try to break into sports marketing—only to be fired 10 months into his first job at DLB, Ltd. Nonetheless, Stroth still calls this moment, "the best thing that ever happened to my career."
"It forced me to go back to law school at Northwestern, and I started my own sports agency," said Stroth, who also serves as an NU adjunct professor of law. "So on Monday, I was just a regular guy, and on Tuesday I signed a kid named Chris Zorich, who played for the Chicago Bears and was a big Notre Dame star, and I had a client in sports [and was] breaking into the sports game."
Since then, Stroth has represented such high-profile clients as NBA star Dwayne Wade, NFL quarterback Donovan McNabb, Chicago Bears coach Lovie Smith, news anchor Robin Robinson and meteorologist Cheryl Scott.            
"I'm very selective with who I work with," Stroth said. "I only work with people who I think are marketable, people who are smart and have integrity, and who I actually like."
While Stroth acknowledged that he is allowed to be pickier with clients due to his track record of working with higher profile athletes and entertainers, he also noted that simply understanding people's interests is an important step to building lasting relationships.
"[Impact Talent Associates, Inc.] is a boutique shop, so the way that we compete is we try to develop real close client relations and strategic plans," Stroth said.
In addition, Stroth further separates himself from the pack by specializing in equity deals—compared with the majority of agents who deal monetarily.
"Deals aren't always about the money," Stroth said. "Cash is king, but my perspective is if you study the right equity deals, with the right companies, business models, people behind them, I would much rather my clients have equity."
Stroth's work doesn't end with the client. Recently, he's been busy as the managing partner for a new project—Action Injury Law Group, a personal injury and civil rights law firm dedicated to serving the Chicagoland community, according to his firm's website.
"I realized that in my community—in the black community on the South Side and the West Side—a lot of folks don't have access to legal services," Stroth said. "On the other side, I realized that I have a whole network of high-profile lawyers. So I created a new firm called Action Injury Law Group, which is going to become like Uber for folks who need great representation and a group of high-profile lawyers."
You can hear from guest lecturers like Stroth and other industry leaders by starting your master's degree at Medill IMC.