AP's Kathy Gannon honored with Medill award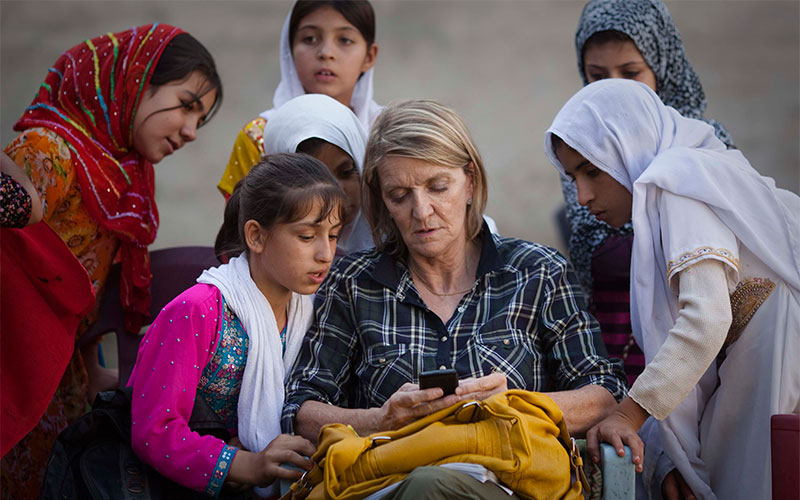 Kathy Gannon, the 2014 recipient of the James Foley Medill Medal for Courage in Journalism award, was honored by Medill in a ceremony on campus, Friday, Nov. 20. She talked to students about her work as an Associated Press foreign correspondent in the Middle East and Central Asia.  The event was free and open to the public.
Gannon's achievements was celebrated at 10 a.m. in the McCormick Foundation Center forum (1870 Campus Drive, Evanston). After Gannon discussed her work, she  answered questions from the audience.
On April 4, 2014, while reporting on elections in the province of Khost with AP photographer Anja Niedringhaus, an Afghan police officer fired an AK-47 into the backseat of the car containing Gannon and Niedringhaus. Niedringhaus was killed. Gannon, shot six times, was badly wounded. It was the first known case of a security insider attacking journalists in Afghanistan.
Still recovering from her injuries and grieving for her colleague, who she had been working with since 2009, Gannon continued to cover Afghanistan. Two months after the attack, she wrote about the prisoner exchange between the United States and the Taliban.
Gannon's win "comes on top of a long, brave and distinguished career spanning decades," said Ellen Soeteber (BSJ72), a member of the Medill Board of Advisers and a judge for the award. "She's a veteran dedicated to telling the story."
Gannon was introduced at the event by Richard Stolley (BSJ52, MSJ53), senior editorial adviser for Time Inc. Stolley served as a judge along with Soeteber and Medill Professor Donna Leff (BSJ70, MSJ71).The judges were unanimous in choosing Gannon as the winner of the 2014 medal.
Along with her many stories written for the AP, Gannon also wrote the book "I is for Infidel: From Holy War to Holy Terror in Afghanistan," detailing the experience of working as a journalist in Afghanistan during a formative two decades for the country. She arrived in the 1980s as the Soviet Union was being defeated by the mujahedeen and stayed for more than 18 years, witnessing the rise of the Taliban and the later intervention of Western powers. She details how upheaval affected ordinary Afghans, people she's lived among and reported about for decades.
Since 2003, the James Foley Medill Medal for Courage in Journalism has been awarded to an individual or team of journalists working for a U.S.-based media outlet who best displayed moral, ethical or physical courage in the pursuit of a story or series of stories. Last year's winner was Matthieu Aikins, who reported on alleged war crimes by U.S. Army Special Forces in Wardak Province in Afghanistan. His work was published in Rolling Stone magazine.
The medal is named for James Foley (MSJ08), a freelance journalist who was captured while reporting in Syria in 2012 and killed by ISIS extremists in 2014. The Medill Board of Advisers voted unanimously to rename the medal in his honor in 2014. Foley's parents, John and Diane Foley, will attend the event honoring Gannon on Nov. 20