Medill IMC brings Retail Analytics Executive Development Program to campus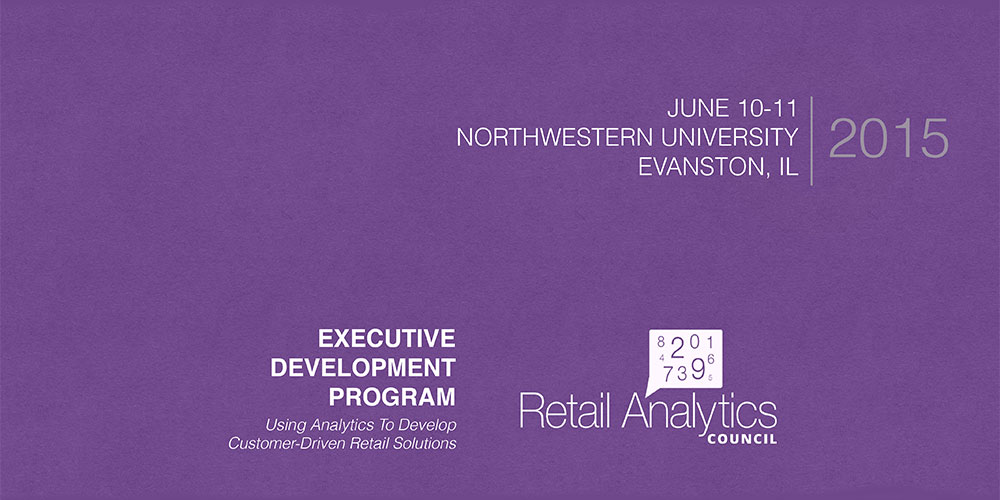 Are you a retail analytics professional looking to help your organization take advantage of cutting edge technologies? If so, our Retail Analytics Executive Development Program (RAEDP) may be for you.
The RAEDP, "How to Use Analytics to Develop Customer-Driven Retail Solutions," is a two-day event June 10-11, 2015 organized and hosted by the Retail Analytics Council. The initiative combines leading experts from our IMC department, Northwestern University and the Platt Retail Institute. During the program, attendees will:
-See and discuss the most current academic research and professional best practices;
-Set and shape the direction for research, and discuss research needs in the marketplace;
-Interact with retail analytic researchers and thought leaders from around the world, and;
-Learn from leading experts in the field about retail analytics in an Omni-channel environment.
The event is on-site at Northwestern University and features presentations from leading industry experts like Michael Kahn, Performics CEO; Gian Fulgoni, comScore Co-founder and Chairman Emeritus; Chris Duncan, Kohl's Department Stores Vice President of Strategic Marketing; and Jeff Donaldson, GameStop Senior Vice President. Medill IMC's Associate Dean and Professor Frank Mulhern, Professor Emeritus-in-Service Don Schultz, Professor Martin Block and Assistant Professor Vijay Viswanathan will also present on current research and IMC topics such as developing a customer-driven marketing communications framework.
Working professionals and Medill alumni are encouraged to attend.