Medill students engage with business, media, policy leaders in D.C.
The group of 24 students visited the National Institutes of Health, the UnitedHealth Group innovation center.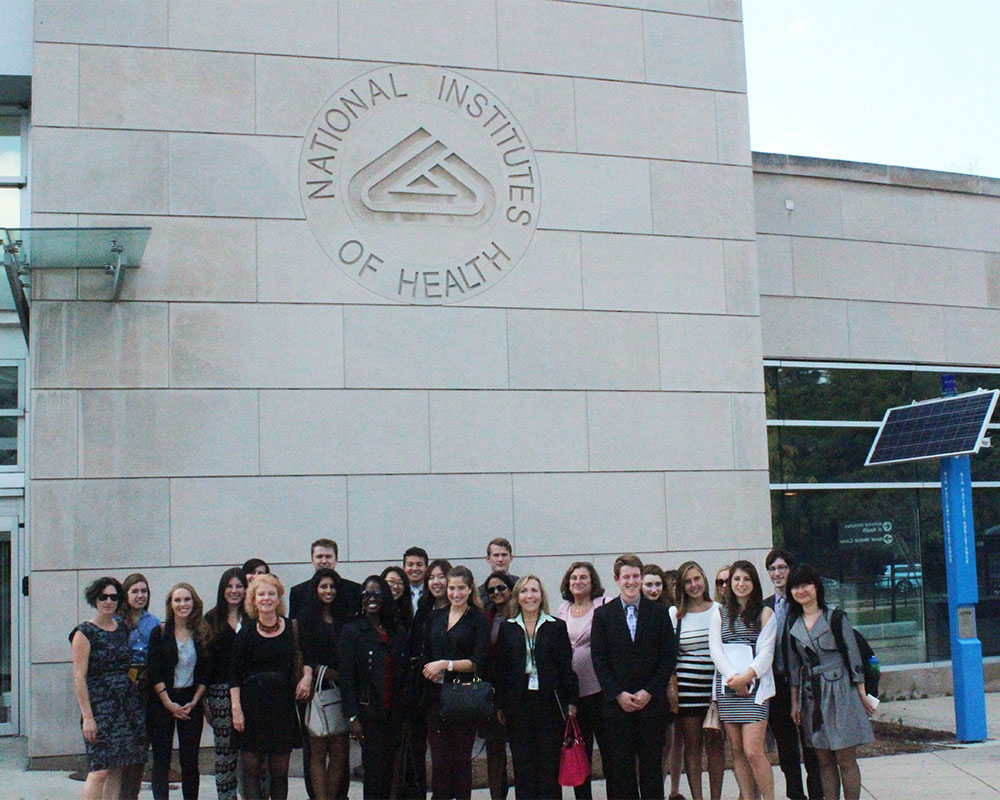 Twenty four Medill students traveled to Washington, D.C., this October to meet with business, media and policy leaders in the health care communications field at the Medill Health Care Conference: Key Topics for Journalists. 
Panels on health reporting covered technological innovations in health care, changing economics that could impact who receives care and career opportunities in the field.   
The student group also visited the National Institutes of Health headquarters and the UnitedHealth Group innovation center. 
According to recent government projections, national yearly spending on healthcare hit $3.1 trillion in 2014 and could reach $10,000 per person each year, on average, by the end of 2015. Costs are driven up by access to insurance with the Affordable Care Act and rising costs of drugs and medical procedures. Spending, as well as government health agencies, innovations and the politics of health care, provide a wealth of stories for young journalists to cover, but they need the resources and background to do so, experts said.
Panelists also covered controversies involving the Affordable Care Act, women's health and Medicare/Medicaid.
"The conference provided a broad perspective of the politics behind health care that I wasn't aware of before," said Brooke Wanser (BSJ16). "It was great to connect with people from different backgrounds who were able to come together and talk about our industry."
Keri Christensen, of Medical Home Network, told students about efforts to overcome barriers to proper health care for people on Medicaid.  MHN is a nonprofit, accountable care organization in Chicago that coordinates all aspects of health care between patients on Medicaid and health providers.
"The students asked really good questions and you could actually see connections being made between what presenters were talking about and what they might want to report on. It was really cool to see that process in action," Christensen said.
She explained the sessions were organized so students became acquainted with issues like the Health Insurance Portability and Accountability Act on the first day, so they could build on that knowledge throughout the conference and in future reporting.
During the NIH visit, students learned about the clinical testing process for developing new treatments for diseases. At the NIH, patients participate in clinical trials and receive treatments for rare conditions, students learned.  Unlike a regular hospital, the medical pavilion on the NIH campus has no emergency room or treatments beyond the scope of the research projects at hand. Students toured the facility, where scientists were working in labs and with patients. The 27 institutes include the National Cancer Institute, National Human Genome Research Institute and the National Institute of Mental Health.
A UHG tour walked students through apps members can use to monitor nutrition, fitness and health. They also discussed how they use data to infer member health situations and outcomes.
Medill faculty members Ellen Shearer, Donna Leff and Abigail Foerstner organized the conference with a grant from UHG that also covered travel costs for student participants.