Medill students win big at Chicago/Midwest Emmy awards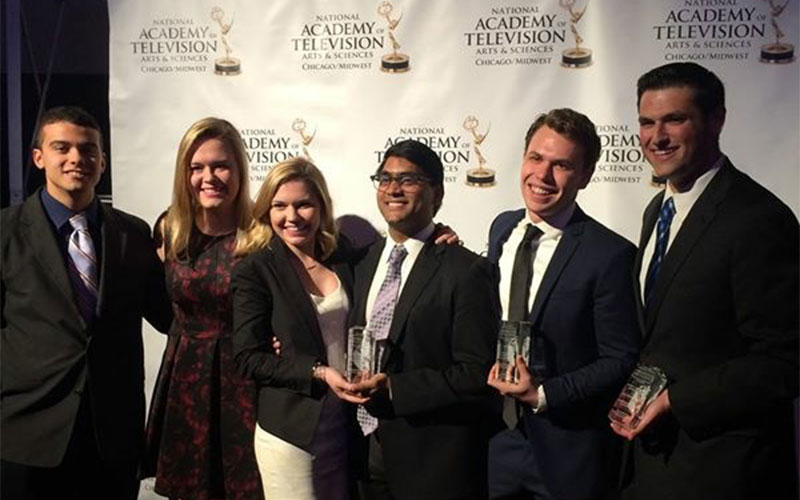 Work produced by Medill students, both inside and outside the classroom, emerged victorious once again at the Chicago/Midwest chapter of the National Academy of the Television Arts and Sciences Emmy awards, receiving awards in several college-level categories.
The Northwestern News Network (NNN) was recognized in three different college student production categories. The Northwestern News Report's "Chicago Show" received honors in the newscast category and individual reporters Jesse Kirsch (BSJ17) and Adam Mintzer (BSJ16) took home the Crystal Pillar award in the News: General Assignment and Sports categories, respectively.
NNN News Director Orko Manna (BSJ16) helped spearhead the "The Chicago Show," which was produced at the end of the 2015 Spring Quarter. Along with co-news director Amanda Gilbert (BSJ15), he led a team of reporters and producers to put together a show with in-depth packages about changes happening in Chicago. He said that the win felt "awesome," knowing how much work the group had put into the show; he and Gilbert didn't get much sleep during the final days of production.
"It was really overwhelming," he said. "You don't really expect those things to happen."
NNN team members emphasized the importance of collaboration in producing their award-winning work. Although his General Assignment award was technically a solo win, Kirsch said that NNN producer Carlin McCarthy (BSJ17) was a crucial partner in filming and creating many of the reel's packages. At the ceremony, he said it took him a while to process what was happening when they announced his name, but he felt gratified in knowing his work was being recognized beyond campus.
"It's cool to go from being a freshman just grabbing stories to being a big part of the team and being able to carry on the tradition of producing journalism at high levels with NNN," he said.
Assistant Professor Larry Stuelpnagel, NNN's faculty adviser, said that he's proud of the entire team's work, which has been lauded by the broadcast journalism industry as "one of the best student productions in the country."
"NNN produces serious journalism that helped launch some great careers," he said.
Work produced in Assistant Professor Brent Huffman's documentary production class also took home awards. "The Show," produced by Astrid Goh (BSJ17), Ted Tae (BSJ15) and Marlene Lenthang (BSJ17), won the Long Form category. The documentary focused on a Northwestern student and dancer named Rachel. Tae said he felt Rachel's story was important and relevant to share.
Medill alumni also did well in the professional Chicago Emmys categories. Fox6 News (Milwaukee) investigative reporter Meghan Dwyer (MSJ11) took home an Emmy for her education reporting on a University of Phoenix student being misled by school counselors about a degree program. The story, she said, resulted in an apology and compensation issued by the university, and preceded the national controversy about the for-profit college that led to a federal investigation.
This, however, was far from her first time at the NATAS Chicago/Midwest chapter awards. As an MSJ student, she took Huffman's documentary class, where she helped create a piece that was nominated for the college student awards. Although the piece didn't win, she said she found out about Fox6 News and their work at the ceremony, which won multiple awards that night. Huffman's class helped prepare her for the investigative work she has done.
"You can have the most interesting story in the world and a lot of good information," she said. "But if you don't present it in a way that makes sense to the viewer, you're not doing your job."
Complete list of Medill winners:
In the College Student Production – Newscast category:
Northwestern News Report: Chicago Show: Amanda Gilbert, Orko Manna, Carlin McCarthy, Isabella Gutierrez, Geordan Tilley, Omar Jimenez, Catherine Reid, Jamie Leventhal, Isabel Lawrence, Junius Randolph, Elyse Samuels, Kelly Norris, Sydney Alman, Jesse Kirsch.
In the College Student Production – News (General Assignment) category:
Jesse Kirsch General Assignment Reporting (reel): Jesse Kirsch
In the College Student Production – Long Form (Fiction and Non-Fiction) category:
The Show: Astrid Goh, Theodore Tae, Marlene Lenthang
In the College Student Production – Sports category:
Collegiate Crew: The Early Risers of Northwestern University: Adam Mintzer