New Northwestern space fosters innovation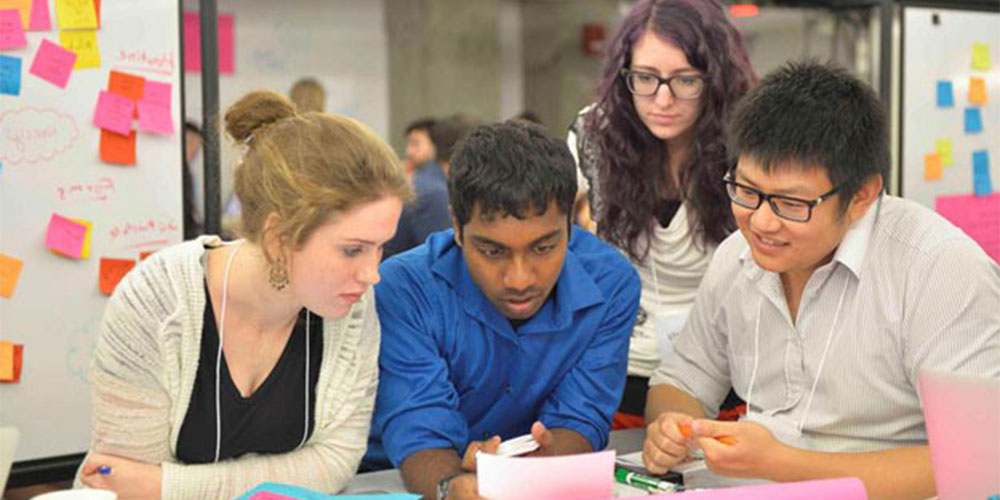 The parking garage of the Henry Crown Sports Pavilion might sound like a strange place to hold an Integrated Marketing and Communications class. But IMC professor Dan Gruber can't wait to bring his students for a visit.
That's because the the second floor of the parking structure now houses a new 11,000-square foot space dedicated to innovation and entrepreneurship, aptly called The Garage. Between the movable tables and walls made of whiteboards, the space lends itself to the collaborative, interactive learning that he emphasizes in his classes, Gruber said.
"It's such a vibrant and lively space," he said. "It really gets people up and moving. And I think that's a wonderful part of teaching and learning."
As the Medill faculty representative on the academic programming committee for The Garage, Gruber had a front-row seat for its development. After months of planning and meetings, the space opened this past summer, and recently hired its executive director, Melissa Crounse. Now, it's a hub for interdisciplinary collaboration among students across campus, who can work on teams to develop new businesses. Entrepreneurs-in-residence, alumni who have succeeded in the startup world, work in the space and mentor students. Meetings, workshops, speaker events and seminars will also be held there.
The opening of The Garage marks yet another resource available for students interested in media innovation and entrepreneurship. The Knight Lab, which opened three years ago, encourages students to get involved in media product development through software-building, said Professor Rich Gordon, Medill's director of digital innovation. The NUvention Web + Media class, a two-quarter class that simulates the process of developing an idea into a full-fledged business, has also provided an entrepreneurial outlet for students interested in creating media startups ever since Medill joined the NUvention team two years ago.
Now, The Garage could serve as the space in which student teams could continue to develop their ideas outside of the curriculum, Gordon said.
"We've built this pretty amazing infrastructure that allows for student-led entrepreneurial ideas to go from nothing to a development, to a business around their ideas," he said.
Crounse says she is open to all ideas from Medill students coming to The Garage, whether they're working on their own startup, or teaching other student teams about social media, idea pitches or customer interviews.
Throughout her years in Silicon Valley, she noticed that startups often struggled to find individuals with strong storytelling skills or understanding how to work with the press. This often made it difficult to explain their technology and vision to their audiences, she said.
"I think a lot of start-ups tend to be technology-driven first, and they forget that their customers are ultimately human," she said.
Communication-savvy Medill students can fill this gap, Gruber said. The skill set that students develop in journalism classes — interviewing and observing people, making sense of data, working across different media and platforms — transfer well to the world of product development and media innovation.
Medill's new MSJ specialization in Media Innovation and Entrepreneurship, which is now recruiting for its first June 2016 class, reflects this skill transfer. After a first quarter of taking core classes in Evanston, students will spend a quarter at the new planned space in San Francisco to work with local entrepreneurs. After that, students will spend their final two quarters building and launching digital media products in the NUvention Web + Media class, as the core of their experience. Gordon envisions plenty of overlap between The Garage and the new specialization.
As for formal programming with Medill, however, nothing is set in stone for now. For example, Gordon said that there are no set plans for collaboration between the Knight Lab and The Garage, though he believes that students in both communities share similar interests about technology innovation.
Alicia Löffler, the executive director of Northwestern's Innovation and New Ventures Office, said that this lack of any formal plans between Medill and The Garage reflects the space's emphasis on interdisciplinary collaboration. When she originally convened the planning committee during the 2014 Fall Quarter, her goal was to set a framework for the types of programs that The Garage would offer. Everything else, though, was to be shaped and driven by student teams. A lot of the programming and opportunities will be related to Medill, for example, but are not identified as Medill-specific.
"The whole purpose of The Garage is to be a place where everything blends together. We are trying to do our best not to separate the schools," she said "This is a place where things are converting, where things integrate."
This new infrastructure and general focus on media innovation and entrepreneurship is a Northwestern-wide startup in itself, Gordon said. Different schools, including Medill, will develop connections with The Garage as it matures and evolves. The key, he said, is in keeping an open mind about possibilities for collaboration.
"The reality is that the best ideas emerge organically and develop organically, as you see opportunities," he said. "That's sort of the whole premise of startup culture."
Gruber said that he looks forward to seeing how Medill students and faculty take advantage of the space, whether they work on startup teams, provide mentorship or attend events held there. As a professor who has taught IMC classes with students from across campus, he loves the idea of Medill students working with people from other programs.
"It's an opportunity to really collaborate and be open to those collaborations across disciplines and schools and see where they go," he said. "If you take that mindset, then a place like The Garage is a place where everyone can learn."