PepsiCo explains retail shopper marketing to Medill IMC students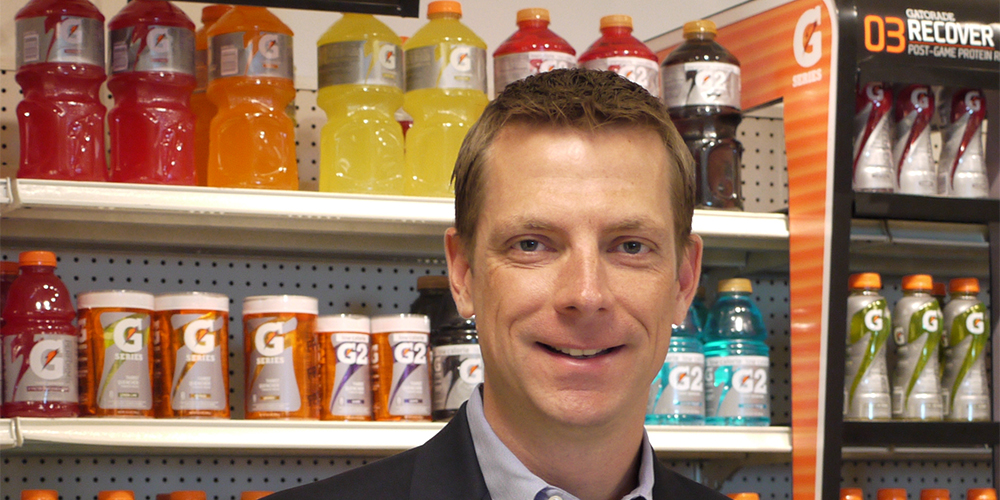 Bryan Jones of PepsiCo discussed the process of building brands at the retail level, and highlighted the techniques that most effectively drive shopper engagement on April 13 in Adjunct Lecturers Elizabeth Harris and April Carlisle's IMC shopper marketing class.
Jones has been the senior director of shopper marketing at PepsiCo for about two years, and while his team focuses on reaching and interacting with customers before, during and after their shopping experiences, they do tend to concentrate heavily on retail—in fact, 60 percent of purchase decisions are actually made in the store, according to Jones.
"You have to be activating at retail," Jones said. "It's the last chance to really influence shopper decisions."
In order to do this, Jones said, an important distinction must be made between consumer and shopper. Take the PepsiCo product Gatorade, for example. In this case, the consumer is often a performance athlete, and the shopper is what Jones calls the "sideline mom"—making for two very different marketing techniques.
"For [interacting with] the athlete, advertisements are more about aspiration, iconic imagery and creating a performance-based mood," Jones said. "Whereas for the mom, they have a much different look, feel and message—we show something that she can relate to, like a picture of her athlete."
Driving shopper engagement is not always as simple as that, and Jones' team considers a multitude of factors while creating their marketing plans.
The team first starts by determining their marketing objective—deciding who they want to reach, how they are going to do it, and why the customer would want interact with the product and the message in the first place.
Once this is considered, the team takes into account the retailer, and positions the brand so that there is a commonality between the two. For instance, when PepsiCo was marketing Diet Pepsi with Target, Jones' team looked for similarities between their brand and the retail giant in order to come up with their overarching marketing theme—"express yourself with style."
"It's not so much that we're making tradeoffs, but finding ways to coexist," Jones said.
Finally, the team outlines the different places they can engage with the shopper during the buying journey—first working to "prime the need of the product," then engaging with the customer during the actual retail experience and providing ways for the shopper to advocate the product once it has been consumed.
While the whole process might seem lengthy, the overall objective is simple, according to Jones.
"Our goal is to inspire shoppers to choose our brands throughout the shopping cycle," Jones said. "And at the end of the day, if someone doesn't buy the product, the goal is not accomplished."
You can hear from guest lecturers like Jones and other industry leaders by starting your master's degree at Medill IMC.