Student-run Medill IMC talentQ events focus around 'The Convergence of Marketing and Technology'
Student-run talentQ focuses on marketing and technology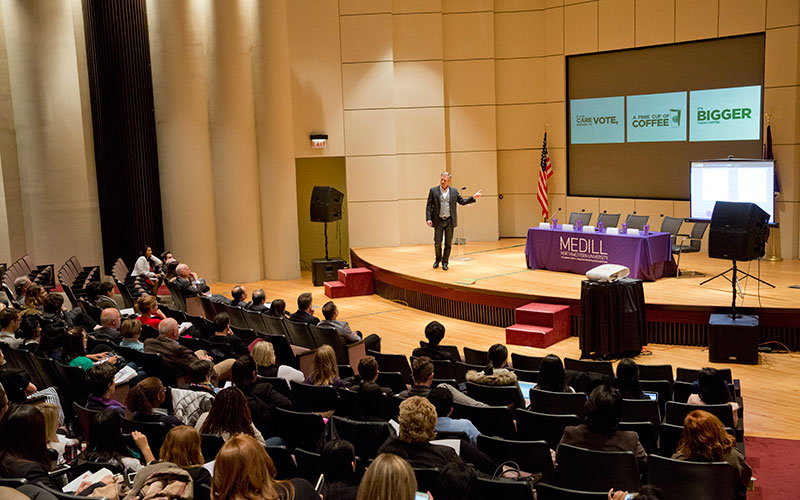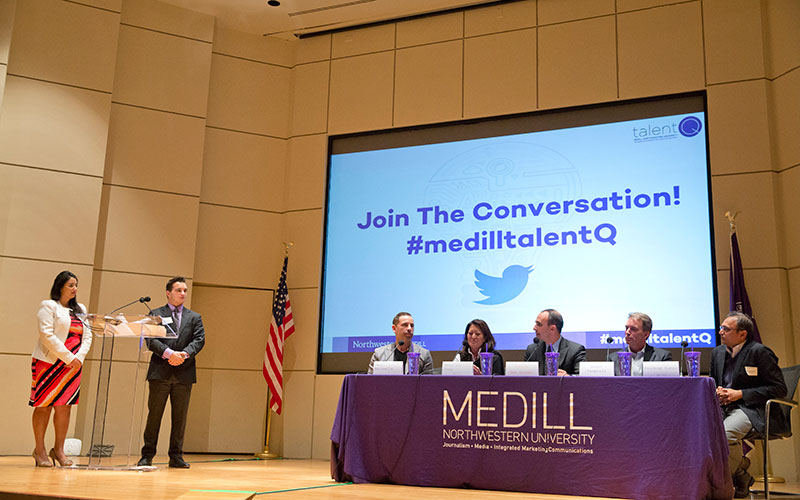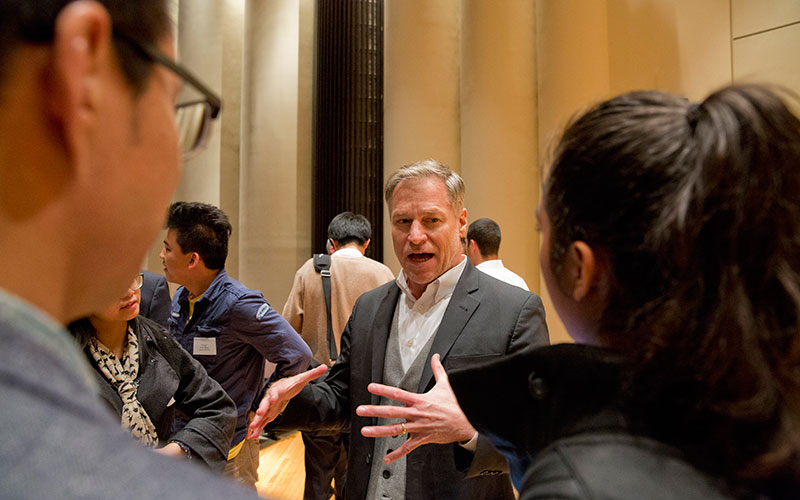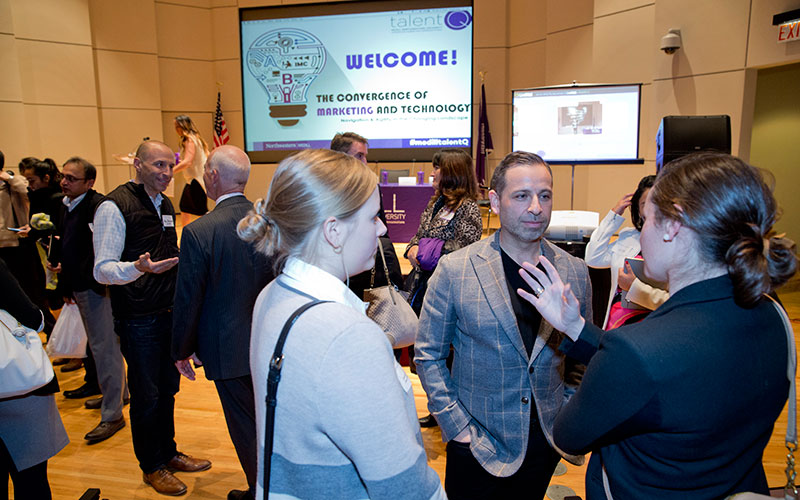 Top marketing leaders and Medill IMC students, faculty and staff came together to share research and insights about "The Convergence of Marketing and Technology" at the talentQ Expo, Thursday, Nov. 12.
This year's expo featured a keynote address by Terry Davenport (MSA82), SVP Marketing for Starbucks, who shared how Starbucks turned itself around following the 2008 recession. At that time, Davenport said, Starbucks was the butt of jokes because the company was seen as too ubiquitous and too expensive.
"We were literally sitting around in the boardroom afraid that maybe Starbucks was a fad," Davenport told the audience.
A challenge Davenport identified was how Starbucks could use technology to the company's best advantage, increasing the bottom line while building a loyal customer base. Davenport said data shows that by 2020 consumers will manage 85 percent of their relationships without talking to another human, so Starbucks wanted to engage customers where they were – on their phones, tablets and computers.  One way Starbucks has adapted to the technological growth is through their interactive mobile app, converting gift cards into a popular loyalty program and implementing mobile pay and advance ordering.
Though technology is important, Davenport said turning Starbucks' business around relied on thinking about the brand itself and learning about customer's needs. Here are seven of Davenport's top tips for building an iconic brand:
Start with your brand's values – Companies should be clear on their values because what you and your employees believe in matters first. Then, customers will believe it (and buy it), too.
Rock your core fans first  - The best way to grow your company is through taking care of your current raving customers and fans. Loyalists will bring their friends to join in!
Assert cultural relevance – Know your customers and what tensions are going on in their life, and give them an escape. Where does your brand and the customer's life intersect? How can your brand show that you understand them?
Get your story straight – Companies should know their narrative so they can understand their brand's current perception, where they desire to be and what needs to be done to fill the gap.
Innovate, disrupt and reinvent - Stay relevant and be a leader in your category.
Experiences trump products – People are seeking experiences more than ever today. One eye-opening insight Davenport shared was that a large number of Starbucks customers come for the experience over the actual coffee (Starbucks new reserve line of coffee is fixing that!).
Always start from the inside out – If people in your company aren't excited about what you're offering, no one else will be either. Build a team that's passionate about your products, first.
The expo also featured a follow-up discussion on marketing communications and the impact of technology by an all-star panel of industry experts, moderated by Medill IMC Assistant Professor Dan Gruber.
"In this dynamic global marketing environment, and as the moderator, I wanted to know how the panelists thought about [marketing and technology] both for themselves as leaders within their companies, and how they brought it to their entire organization, from structure and reward systems to culture," Gruber said.
Panelists included Scott Campbell, Colgate-Palmolive General Manager IMC; Pradeep Kumar (IMC03), FCB VP, Customer Intelligence Director; Paul Marobella, Havas Worldwide Chicago CEO; Mary Lou Song (BSJ91), FuelX CEO. They commented on everything from how technology done right can positively impact marketing communications to the different applications of technology across all aspects of business.
"Technology works best when you don't know it's there," Marobella said. "When you look at the Starbucks app, it's become so much a part of our lives, and it's so frictionless, and it's easy to use. The technology just enables better life and better living…that's what I took away from what Starbucks does well."
"Technology is at best a means towards an end," Kumar said. "Taking it not only for marketing communications but for everything else, like pricing, distribution, the four "P's" of marketing. Technology has applications everywhere."
At the event, Medill students demonstrated how Medill IMC is at the convergence of marketing and technology through an update of activities in the program's many research initiatives and partnerships:
Applied Neuromarketing Consortium - Faculty from Medill IMC, Kellogg School of Management and the Feinberg School of Medicine are using neuroscience and big data to understand how people make decisions and are influenced in the process of making choices.
Retail Analytics Council  - IMC faculty and the Platt Retail Institute are conducting research through data analytics tying consumer behaviors across shopping platforms and the impact of technology in the retail space. Martin Block and Don Schultz, two of Medill most distinguished professors, recently researched how young "mobile-only" consumers use mobile devices as part of their shopping experience.
Omni-Channel Initiative  – IMC students and faculty are building an Omni-Channel Business Model using IBM software and identifying the technological, analytical and marketing skills and systems required to develop and manage marketing programs in the digital marketplace. This program has also been built into the IMC curriculum.
Spiegel Digital and Database Research Center  - IMC students and faculty are researching if mobile engagement correlates with purchase behavior. They found app users and engagers spend more in terms of volume and frequency than non-app users.  But, customers who stop using a branded app for even just one month, actually spend less in the next period for that particular app.
TalentQ is a student-run group that aims to provide industry exposure and connection for Medill IMC graduates to better perform in the marketplace. IMC students plan speaker events and networking sessions where students meet industry professionals. The largest event every year is the annual Expo, featuring a keynote address and a panel on a specified topic.
For more information on other IMC projects or talentQ speaker events, or to apply to our IMC graduate program, visit our website.