Teaching teens to be journalists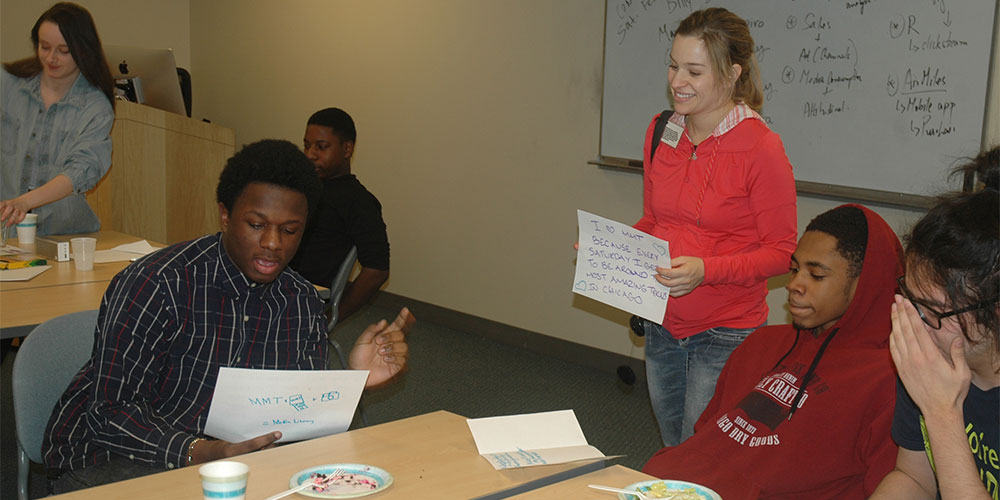 When Medill Media Teens began in 2010, Sarahmaria Gomez (BSJ05), Medill lecturer and director of the program, could fit all of Medill's undergraduate mentors in her Honda CR-V as they drove downtown to teach journalism to Chicago teens. The undergraduates trained students from neighborhoods in Chicago's Greater Grand Crossing area in basic journalism skills.
Now, in the fifth year of the program, Gomez guides a group of 30 high school students and 32 Medill undergraduates. The teens in the program are no longer taught just the basics; they now learn advanced print and multimedia skills in two years with the program.
"We all come to class for three hours, eight weeks out of each semester for two years, which is a big chunk of time," she says. "But [the teens] walk away with nice portfolios and learn how to shoot and edit multimedia stories." 
Over the course of the program, mentors help students conduct interviews, learn editing software, and craft print and multimedia stories that they publish to a class website. The main focus of Medill Media Teens is for students to realize their overall academic capabilities, Gomez says.
"We don't want to force them to be journalists," she says. "The point is to realize potential and become successful college students. We have a 100 percent high school graduation rate among students, and almost 90 percent are involved in some type of college or postgraduate education, which is an incredible achievement." 
Students are placed in groups of two or three with two undergrad mentors assigned to each group. High schoolers Marcus Jackson, Lawrence Wilk-Rodgers and Damien Gonzalez are all in a group together and have very different plans for the future. Jackson likes radio broadcast, and Wilk-Rodgers wants to be a filmmaker like Martin Scorsese. Gonzalez is still unsure what he wants. But he says the writing and social skills will carry over not only to journalism, but also to any career path.
"Whatever I do will be helped by my experiences here," Gonzalez says. "Whether it's being comfortable approaching strangers and professionals, or writing and editing pieces, I can apply any of these skills to my future."
Because the groups typically stay the same for both years, students and mentors get to know each other very well, says Gomez. 
"It's an eye-opening experience for all parties involved because you can see how the mentors' and teens' perceptions change," she says. "The first day, you could hear a pin drop. But halfway through the first semester, they all got so close." 
For Diamond Delay, her mentor Julia Jacobs (BSJ18) is more like a big sister. 
"We always FaceTime. She tells me about what to expect from college life," Delay says. "But more than that, somebody likes who I am and she helps me feel comfortable being myself." 
Carlin McCarthy (BSJ17) has been a mentor for two years and enjoys working with her group so much that she comes on her off-weeks as well. McCarthy says watching her group graduate from the program will be hard because of the bond they've developed. 
"We've been in each other's lives for two years, and you just can't drop that off," she says. "There is no doubt in my mind we will keep in touch. I believe in them. It's so important that they know that these two years meant so much to us, and hopefully, as much as it meant to them." 
As part of the program, the high school students use Mac laptops. If they successfully complete Medill Media Teens with no more than two unexcused absences, the laptops are theirs to keep.
Many of the Medill Media Teens say Gomez's guidance sticks with them. Jackson says her combination of "lovin'-touchin' feelings" and encouragement to stick to responsibilities make her "like a mother to us."
Delay says Gomez is the reason she is going to major in early childhood education or social work when she goes to college.
Sarahmaria got a group of kids from the South Side and got them together," Delay says. "Now I'm friends with people I never knew I'd be friends with, and it's that family bond we have that makes me want to show [other kids] the ways to [achieve that] bond."
Gomez says a particularly poignant moment happened at the end-of-year ceremony in May 2014. One teen spoke about how much she loved the program and how it changed her life. After, the girl's mother approached Gomez to tell her she couldn't believe that her daughter, who usually gave one-word answers and was an introvert at home, gushed about her love for the program in front of a crowd.
Reflecting on what Medill Media Teens means to her, Gomez is emotional.
"There is something about this program that brings out the best in everyone that is involved—it brings out the best in me," she says, as she wipes away a tear. "We work hard and spend time together, and the students produce top notch work. It changes the lives of everyone involved, and that is evident from people who see the program in action."