Medill graduate students in Pakistan work with local news organizations to publish video, print content
MSJ students in Pakistan work with local news organizations to publish video, print content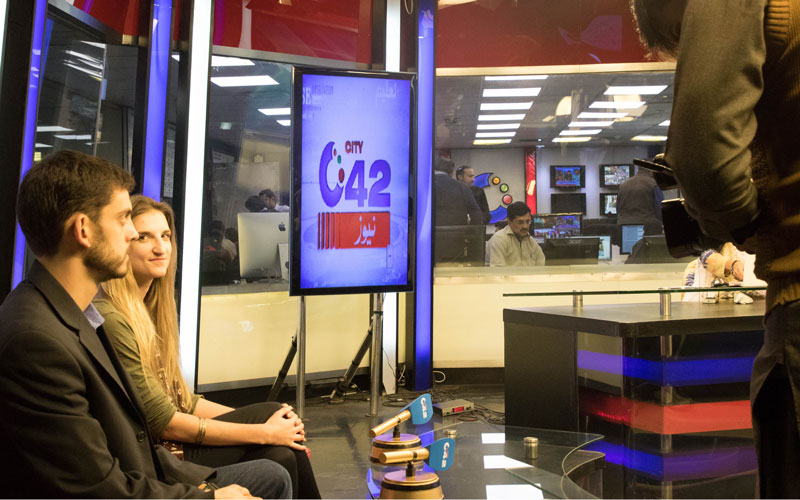 When I told my friends and family that I was going to Pakistan for my Medill Explores trip, some of them thought I was nuts. I had one guy tell me, "You must be drifting away from that safe-journalism path now."
I went with the idea that I was going to disprove the negative image is painted in our media about Pakistan.
After spending more than a week in Pakistan and never having previously visited the country, it felt strangely familiar to me. Karachi felt like driving through Phnom Penh or Vientiane. Lahore reminded me of a gritty version of Chiang Mai, where I spent two years of my life after leaving the military.
Most importantly, people define a place for me. The hospitality we received from the Pakistanis was second to none. The people were very welcoming and happy to have us.
I had the distinct pleasure of working with Rai Shahnawaz, a political reporter with Express TV in Lahore. He helped me with my story about Pakistani mixed martial arts, a sport that is growing in Pakistan thanks to Pakistani-American U.S. Army vet Bashir Ahmed.  Despite covering the UFC for two years, this story brought a fresh perspective to the sport for me. And when I landed back in the States, I felt pride that one of the top MMA writers wrote a story about Ahmed.
I wasn't the only one who came away from this trip with memorable experiences.
Patrick Martin (MSJ16) and Kat Lonsdorf (MSJ16) worked with City 42 in Lahore and had their video pieces aired live. They went the extra mile and did their voice-overs in Urdu, with Kat doing her standup in Urdu in a qingchi, which are small motorcycle rickshaws. After their pieces aired, they were invited to speak on live TV about their experiences.
"It was really interesting because they gave us insight into Pakistani culture that we wouldn't have had otherwise," said Martin.
"It was really interesting for me to work in a newsroom in another country and to see how it functions," said Lonsdorf about her experience.
In the end, we all felt we grew both personally and professionally after the trip.
"What I hoped to get out of the Pakistan trip was a learning experience in which I became more comfortable with international reporting," said Steven Porter (MSJ16), who worked with a reporter with the Express Tribune. "In hindsight, I would say that is the experience I got and I would feel comfortable taking on an international reporting project."
Current graduate journalism students traveled on 12 different trips across the globe during a one-week hiatus from class to hone their reporting and writing skills. Medill Explores trips included political coverage of the Iowa Caucuses in Iowa; sports coverage in Denver and San Francisco; global journalism in Argentina, Pakistan, South Africa and Puerto Rico; and business, arts, media innovation, social justice and health and science in Chicago.
For more information on the unique, real-world experiences we provide our graduate journalism students to solidify their skills, visit our website and follow us on Twitter, @MedillSchool and #lifeatMedill.