MSJ student reports on LGBT and women's rights in South Africa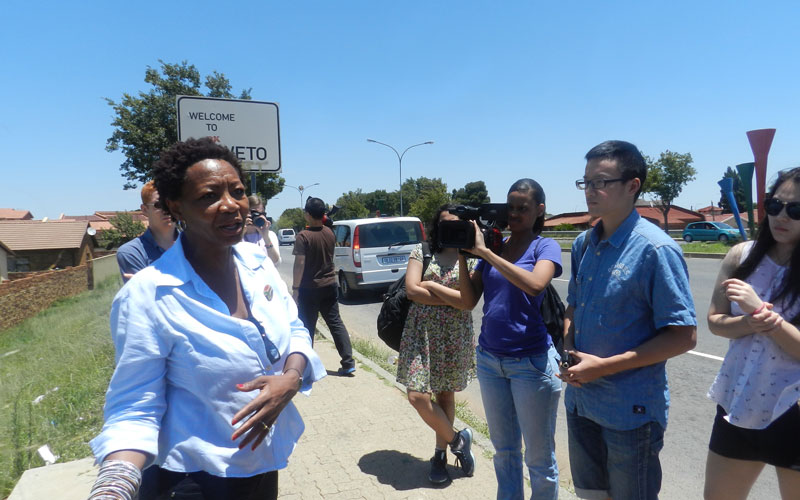 This past winter, I went on the reporting trip of a lifetime to Johannesburg, South Africa through Medill Explores. To prepare for the trip, I spent a month in a class called global journalism, where I worked out the game plan for the feature story I wanted to write and scheduled interviews with the help of my professor.
I've always been interested in issues related to women's rights, and after researching more about the landscape of women's rights activism and feminism in South Africa, I knew I wanted to report on something under that umbrella. After numerous talks and Skype sessions with professors and facilitators in South Africa, I was ready to launch.
After spending more than 15 hours on the flight to Johannesburg, the 11 other Medill students and I should have been tired when we landed, but the excitement of being in Johannesburg woke us right up. That enthusiasm didn't leave us for the entirety of the trip.
During the trip, we visited the Constitutional Court of South Africa, and I was struck by how open it is to its public. People can come and watch the court proceedings at any time, and the actual courtroom is below ground and structured with thin windows on the walls so that inside the courtroom, you can see the feet of people walking by. The windows are built this way to always remind the justices of the people they are serving.
My reporting group, which spent the week focusing on either LGBT or women's rights for both print and audio pieces, sat down and interviewed Justice Edwin Cameron at the Court, which was an interview of a lifetime. Justice Cameron is the first openly gay and HIV+ South African justice, and his perspective added context to our stories. Getting to sit in his office and hear about his experiences firsthand was unforgettable.
In addition to interviewing Justice Cameron, my group had the opportunity to talk with young women's and LGBT rights activists, student political leaders at the University of Witwatersrand, women from a domestic violence shelter, religious figures in the Johannesburg community and many more people.
As a group, we thought critically about the experiences we were having, and a memorable part of our time in Johannesburg was an open and honest conversation we had with each other about about race, privilege, ethics and culturally sensitivity when reporting in an international location, particularly on such a short trip. Having the opportunity to report in South Africa was significant in many ways, but many of the journalistic lessons and life lessons we walked away with expand beyond borders and into our reporting here in Chicago. Being honest with each other and holding each other to high journalistic standards helped everyone to think critically about international journalistic ethics in practice, and it helped everyone to grow in a way that we wouldn't have done had we stayed in a classroom.
Looking back on my short but impactful time in Johannesburg, I'm grateful to the brilliant people I met, my amazing group members who taught me more about myself than I thought I could ever learn in a week reporting abroad, and my instructors and facilitators for helping to introduce me to international reporting in a tactile and experiential way.
I hope to return to Johannesburg someday to continue reporting, because this Medill Explores trip has opened my eyes to new and exciting interests.
Current graduate journalism students traveled on 8 different trips across the globe and U.S. during a one-week hiatus from class to hone their reporting and writing skills. Medill Explores trips included political coverage of the Iowa Caucuses in Iowa; sports coverage in Denver and San Francisco; global journalism in Argentina, Pakistan, South Africa and Puerto Rico; and business, arts, media innovation, social justice and health and science in Chicago.
For more information on the unique, real-world experiences we provide our graduate journalism students to solidify their skills, visit our website and follow us on Twitter, @MedillSchool and #lifeatMedill.