Medill IMC to Host 2016 talentQ Expo With Industry Thought Leaders on November 17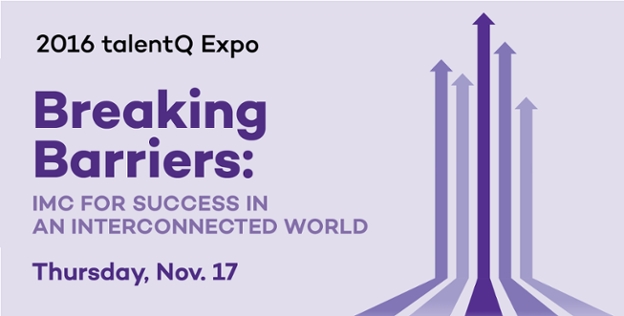 The Medill IMC talentQ committee will host the 2016 talentQ Expo on Thursday, Nov. 17 at 6 p.m. The event will take place at Google Chicago, 320 N. Morgan Street.
This year's theme is Breaking Barriers: IMC for Success in an Interconnected World. The event will bring together thought leaders and Medill IMC students to better understand successful engagement in an interconnected world. The keynote speaker will be Josh Grau, former director of global content strategy and partner marketing at Twitter. Grau is also a 2004 graduate of the IMC master's program.
There will be a panel discussion prior to the keynote address featuring experts from the marketing communications industry. IMC Associate Professor Tom Collinger will moderate the panel.
Attendees are invited to stay after the program for a reception and networking. This event is free and open to the public.

2016 talentQ Expo Agenda
November 17, 2016
6:00 to 8:30 PM
Google Chicago
320 N. Morgan Street
Chicago, IL 60607
5:00 p.m.

Registration Opens and Pre-Event Reception


6:00 p.m.       

Welcome
Medill IMC Associate Dean Frank Mulhern

6:15 p.m.

Spiegel Research Center Student Presentation
New insights on consumer engagement with TV content

6:30 p.m.

All-Star IMC Alumni Panel Discussion
Kristen Nomura, Head of Industry, Restaurants at Google
Daniel Allen, VP of Analytics at Conversant
Dan Fietsam, CCO at Laughlin Constable
Karen Hornberger, Senior Marketing Leader at Allstate
Moderated by Professor Tom Collinger

7:15 p.m.

Keynote: Josh Grau (IMC04)
Former Director of Global Content Strategy & Partner Marketing, Twitter

8 - 9:00 p.m. 

Reception and Networking