NPR host and UNC journalism professor to speak at Medill convocations
Two accomplished Medill alumni, Kelly McEvers and Paul Cuadros, will address graduates and their families at Medill's convocation ceremonies on Saturday, June 17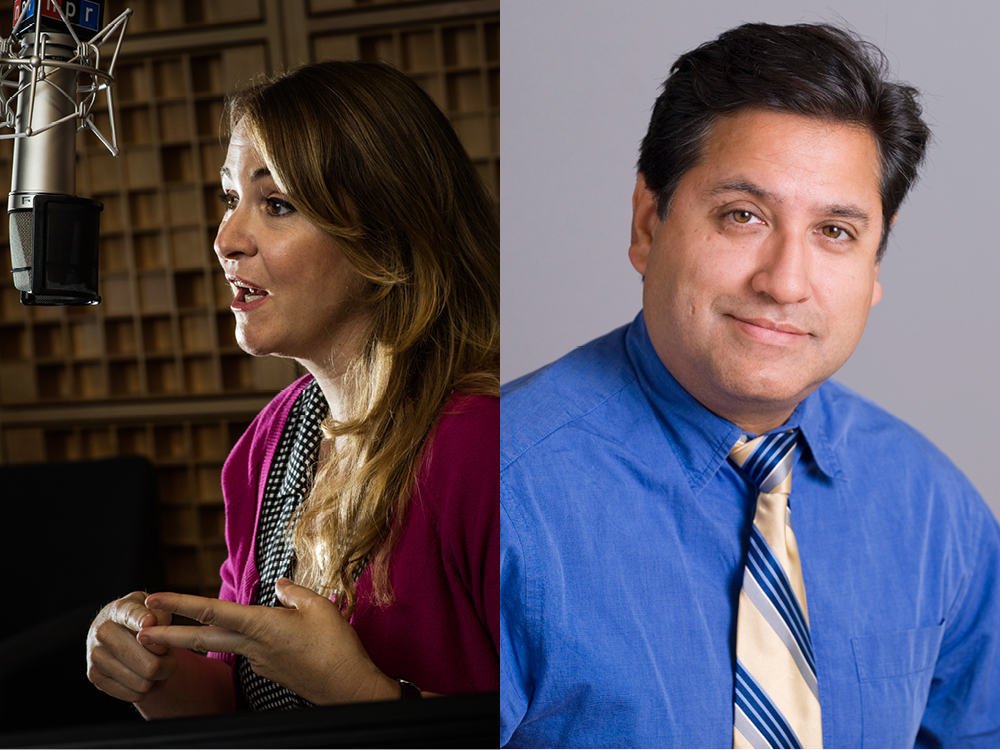 Two accomplished Medill alumni will return to campus to address graduates and their families at Medill's convocation ceremonies on Saturday, June 17.
Kelly McEvers (MSJ97), host of the NPR newsmagazine "All things Considered," will speak to the undergraduate journalism students at the 10 a.m. ceremony.
Paul Cuadros (MSJ91) is an investigative reporter and author who is a journalism professor at the University of North Carolina at Chapel Hill. He will speak to the graduate students in the journalism and integrated marketing communications programs at the 2 p.m. ceremony.
Both ceremonies will be at Cahn Auditorium and will be livestreamed and recorded for later viewing.
"We are very pleased to have Paul and Kelly speak to our graduates this year," said Medill Dean Bradley J. Hamm. "I think our students and their families will enjoy connecting with both of them. I know they will inspire our newest alumni as they begin their own careers."
In addition to hosting "All Things Considered," McEvers also hosts the NPR podcast "Embedded," which takes a story from the news and goes deep. From 2008 to 2013 she was based in the Middle East, reporting from Saudi Arabia, Yemen, Iraq, Jordan, Bahrain, Egypt, Lebanon and Syria. Her reporting on the Syrian civil war won a George Foster Peabody award, an Alfred I. duPont-Columbia University award, a Gracie award, and an Overseas Press Club mention. Her coverage of the region also included the Arab Spring and the exit of U.S troops from Iraq. She also covered the Ebola outbreak of 2014 and spent years reporting from Southeast Asia and the former Soviet Union.
"The commencement speaker at my Medill graduation changed my life," McEvers said about Pulitzer Prize-winning author Tina Rosenberg (MSJ82) who spoke at the 1997 convocation. "I doubt that I will be able to do anything as grand, but I am honored to speak to the next generation of journalists at a time when our profession is more crucial than ever."
Before working at NPR, McEvers spent years as a freelancer and reported for American Public Media's "Marketplace." She began her career as a producer and reporter for the Chicago Tribune's Internet edition and later the metro desk and Sunday magazine. Her work has appeared on "This American Life" and the BBC, and in The New York Times Magazine, Esquire, Slate and Foreign Policy.
She hopes to share her joy and passion for journalism.
"This is the best job in the world!" she said.
Paul Cuadros is an investigative reporter and associate professor in the School of Media and Journalism at the University of North Carolina at Chapel Hill. He has reported on race and poverty for the last 25 years. He won the Alfred I. duPont-Columbia University award and was also the recipient of the Alicia Patterson Foundation Fellowship. His work has been featured in The New York Times, The Huffington Post and Time magazine. His book, "A Home on the Field, How One Championship Team Inspires Hope for the Revival of Small Town America," focuses on immigration in a North Carolina town through the lens of an all-Latino high school soccer team. He also starred in "Los Jets," a documentary series that ran on NUVO-TV and Hulu.
"As a storyteller, I hope to share my own story and where a life in media has taken me and the things I have learned along the way. I have not had a conventional career, first beginning in advertising and public relations and then becoming an investigative reporter holding the powerful accountable," Cuadros said. "I have not been on 'train tracks' in my career but have traveled 'off road' to find my own way and this is one of the main points of my talk. Good stories are like a river and you have to let the currents take you where they want to go." 
Cuadros who runs a tutoring and mentoring program for Latino high school students through UNC Chapel Hill, is working on a film adaptation of his book. He is pleased to deliver the convocation address.
"I feel so much pride and I am honored and humbled by the opportunity to share my journey in news and media and life with the graduates and my school," Cuadros said. "I see this as the culmination of my career as a journalist and a teacher of journalism to come home to where my dreams began and commune in fellowship with the future leaders in news and media." 
In addition to Cuadros and McEvers, one student speaker from each class has been selected by the students, faculty and staff to speak at the graduation ceremonies.
Carson Brown is graduating with a bachelor's degree in journalism, on the magazine track. At Northwestern, she served as a peer adviser to Medill students for two years, and wrote for BlackBoard Magazine and The Daily Northwestern's Spectrum column. She studied critical theory at Sciences Po, L'Institut d'Études Politiques, in Paris. Last winter quarter, she completed her Journalism Residency at Pacific Standard Magazine in Santa Barbara, California.
Alex Whittler is graduating with her master's degree in journalism. She earned a Bachelor of Journalism degree with minors in political science and dance from Loyola University Chicago. Her stories have been published online and aired on TV stations in cities across the country, ranging from Chicago and San Francisco to Fargo, North Dakota. Whittler is currently a production assistant/field producer at ABC7 Chicago. She was part of Medill's Leadership Council and will soon shoot a documentary through Medill's Chicago bureau while continuing to work for ABC7.
Pierre Charbel Atallah, M.D. is graduating with his IMC master's degree from the IMC Online program. Atallah is from Oakland Township, Michigan and is the vice president of the Rochester Medical Center. He practices in the area of internal medicine and preventive cardiology, particularly focusing on the diagnosis and treatment of cardiovascular disease. He is a graduate of Wayne State University School of Medicine. Atallah and his wife have four children, three daughters and a son.
Reema Rao is graduating with her IMC master's degree from the part-time program. During her two years at Northwestern, Rao was an active student, representing the school on yearly career panels, leading several class-wide extracurricular education sessions, and writing a professional whitepaper. Rao is currently a senior strategist at Calvary Agency in Chicago and previously worked for Leo Burnett and Energy BBDO. She earned her undergraduate degree from the University of Michigan.