IMC expands its global academic initiatives with launch of new course in London
Twenty IMC graduate students spent five weeks studying brand communication in a global context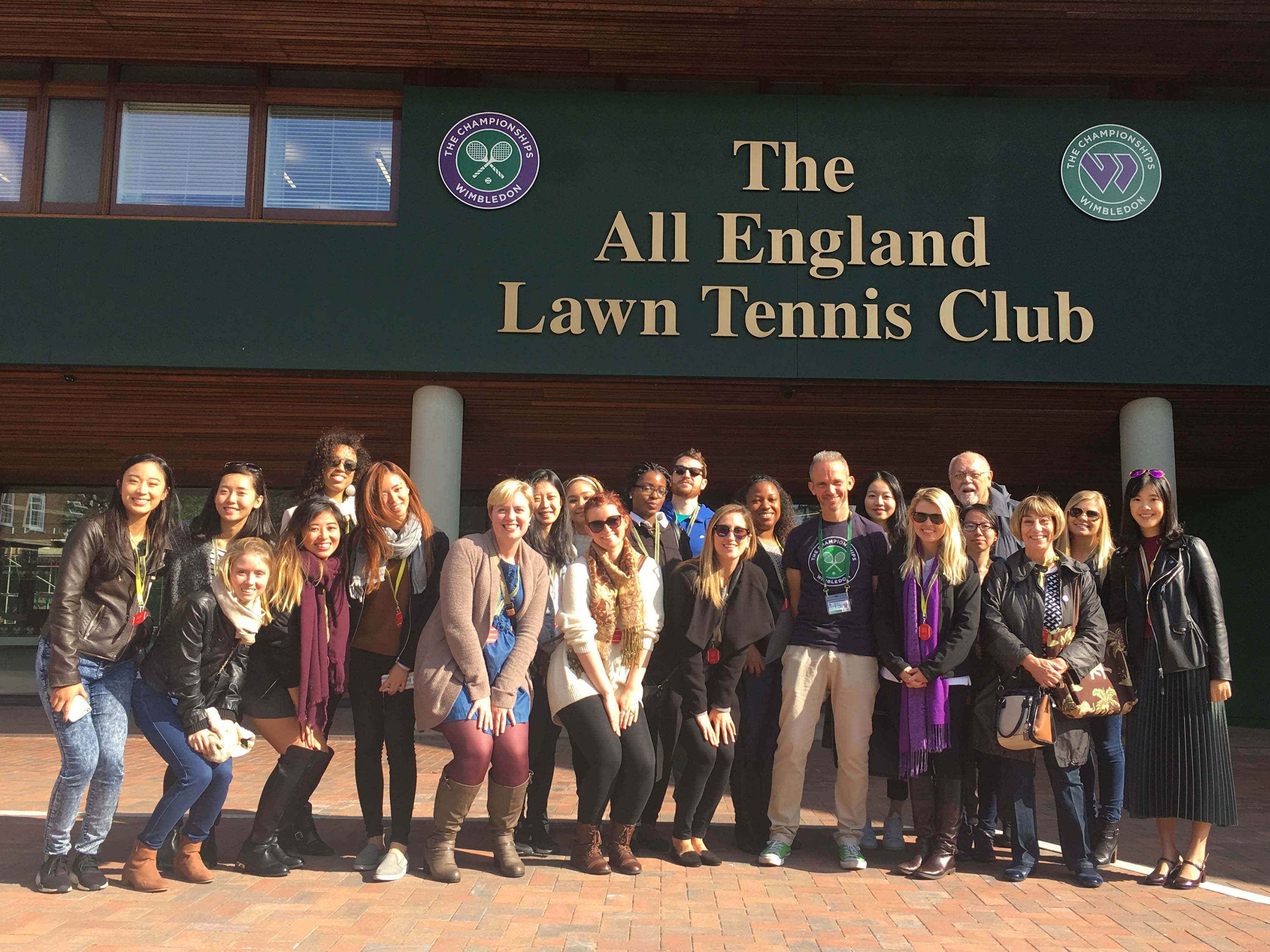 One thing's for sure: it's not every day that IMC students receive that enviable invitation to Wimbledon for a private tour of the grounds, where manicured tennis courts, newly revamped facilities and even a stop in the same room where Serena Williams took press interviews are on the itinerary. It's a coveted, experiential learning opportunity where students also are served the history behind the iconic British brand and how it evolves with the current times yet still remains true to itself.
Think of this as a quick snapshot into what a day may have looked like for the 20 IMC graduate students who enrolled in Medill IMC's inaugural five-week Global Brand Communication Management course this past fall in London.
The goal of this two-credit course—jointly taught by the husband-wife dynamic marketing duo of Adjunct Lecturer Heidi Schultz and Professor Emeritus-in-Service Don Schultz—is to give students a comprehensive understanding of the issues that challenge global brands and how organizations must address those factors in order to build and protect brand equity in both established and emerging markets. Don Schultz, who's endearingly described as "the father of IMC," designed the curriculum with Heidi, drawing influence from Brand Equity, an IMC course she's taught at Medill for 20 years.
"We [spent] a lot of time talking about how brands create value both for the organization as well as for its customers; and there can be a variety of customers, and it can create value in many different ways," Heidi Schultz said. "How all of that gets kept in some kind of balance and equilibrium is an important thread that [went] through many of the sessions." 
It's Don and Heidi's hope that the course challenged IMC students' existing thinking when it comes to some traditional principles of marketing they've been taught, encouraging further exploration.
"I've always really appreciated that because it allows you to weigh all aspects of the situation and to determine which one you think fits best for a particular given situation," said Joseph Macdougall (IMC16). "It allows for you to remain adaptable rather than sticking to just one concrete way to do things."
It was important to the Schultz team to build an experiential learning component into this course. In addition to traditional classroom instruction time three days a week, students also went into stores in London and applied the specific topics they were studying for the week, by looking for examples of products, ranging from grocery store items to high-end luxury merchandise, packaging or whatever the assignment called for that was directly related to the weekly subject matter.
"The opportunity to see the concepts that we're learning in the program being applied in real life was really great, that kind of coming full circle," said Anna Klutho (IMC16).
Brit'ney McTush (IMC16) added, "I really appreciated how our classroom wasn't restricted to an actual room, but it became the world around us." 
Students also learned through guest speakers and off-site visits to meet top local scholars, industry experts and leading brand consultants, which included Medill IMC alumni like international branding company Isobar's Global CEO Jean Lin (IMC91), who welcomed students with an overview of the company's history, mission and philosophy; and was joined by Simon Gill, Isobar's Chief Creative Officer for Isobar UK, who shared a number of client work examples and provided a tour of separate facility Nowlab, Isobar's innovation accelerator lab, loaded with new technology Isobar uses for research and client demonstrations.
"One thing for sure, you realize how far and wide the Medill Mafia is. Even though this is a strong network, at the end of the day, I think it's kind of comforting just to see how alumni really embrace students and how ready they are to give us feedback and interact with us," McTush said. "Even though they might not know us, the full commonality of having been connected to Medill is enough for them to support us for the work in America or abroad. That's something we really appreciated about the experience."
The Global Brand Communication course in London was developed by IMC Assistant Professor Jenna Massey, who is the IMC full-time program director and director of IMC global initiatives. It's part of Medill IMC's ongoing efforts to build global relations and broaden its global academic initiatives that Massey oversees, a major priority going forward.
For this course, London was an obvious choice.
"This is a global arena right now, especially coming from emerging markets like China, India or South America. I think a big draw for them is really understanding what's going on in Europe," Massey said. "I think London serves as the hub of this cultural, historic and economic center; and also from the marketing communication perspective, they're really way ahead of us in terms of e-commerce and digital marketing. And, of course, lots of luxury branding started in Europe and manifested in the past years in London."
For Laurel Neveu (IMC16), this course provided the perfect way to wrap her time at Medill IMC. "I think that this experience, being in a different country, was kind of like the cherry on top to my program, and I couldn't have asked for a better ending to the IMC program for myself," she said.