Medill IMC students create predictive analytics tool for top global e-payments company during Immersion Quarter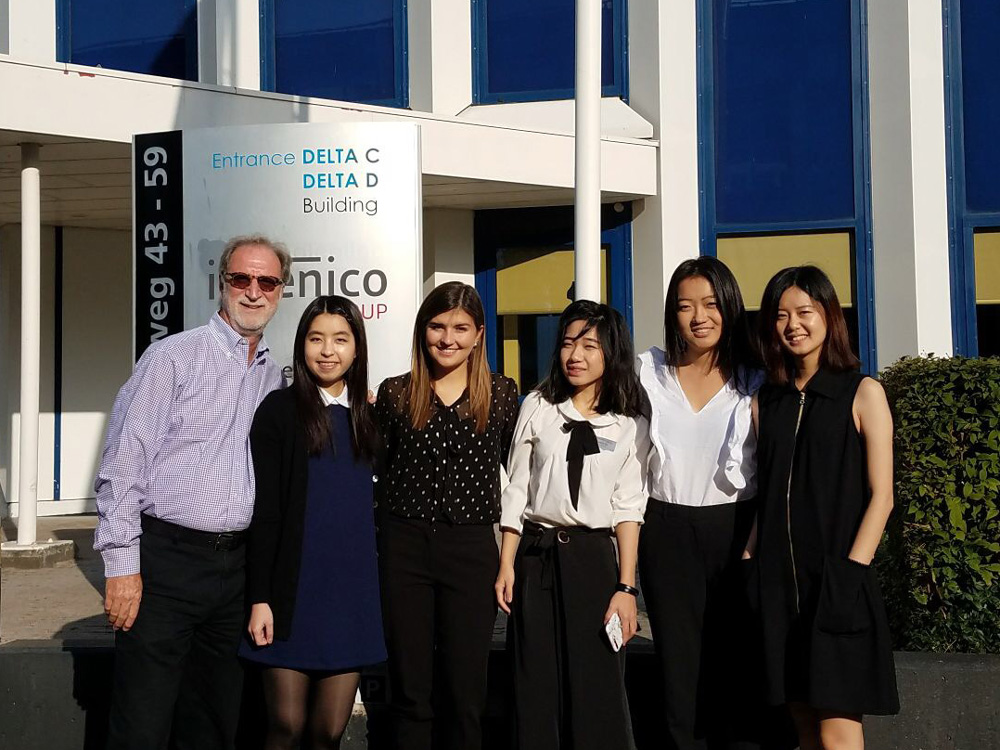 A team of five Medill IMC graduate students were given the reins at Ingenico ePayments to explore a project centered around the Payment Moment of Truth (PMOT). Ingenico, headquartered in Amsterdam, is the global leader in e-payments.
Cecilia Aycinena, Yo-Ting Hung, Peiyuan "Suki" Shao, YingYing "Arielle" Su and Jiayue "Jess" Yang spent 10 weeks during the Immersion Quarter learning the ins and outs of data analysis, ePayment software and teambuilding.
Tom Collinger, executive director of the Medill IMC Spiegel Research Center, who served as the team's faculty adviser, said Immersion Quarter is designed to give IMC Full-Time students "applied learning in the data-driven, customer centric space." Students are matched with companies based on their skills and interests, he said.
The students also worked closely with Medill IMC alumnus and Ingenico's marketing manager of North America, Brandon Manzano. According to Manzano, the goal of the project was to create a predictive data analytics tool that could provide merchants with a score related to their payments' performance to compare to other markets and regions around the globe.
"Our aim was to help our merchants understand their consumers' behavior and choices for online payments," he said. "When they have this information, they can optimize their payments strategy."
PMOT is defined as the moment surrounding a customer's decision to submit an online payment for goods or services. Using aggregated data from Ingenico ePayments merchants, the team waded through millions of transactions to identify trends in consumer behavior. Learning this aspect of data analysis was not an easy task, especially given the the team's unfamiliarity with the ePayments industry.
"We really had to push ourselves and learn how to interpret and manipulate the data," Aycinena said.
Looking at four global regions, the team analyzed different vertical markets (gaming, retail and  travel) using seasonality (weekday vs. weekend) and payment method data (3D check, credit card, etc.) to determine how the variables influence one another.
"The goal (was) to decrease the abandonment rate and increase the authorization rate," Shao said.
The IMC team presented the PMOT tool as a "secret weapon" for Ingenico ePayments, providing a snapshot of the international market of ePayment merchants for comparison and areas of improvement. Shao said it was the team's persistence and confidence in the face of obstacles they encountered that allowed them to be successful.
The graduate students' efforts paid off with the culmination of their presentation in late August in Amsterdam. Feedback from Ingenico employees who attended the presentation highlighted the progress the team made in a short amount of time. Mat Spencer, head of global marketing communications, praised the simplicity of the ranking tool the team created.
"The nice innovation was the creation of a single number for merchants to rank themselves against," he said. "So often you are totally overloaded with data and having that single anchor point, quantified, I think is a really lovely development."
Marisa Rijpkema, senior manager of content and social media, commented on the benefits of having the Medill IMC students' unique perspective on the data.
"Having a group of 'outsiders' without prior knowledge to the industry or the company was an excellent way to do a sense check on the direction we had taken with this concept and reconfirm that indeed our efforts are valuable," she said.
Student Aycinena said, "They didn't just sit through the presentation and (say) 'Great job, guys,' but rather, 'OK, how can we implement it? What can we do? How can we take this to the next level? Who's going to be in charge of what?' It really made our project that much more valuable."
The Ingenico ePayments partnership with Medill IMC's Immersion Quarter was established in 2015. Since its inception, 15 graduate students have participated in the program and two have been hired full-time.
Immersion Quarter has been a key component of the IMC Full-Time program since 2013. In the past five years, 112 teams have completed projects at companies across the country.
"We are thankful for all of our partners like Ingenico that sponsor projects and provide great learning opportunities for our talented graduate students," said Gerry Chiaro, director of Immersion Quarter. "With the support of great faculty and staff, IMC students develop fresh and innovative solutions that help top companies solve challenges and improve their marketing communications."