Medill senior named winner of 2017 Howell Essay Competition
Rachelle Hampton (BSJ17) will receive the $4,000 prize for this annual competition that honors a Medill student's analysis of propaganda or distortion of the truth in journalism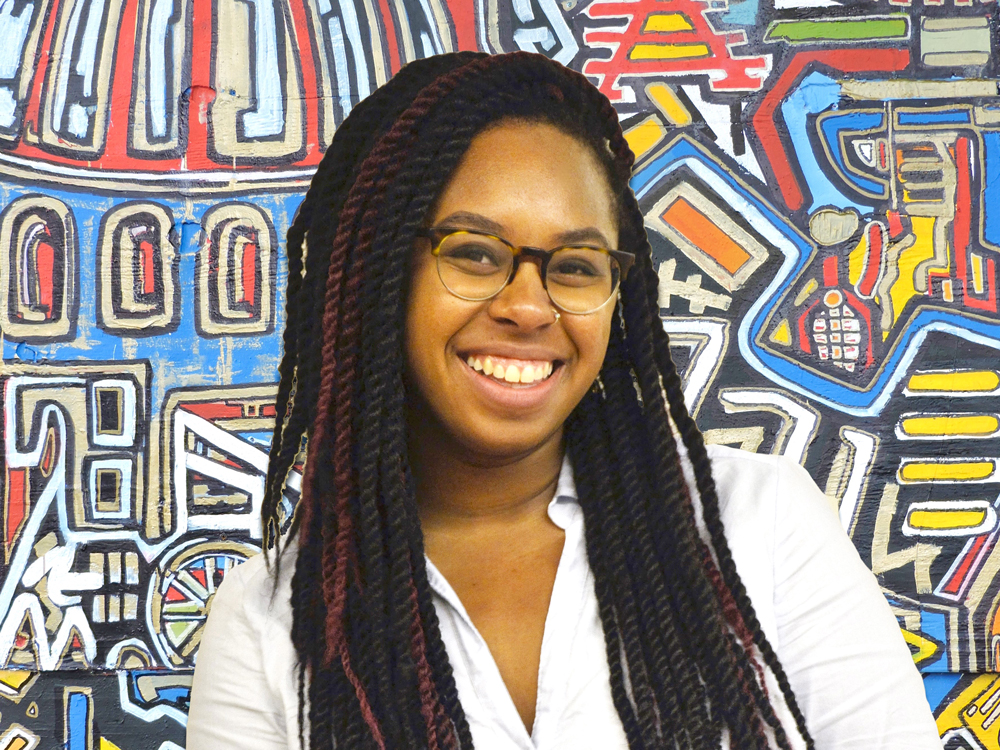 Rachelle Hampton (BSJ17) has won the 2017 Walter S. and Syrena M. Howell Essay Competition. Hampton will receive the annual competition's $4,000 prize for a Medill student's analysis of propaganda or distortion of the truth in journalism.
Hampton's essay, "Stranger Than Fiction: When BuzzFeed Dropped a Bombshell and American Politics Sounded Like a James Bond Movie," analyzed BuzzFeed's decision to publish a "dossier" of unverified memos. The memos were compiled as opposition research by a British intelligence officer and to various degrees demonstrated links between the Trump Presidential Campaign and Russian operatives, and, as Hampton points out, were widely disseminated among media and political elites prior to BuzzFeed's decision to publish.
BuzzFeed came under fire for publishing, and Hampton elegantly deconstructs the media debate around the decision, weighing the widespread access media outlets had to the memos with legitimate questions as to what media outlets knew about the veracity of the claims. While Hampton ultimately decided BuzzFeed made the right choice to publish, she strongly criticizes BuzzFeed for not providing crucial context to its readers.
"The manner in which [BuzzFeed released the dossier], publishing without a detailed analysis of all the claims made within the documents, follows a dangerous trend within the journalism industry," Hampton writes. "More journalists are disseminating unverified or inaccurate facts in the service of 'informing' readers or 'diversity of views' and trusting their audience to discern what is and is not correct. In an age where readers inhabit a complex and polluted information environment, it is a fundamental responsibility of journalists to help them navigate that environment with contextualized and clear analysis."
Hampton acknowledges the tension between "ivory tower" media that presumes to control what the public should know versus an information-free-for-all, but she also suggests a third way. "BuzzFeed could have avoided much of the backlash they received had they published the dossier with commentary and analysis," she writes. "They could have easily annotated the documents with what was unverified, what was inaccurate, and what was in the process of being verified. The documents could have been updated as more stories broke, essentially demonstrating the process of fact-checking."
The Howell Essay Competition judges applauded Hampton's well-argued and comprehensive discourse and solution-minded approach to a topic for which there is still much disagreement in the profession as well as the academy.
Hampton will be graduating from Medill this June and joining the The New Republic as a reporter-researcher. She received a prestigious American Society of Magazine Editors internship during the summer of 2016 and worked at Smithsonian magazine. She has also interned at New America and In These Times magazine.
Senior Julia Clark-Riddell received an Honorable Mention for her essay, "Battle For Berkeley: The Dangers of Oversimplification in the Trump Era," which used the reporting on violence at Berkeley to examine the inaccuracies of the political labels media use to define current protests and political movements. Julie will be graduating this spring with a double major in journalism and political science and a minor in creative writing.
Medill faculty members Stephan Garnett, Loren Ghiglione and Patti Wolter judged the 2017 Howell Essay Competition.