Three Washington bureau chiefs to speak at Medill
The Medill alumnae will talk on Nov. 7 about covering Washington since Trump's election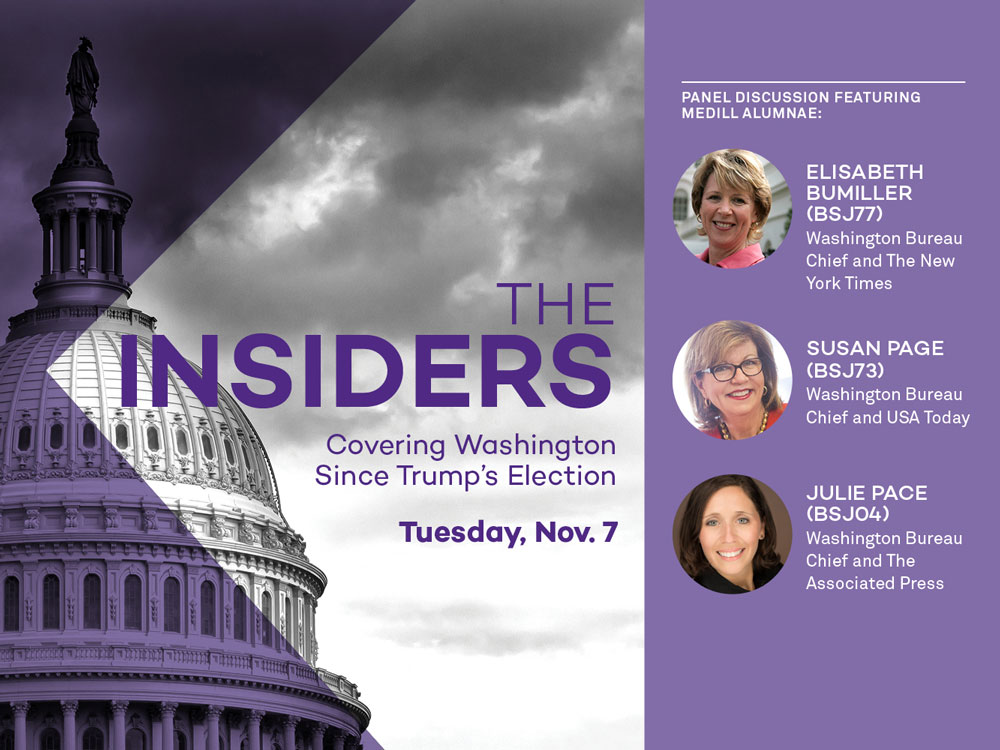 Three Washington bureau chiefs who are Medill alumnae will speak at Medill on Nov. 7, almost one year since the 2016 election. The topic of the panel discussion is "The Insiders: Covering Washington Since Trump's Election."
Tuesday, Nov. 7
4-4:30 p.m. Refreshments
4:30-6 p.m. Panel Discussion
6-6:30 p.m. Post-Panel Pizza
McCormick Foundation Forum
1870 Campus Drive, Evanston
Open to the public
The three panelists will include:
Elisabeth Bumiller (BSJ77)
Washington Bureau Chief, The New York Times
At The New York Times, Bumiller oversees the paper's coverage of the nation's capital. Prior to this role, she was a Times Pentagon correspondent from 2008-2013. She traveled frequently with the secretary of defense and embedded with the American military in Afghanistan. In 2008, she covered the presidential campaign of Sen. John McCain.
From Sept. 10, 2001 to 2006, Bumiller was a Times White House correspondent who also wrote a weekly column, White House Letter, about the people and behind-the-scenes events of the presidency. Before moving to Washington, Bumiller was the Times City Hall Bureau chief responsible for covering Mayor Rudolph W. Giuliani and his Senate race against Hillary Clinton.
Susan Page (BSJ73)
Washington Bureau Chief, USA Today and CBS Analyst
Page has covered six White House administrations and 10 presidential elections as well as interviewed the past nine presidents. She founded and hosts an award-winning video newsmaker series for USA Today, "Capital Download." She appears frequently on cable news networks as an analyst.
Page has worked at USA TODAY since 1995. Previously, she covered the White House and national politics for Newsday. She often guest-hosted The Diane Rehm Show, which was syndicated on National Public Radio. She was the first woman to serve as music chairman of the Gridiron Club show and was the president of the club, the oldest association of journalists in Washington, in 2011.
Julie Pace (BSJ04)
Washington Bureau Chief, The Associated Press and CNN Analyst
Since June 2017, Pace has directed AP's coverage of the presidency, politics and the U.S. government. She also makes frequent national television appearances. Prior to her current role, Pace was an AP White House correspondent and was responsible for AP's overall coverage of Barack Obama's presidency. In that role, she also served as AP's lead reporter on the 2016 campaign between Donald Trump and Hillary Clinton.
Pace joined AP in 2007 as a multimedia reporter and developed and executed AP's plans for live video coverage of the U.S. presidential election in 2008, as well as the first inauguration of Obama.​ After covering the 2008 election, Pace joined AP's White House team. Prior to that, she worked as a reporter at The Tampa Tribune and worked at e.tv, South Africa's only independent television network.