Discussion series to examine issues faced by media at 1968 Chicago Democratic Convention
'The Media and the 1968 Chicago Democratic Convention - Then and Now' series will examine issues of objectivity and patriotism in a turbulent time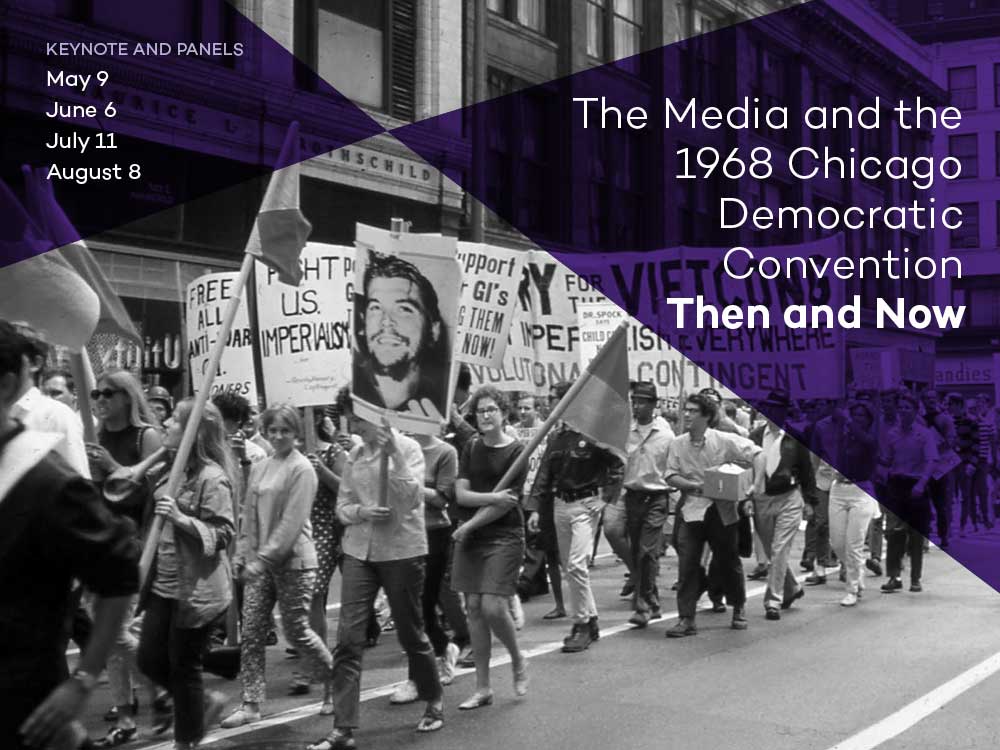 Fifty years ago, the Democratic National Convention spawned a historic collision of politicians, protestors and police in the streets of Chicago. The clash, watched by the world, threw a spotlight not only on the city, but on how the media covered it.
The events and activities that surrounded the 1968 convention in Chicago raised a number of socially relevant questions and dilemmas that reverberate today: What does "patriotism" really mean? Are so-called "traditional values" worth preserving, or are they oppressive? What constitutes objective media coverage of story with many worldviews? How do journalists maintain a balance between newsmakers' statements and their own experiences about unfolding events?
These issues — and many others — will be recalled, analyzed and debated at a discussion series presented by the Medill School of Journalism, Media, Integrated Marketing Communications at Northwestern University to commemorate the 50th anniversary of the Convention.
Titled "The Media and the 1968 Chicago Democratic Convention — Then and Now," the discussion series includes historians, journalists, activists and experts from across North America who will explore what happened then and what it means to media today. Renowned Chicago broadcaster Bill Kurtis, who covered the convention for WBBM-TV, will kick off the four-part series. 
The series will be presented on four separate dates at Medill's Chicago campus at 303 East Wacker Drive, 16th Floor. Each event begins at 6 p.m., with a Q&A and reception following. The discussion series is free and open to the public, although attendance for each event is limited. To reserve seats for any of the upcoming events, RSVP using the link below each event description.
The dates of the presentations, topics and speakers are as follows:
May 9, 2018 — "Media in the Crucible" (keynote address) 
An overview of the media coverage and major events that occurred before, during and after the most important political convention in the United States in 100 years.
Presenter
Bill Kurtis, acclaimed television documentary producer and host of "Through the Decades" (Decades Channel); former CBS news anchor, co-host of NPR's weekly news quiz, "Wait.  Wait…Don't Tell Me" and author of two books, "The Death Penalty on Trial:  Crisis in American Justice" and "Bill Kurtis on Assignment."
June 6, 2018 — "Conflict and the Media" (panel discussion)
How did demonstrators, city government officials, police and media perceive one another during the convention? How did their conflicts play out in media? What is applicable to today's news environment?
Moderator
Donna Leff, Ph.D., professor, Medill School of Journalism, Media, Integrated Marketing Communications at Northwestern University; award-winning investigative reporter, Chicago Today, Chicago Tribune and Ypsilanti Press.
Panelists
David Farber, Ph.D., Roy A. Roberts Distinguished Professor, University of Kansas; author of several books including "Chicago '68" and "The 60's: From Memory to History." Farber will address how the Convention tested the practice of "objective" journalism.
Bernardine Dohrn, activist, academic, author and children's and women's rights advocate; retired associate clinical professor at Northwestern University School of Law. A national leader of SDS and the Weather Underground, Dohrn will offer perspective on how Chicago fit into a dramatic year of protesters finding their courage. 
Frank Kusch, Ph. D., administrator, University of Saskatchewan and author of "Battleground Chicago: The Police and the 1968 Democratic Convention" and "All American Boys: Draft Dodgers in Canada from the Vietnam War." Kusch will share the perspective of police who served in 1968 and how they felt toward both journalists and demonstrators.
Hank DeZutter, former education writer, Chicago Daily News; community organizer; co-founder, Chicago Journalism Review; founder of a community-based journalism training program that later became the Community Media Workshop. DeZutter will convey how reporting from the streets challenged journalistic business as usual. 
Watch the recording from June 6
July 11, 2018 — "The Artistic Convention" (panel discussion) 
What role did the artistic community play in shaping messages and stories that emerged from the convention and the streets of Chicago? Norman Mailer, Dick Gregory, Jean Genet, Allen Ginsberg and Joan Didion turned the Summer of Love, the Pentagon demonstration and 1968's political conventions into literary events. Music provided a soundtrack for dissent and many Chicago artists took a political stand against police action in their work. What did these creative works say? How do they stand up today?
Moderator and presenter 
Abe Peck, professor emeritus in service, Medill School of Journalism, Media, Integrated Marketing Communications at Northwestern University; writer, Rolling Stone, Chicago Daily News, Chicago Sun-Times; author of "Uncovering the Sixties: The Life and Times of the Underground Press." Peck, who edited the Chicago Seed underground newspaper in 1968, will examine how advocacy papers discussed the pros and cons of demonstrators coming to Chicago. He also is the curator for this discussion series.
Panelists
David Denby, staff writer and film critic, The New Yorker; former film critic, The Atlantic, Boston Phoenix, New York; author of several books, including "Great Books," "American Sucker," "Snark" and "Lit Up." His comments will focus on how Mailer's "Miami and the Siege of Chicago" captured both the year's despair and hopes.
Patricia Kelly, Ph.D., associate professor of contemporary art history and associate dean, Carr University of Art & Design; author of numerous articles on minimal art and abstraction, art and politics in the 1960s, appearing in such publications as Art Journal, American Art and the Journal of Curatorial Studies. She will describe how Chicago's arts community embraced cultural activism.
Anthony DeCurtis, Ph.D., contributing editor, Rolling Stone; distinguished lecturer, creative writing, University of Pennsylvania; Grammy Award winner, nominating committee, Rock and Roll Hall of Fame and author of "Lou Reed: A Life," "In Other Words," "Rocking My Life Away" and co-writer of Clive Davis's autobiography, "The Soundtrack of My Life," a New York Times bestseller. DeCurtis will explore what meaningful role, if any, popular music can play in roiling political times.
Watch the recording from July 11
August 8, 2018 — "The Media Legacy of Chicago '68" (panel discussion)
How well did established and counter-media do as "the first draft of history?" What is the media legacy of Chicago '68, from social media to the alt-right? How do today's movements for change organize within the Twitterverse? What has "objectivity" given way to? How (much) has the complexion of newsrooms changed? Can accuracy prevail amid accusations of tepidness, privilege and "fake news?"
Moderator and presenter
Rick Perlstein, author of several best-selling books including "The Invisible Bridge: The Fall of Nixon and the Rise of Reagan," "Before the Storm: Barry Goldwater and the Unmaking of the American Consensus" and "Nixonland: The Rise of a President and the Fracturing of America." Formerly national correspondent at the Washington Spectator and Village Voice, Perlstein also served as an online columnist for the New Republic, The Nation and Rolling Stone. He will discuss how the Convention structured a divided America and led to a journalism of "both-sides-ism" in modern mainstream media.
Panelists
Charles Whitaker, associate dean, Medill School of Journalism, Media, Integrated Marketing Communications at Northwestern University; former director, Academy for Alternative Journalism; editor, Ebony magazine; reporter, Miami Herald and deputy features editor, Louisville Times. Whitaker will look at how far we have and haven't come in both the composition of the nation's newsrooms and coverage of communities of color.
Charlene A. Carruthers, strategist, author and leading organizer in today's black liberation movement. As the founding national director of the BYP100, she has built a national organization that is dedicated to creating justice and freedom for all black people. Major media outlets from the BBC and MSNBC to legacy black media institutions including Ebony and Essence magazines, have highlighted her work and perspective as a black queer feminist on current events and issues impacting marginalized communities. Carruthers will explore the role of media in mass actions and efforts for transformative change, and share effective ways for journalists to engage with social movements in ways to tell more complete stories. 
Don Rose, political consultant and award-winning blogger for the Chicago Daily Observer website; formerly co-publisher and editor, Hyde Park-Kenwood Voices. "A fighter for democracy in the Second City for more than 60 years," according to The Nation, Rose campaigned for minority housing rights, co-organized a huge Chicago turnout for the 1963 March on Washington, was Martin Luther King's press secretary during his Chicago campaign, organized around the convention as press secretary for the National Mobilization to End the War in Vietnam and is credited with coining the phrase, "The whole world is watching." Rose's concluding presentation will describe how the convention helped change how media covers political and social action – then and now. 
---
"The Media and the 1968 Chicago Democratic Convention – Then and Now" is presented by the Medill School of Journalism, Media, Integrated Marketing Communications at Northwestern University. For more information about the content of this discussion series, contact Abe Peck at a-peck@northwestern.edu. For attendance questions, content Stacy Simpson at stacy.simpson@northwestern.edu.