Blaze Pizza chief marketing officer chosen graduation speaker
Medill alumnus Shivram Vaideeswaran will address graduates and their families at this year's ceremony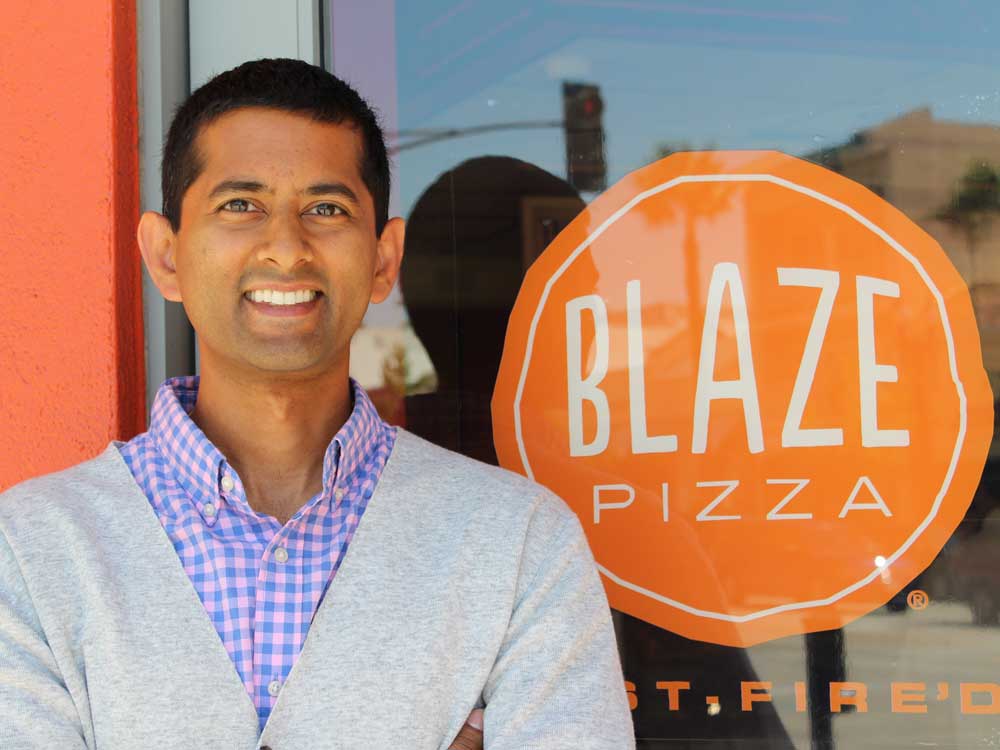 A Medill alumnus who is chief marketing officer of Blaze Pizza will address Integrated Marketing Communications master's graduates and their families at Medill's convocation ceremony on Dec. 15.
Shivram Vaideeswaran (IMC07) leads marketing communications for Blaze Pizza, a growing chain with 300 restaurants in 40 states and five countries and plans for another 1,000, making it a top contender in a crowded and competitive industry.
"We are thrilled to welcome Shivram back to campus to speak to our graduates this year," said Medill Interim Dean Charles Whitaker. "Shivram's role as a marketing leader will inspire our newest alumni as they use their IMC degrees to build their own careers."
Vaideeswaran is responsible for leading brand strategy, innovation and guest-facing technology for the chain. With a focus on making Blaze the most deliciously accessible pizza on the planet, he is charged with keeping the brand at the forefront of culinary innovation, technology and culture. 
"I'm honored and humbled to participate in the 2018 IMC Commencement. IMC has been such a powerful force in my professional and personal development and I'm so excited to share some advice with the next generation of future marketing leaders," Vaideeswaran said. "The graduates have an amazing opportunity to reinvent the way brands and agencies think about innovation and communications, and I can't wait to see how they will change the game. " 
Vaideeswaran earned his master's in Integrated Marketing Communications from Medill in 2007. 
"IMC provided me with the backbone to be flexible and adaptive in the world of marketing," said Vaideeswaran. "What worked today will probably not work tomorrow – that's what makes our jobs so hard, but so rewarding. We get to create the next big thing, and have fun while we're doing it."
As he finished his degree, several IMC alumni who were working at Yum! Brands, Taco Bell's parent company, connected him to Taco Bell.
At Taco Bell, Vaideeswaran earned responsibilities and promotions while leading product innovation, developing sales layers, working with an agency on a Super Bowl ad and finding ways to leverage technology to build the brand, he said.
After six years at Taco Bell, he was offered the chance to lead the company's global marketing program.
"As the head of marketing for Taco Bell International, I helped develop our brand voice, menu, customer experience and brand vision for over 26 countries around the world," he said. "Being able to open the first Taco Bell in Japan, China and Brazil, while leading the repositioning of our brand in the UK, India, South Korea, Kuwait and beyond, was one of the most fulfilling experiences of my career." 
After leaving Taco Bell, Vaideeswaran was vice president of marketing for Tender Greens, a farm-to-table fast-casual restaurant brand based in L.A. With 25 restaurants, Vaideeswaran helped position the brand for exponential growth. 
He joined Blaze Pizza in 2017 as CMO and loves the chance to combine his passion for marketing and his passion for pizza.
"It's my favorite food and always has been, so getting paid to think about pizza every day is definitely a dream come true," he said.
The ceremony will be at Pick-Staiger Concert Hall and will be livestreamed and recorded for later viewing. Due to capacity in the venue, tickets are required and will be distributed to Medill students who are graduating prior to the event.