IMC alumnus transformed content skills from creation to strategy through IMC program
David Schroeder (IMC17) now uses data-driven approach to help increase web traffic performance in job at CallRail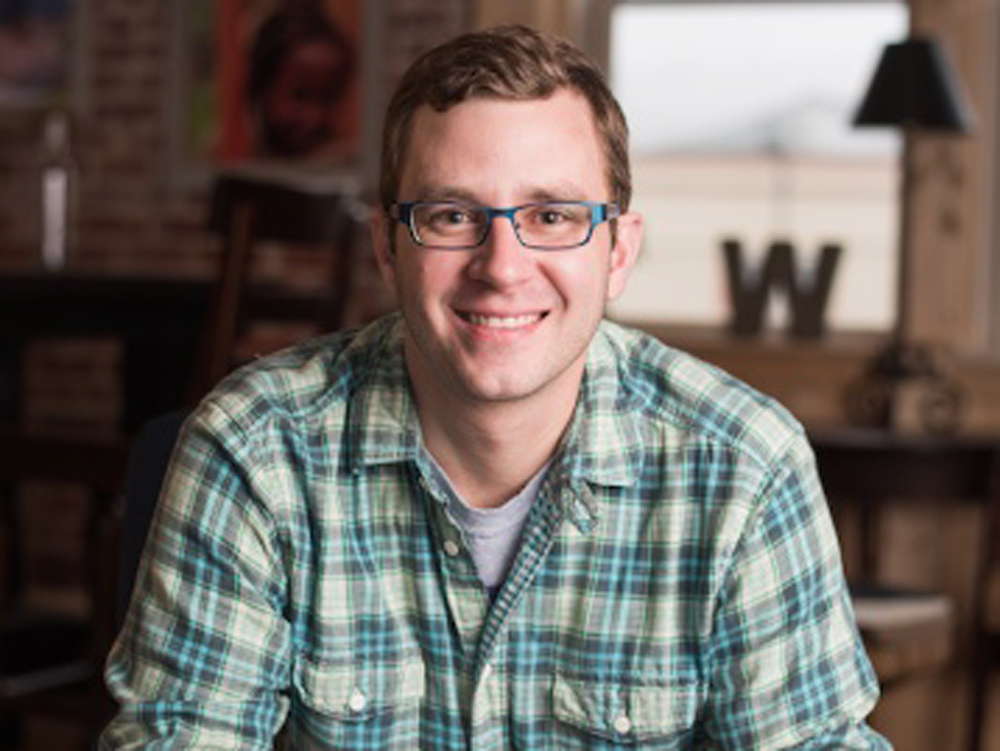 For David Schroeder, his drive to evolve beyond content creation led him to search for a better approach to digital strategy. Well acquainted with Northwestern's reputation and committed to developing his marketing, analytical and strategic skills, Schroeder enrolled in the Medill Integrated Marketing Communications Online master's program in June 2013.
Now a conversion optimization manager at CallRail, a marketing technology company that measures call conversions, Schroeder uses IMC's data-centric approach to help increase web traffic performance.
But, it wasn't a straight path to Medill IMC—Schroeder packed a lot of adventure in his dozen years after graduating from the University of Evansville in Evansville, Ind. A fine arts major, Schroeder went straight into an MFA program for theater at NYU, which led to early work in the world of film and video production.
After graduation in 2008, he "cut his teeth in digital video" and eventually was hired full-time to be a broadcast producer for an international disaster relief organization, a position that allowed him to travel extensively through Latin America, Africa, Eastern Europe and Asia, including North Korea. Schroeder spent five years with the organization developing and producing marketing-oriented, story-driven branded content.
Aside from serving as an account manager for video production with the organization's largest charitable brand, Schroeder also co-wrote and helped produce a feature documentary film, "Facing Darkness," about the doctors and medical staff who remained in Liberia to help fight the Ebola epidemic in Western Africa. The film would eventually play in 800 theaters nationwide, generate a $1.8M box office and become the number-one-selling documentary on Amazon in August 2017, the same year he graduated from IMC.
Learn more about Schroeder in this Q&A: 
What attracted you to the IMC Online program?
I was very interested in the space around content strategy and transmedia, and was becoming skeptical of the spaghetti on the wall approach to strategic planning that was pervasive with the explosion of online content. I wanted to better understand what stories and what types of storytelling resonated with viewers, and how different platforms or channels interacted with each other. That is how I eventually discovered Northwestern Medill's IMC Online program. 
What was it like working full-time and pursuing a graduate degree?
Most online students complete their degree in two years, but because of the nature of international disaster relief work, being on call 24/7 and often traveling to remote or communication-challenged areas, I could only handle one class at a time. With a short intermission to get married, I managed to graduate four years later.
What attracted you to your job at CallRail and how does IMC fit into your role?
After graduation, my wife and I had been anticipating re-locating and finding a new role in Atlanta. I had been very interested in pursuing the tech sector and was thrilled to learn that Atlanta had a burgeoning tech community on which to narrow my job search. A rigorous search resulted in a great offer with a fast-rising marketing tech company named CallRail that provides a B2B call tracking product. Joining a small demand generation team, I was tasked with creating a culture of experimentation and leveraging new technology to improve web traffic efficiency as the conversion optimization manager.
What IMC courses do you refer to in your work?
Reflecting on my time and investment at Northwestern, the exciting work that I'm a part of now, as well as the opportunities that come with it, seems like a clear result of my education and training in the IMC program. It is evident that for me pursuing a degree at Northwestern Medill's IMC program was an unqualified win. While courses like Data & Statistics and Marketing Measurement have been the most relevant to my day-to-day work, the overall experience was transformative in such a broad way. Media Economics, Marketing Management, Persuasive Messaging, Storytelling, Consumer Insight and Brand Communication were all hugely formative.
What advice would you give you to a future IMC student?
I encourage future students to remember it is a marathon and not a sprint, but it is well worth the experience!