Four Medill alumni chosen as 2017-18 Fulbright Scholars
Alums have been selected to participate in this widely recognized and respected international exchange program on four different continents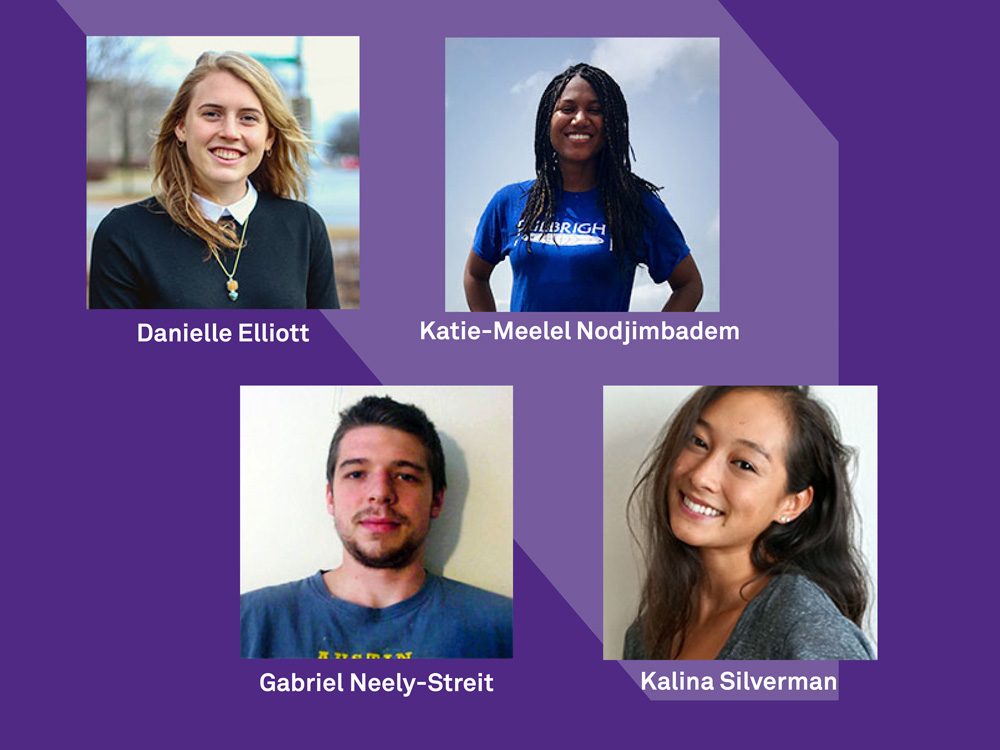 Four graduates of Northwestern University's Medill School of Journalism, Media, Integrated Marketing Communications have been selected as winners of the 2017-18 Fulbright U.S. Student Program. 
The alumni and the countries where they are studying include:
Danielle Elliott (BSJ17), Spain
Katie-Meelel Nodjimbadem (BSJ15), Ivory Coast
Gabriel Neely-Streit (BSJ16), Mexico
Kalina Silverman (BSJ16), Singapore
The four Medill alumni are part of a group of 24 Northwestern students and alumni selected this year for the Fulbright U.S. Student Program—one of the most widely recognized and respected international exchange programs in the world. 
The flagship international educational exchange program of the U.S. government, the Fulbright U.S. Student Program provides grants to teach, conduct research, study or participate in specialized internships.
The Medill honorees were recently featured on "Northwestern Now":
Danielle Elliott – Spain
Elliott is teaching English at the Universidad Camilo José Cela in Madrid, Spain. She teaches a film class in English, a new area of study for her. "The biggest challenge I've had here, and what Northwestern has helped me prepare for, has been adaptation," Elliott said. "My study abroad experience on Global Engagement Studies Institute definitely gave me the toolbox of personal skills needed to live abroad. Fulbright is so much more than a professional experience – for me, the most significant part has been my personal growth."
Katie-Meelel Nodjimbadem – Ivory Coast
Nodjimbadem is living in the heart of Abidjan, Cȏte d'Ivoire as a Fulbright English Teaching Assistant. A proud Medill alumna, Nodjimbadem worked as a reporter in Washington, D.C. following graduation from Northwestern in 2015. In Abidjan, she is stationed at a public combined middle and high school, where around 4,200 students between the ages of nine and 20 are enrolled. In addition to teaching classes at every level, she runs the school's English club. She also started "Talking about the News," a class for adults at the U.S. Embassy's center for entrepreneurship.
Gabriel Neely-Streit – Mexico
Neely-Streit is an English Teaching Assistant in Mexico. In Chicago, Neely-Streit wrote extensively for Hoy, the Spanish-language publication from the Tribune company. In addition to English, he will teach music production skills to local youth in Mexico. His goal is to demonstrate how technology allows sophisticated musical expression without advanced technical skills. Neely-Streit brings his experience in the Northwestern program AMPED, which teaches music production skills to youth in the Cook County Juvenile Detention System. His plans upon return from Mexico are to become either a teacher or community organizer, but to always tell stories through journalism.
Kalina Silverman – Singapore
Silverman is studying intercultural communications between local Singaporeans and migrant workers. In response to her YouTube project "Big Talk," in which Silverman filmed encounters with strangers when she "skipped small talk," people began asking for help making "Big Talk" in their own lives. That is what inspired her to apply for her Fulbright. "Although my field of study is intercultural communications, my Medill education led me here and serves me well in my research where the next phase will be interviewing migrant workers in Little India."
Learn more about all of Northwestern's Fulbrights for 2017-18.