Medill students experience life on an aircraft carrier at sea
Students in Politics and National Security specialization participate in in-depth reporting project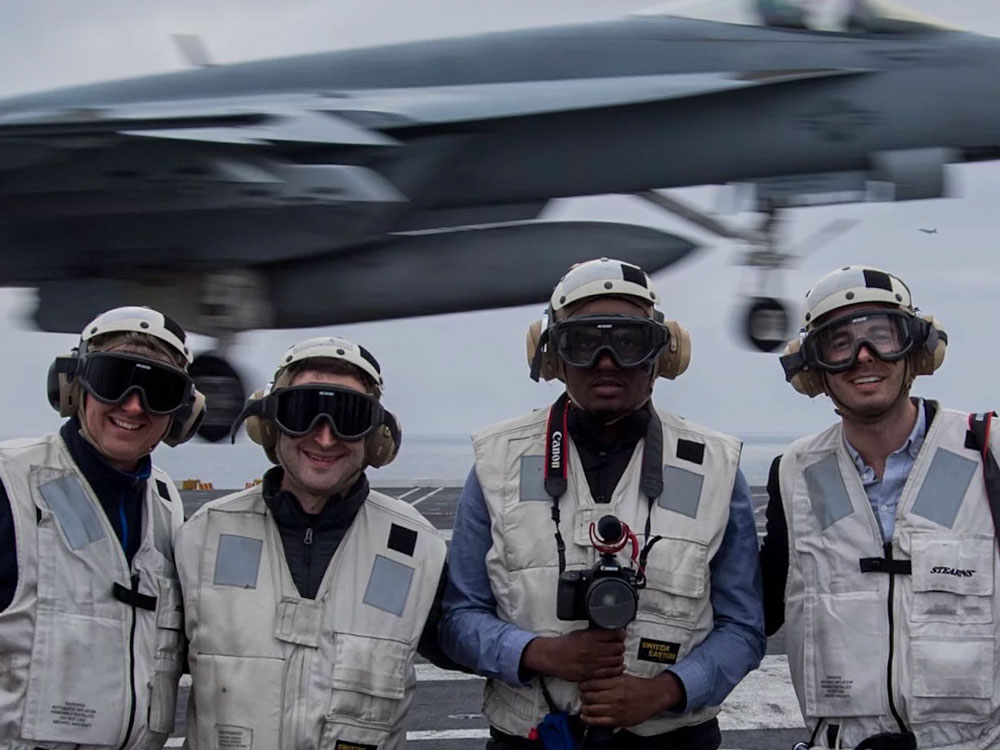 During the week of April 22, three Medill graduate journalism students reported from a U.S. naval aircraft carrier out at sea off the coast of the Baja Peninsula of Mexico, part of an in-depth reporting project associated with Medill's Politics and National Security specialization.
The students -- Casey Egan, Gerald Harris and Kevin Schmidt -- were joined by Medill's Technology Training and Operations Manager Brian Snyder.   
After an extensive briefing about the U.S. Navy's aircraft carrier operations at Naval Station North Island on Coronado Island just outside of San Diego, the group boarded a C-2 Greyhound propeller aircraft for a flight to the USS John C. Stennis, one of the Navy's 11 actively operating aircraft carriers. 
The Medill crew got to experience a "trap landing" on the carrier, which entailed the Greyhound dropping a tail hook that snagged one of four deployed steel wires that stop the plane in around two seconds.  
The Stennis, whose current home port is Bremerton, Washington, was roughly 100 miles off the Mexican shoreline performing training operations for an upcoming deployment to an undisclosed location.
Lt. Com. Frederick Martin, the lead public affairs officer for the ship, showed the students nearly all elements of life onboard. The students had an opportunity to interview the ship's captain, executive officer, admiral, fighter pilots and even the baristas at the carrier's coffee shop, among others. 
The students also had the chance to observe flight operations up close from the flight deck and the flag bridge of the ship.
After 48 hours aboard the ship, they experienced a steam-powered catapult launch takeoff on the C-2 Greyhound for their flight back to Naval Station North Island.
Check out this slideshow about their experience: