Medill names Daniel H. Renberg Chair on social justice, LGBTQ media studies
Award-winning journalist Steven Thrasher selected as first Renberg Chair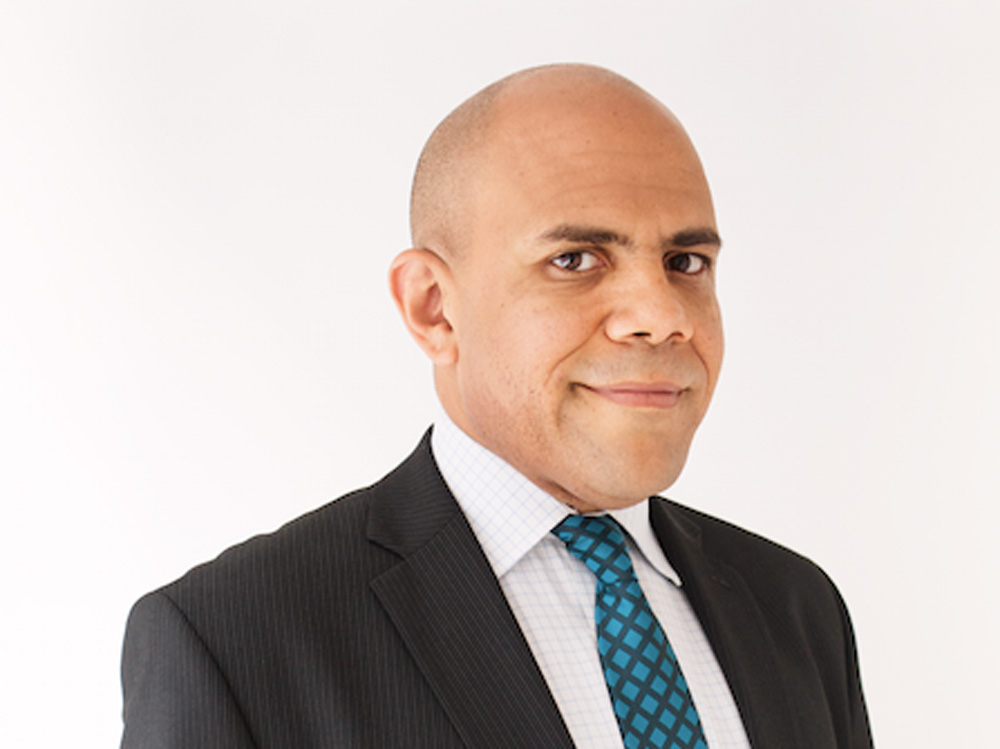 Journalist Steven Thrasher has been named the inaugural holder of the Daniel H. Renberg Chair, an endowed professorship that will focus on social justice in reporting, with an emphasis on issues relevant to the LGBTQ community, at Northwestern University's Medill School of Journalism, Media, Integrated Marketing Communications.
Thrasher, a contributor for The Guardian and contributing editor at BuzzFeed, was named Journalist of the Year 2012 by the National Lesbian and Gay Journalists Association for his investigative feature writing in The New York Times, Village Voice and Out magazine. In 2015, he received the Gannett Foundation's Al Neuharth Award for Innovation in Investigative Journalism.
The newly endowed chair is named in memory of Daniel H. Renberg, the late financier and philanthropist, who earned his Bachelor of Science in journalism from Northwestern in 1952. The gift to endow the position was made by Eugene Kapaloski, Renberg's husband and partner of 53 years. In 2010, Renberg was awarded the Lifetime Achievement Award from the Gay, Lesbian and Straight Education Network. He was an Army veteran, businessman and major supporter of several organizations and causes, including the Los Angeles Museum of the Holocaust and the Los Angeles Gay and Lesbian Center. He was at one time a major investor in The Advocate, a prominent LGBT publication.
"Gene's choice to honor Dan's life by creating this endowed chair at Medill will make a lasting difference to Medill and journalism, especially in the coverage of sexual and gender minorities," said Medill Interim Dean Charles Whitaker. "We are grateful to Gene for investing in this work."
"I'm proud to establish this endowed chair in Dan's honor in this important area of study so Medill may continue to lead in developing dedicated storytellers who can shed light on injustice, inequality and discrimination," Kapaloski said.
Thrasher will join the faculty in spring 2019 and will teach at both the undergraduate and graduate levels while continuing to write on gender and sexuality related topics.
"I am deeply honored to be named the inaugural holder of the Daniel H. Renberg Chair," Thrasher said. "In supporting the Advocate and fighting to get married, Mr. Renberg and Mr. Kapaloski have been paving the way for my career for some time by living the kinds of lives I've covered and supporting the kinds of publications that have published me. And now, they're providing me the opportunity to hold the first chair to not just address LGBTQ life and reporting, but to center them as crucial in journalism education. I'm a little teary-eyed feeling a connection across time with these two gay men who have created this once-in-a-lifetime opportunity."
"The search committee received so many stunning applications for this first-of-its-kind position. Steven Thrasher's unusual combination of investigative skills, incisive commentary and promising scholarship stood out," said Douglas Foster, chair of the faculty search committee and a Medill associate professor. "As the inaugural Daniel H. Renberg Chair, he'll surely make his mark by helping the next generation of journalists invent better ways of covering diverse LGTBQ communities."
Thrasher is a doctoral candidate in American studies at New York University's Department of Social and Cultural Analysis, where he recently received a Ford Foundation Creativity and Free Expression grant for his research on HIV/AIDS. He also is a regular contributor to Esquire, The New York Review of Books and The New York Times. In 2017, he was named to the Hall of Fame of the American Sociological Association's journal, Contexts. He is a Sloan Foundation Science Writing Fellow and a 2010 recipient of the Anti-Violence Project's Courage Award. Thrasher holds a Bachelor of Fine Arts in dramatic writing and film/TV production from the Tisch School of the Arts, and prior to working primarily as a writer, he held production jobs with NBC's "Saturday Night Live," HBO's "The Laramie Project" and NPR's StoryCorps project.