Innovation key to making connections with consumers, marketing leaders say
Medill IMC's ninth TalentQ Expo brings students, professionals together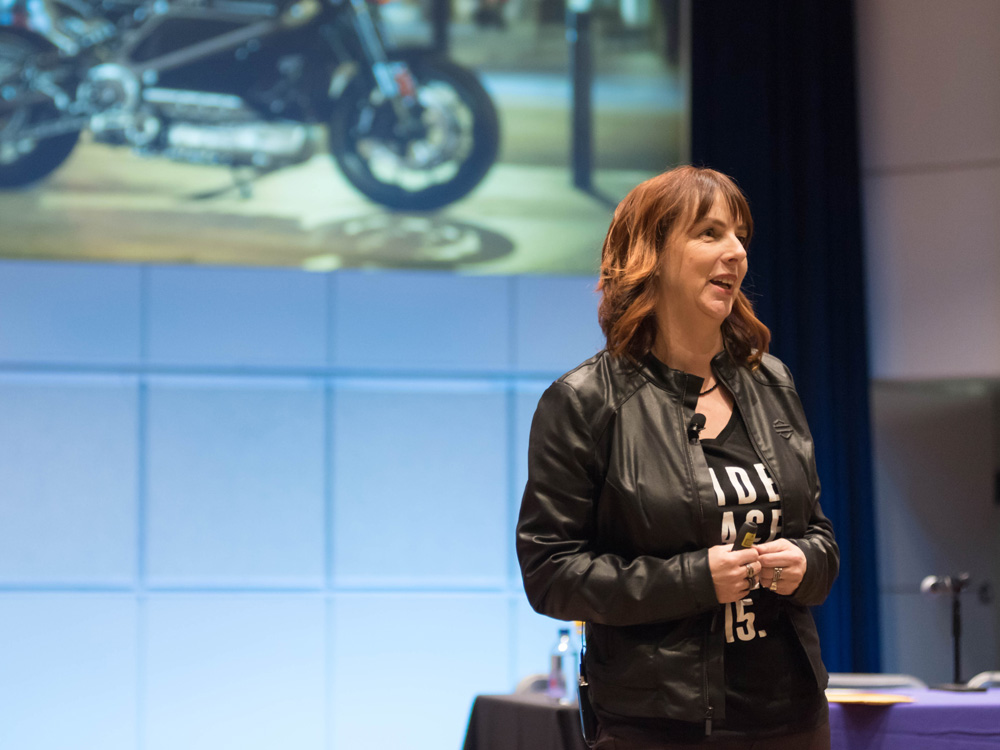 Innovation that motivates consumers is at the heart of the challenges facing marketers today, whether it's keeping a 115-year-old brand fresh or studying how brands bolster each other online.
Those were key parts of the discussion at the Medill Integrated Marketing Communications (IMC) ninth-annual TalentQ Expo, a gathering of leading marketers who spoke to Medill students, faculty, staff, alumni and industry professionals.
Harley-Davidson Chief Marketing Officer Heather Malenshek, in her keynote address, discussed what the Harley-Davidson brand means to her and thousands of riders around the world. To keep those feelings strong as well as expand the Harley-Davidson community, she talked about how the company balances its rich legacy with innovative new products and approaches.
For example, Malenshek said company leaders questioned themselves this summer before deciding to release information earlier than they normally do about new electric motorcycles and other updates that are coming in the next few years. The move fit the brand's mission of fulfilling people's dreams of personal freedom, she said. 
The evening began with Rushil Mohan (IMC18) speaking on behalf of the IMC Spiegel Research Center student team about how multisided platforms are the future of marketing because of their networking ability. Multisided platforms aggregate products or companies and provide these services to customers all on one platform (think Amazon's marketplace that allows many retailers to sell their products through Amazon).
While one may think that having similar brands on the same platform causes competition among them, Mohan used ShopRunner as an example of how multisided platforms are a "win/win/win": Suppliers receive new customers connected in the network, customers get a frictionless shopping experience while being targeted with their best and most relevant products, and facilitators have a direct touch point with customers to receive data.
IMC Lecturer Jonathan Copulsky followed by moderating a panel featuring marketers Paul Gunning of DDB; IMC alumna Katie Lahti of 3M; Andria Long formerly of Johnsonville; IMC alumna Tiffani Saxton of Arity; and Bill Watkins of Pinterest. The topic was innovation and how it will shape the future of marketing. The quintet stressed the core principle of IMC as it relates to innovation—that all new products and services must meet a consumer need. They also emphasized the importance of data as companies make decisions.
TalentQ is put together by a team of Medill IMC students. This year's team included Shivi Kundra (IMC18), Cindy Chang (IMC18), Beiyuan Zhang (IMC18) and Camille Murray (IMC18). After the presentations, the student attendees had the chance to network with marketing professionals, connections that will be important to them as they seek jobs after graduation.
"What's so incredible about this event is that these students study integrated marketing communications, which is all about understanding the audience and connecting with them in worthwhile ways," Medill IMC Lecturer Marty Kohr said. "They walk the talk of what they're learning by putting this all together and creating content that was totally engaging and worthwhile for both parties."