Freedom in journalism
The Texas Tribune is changing the journalism landscape for the better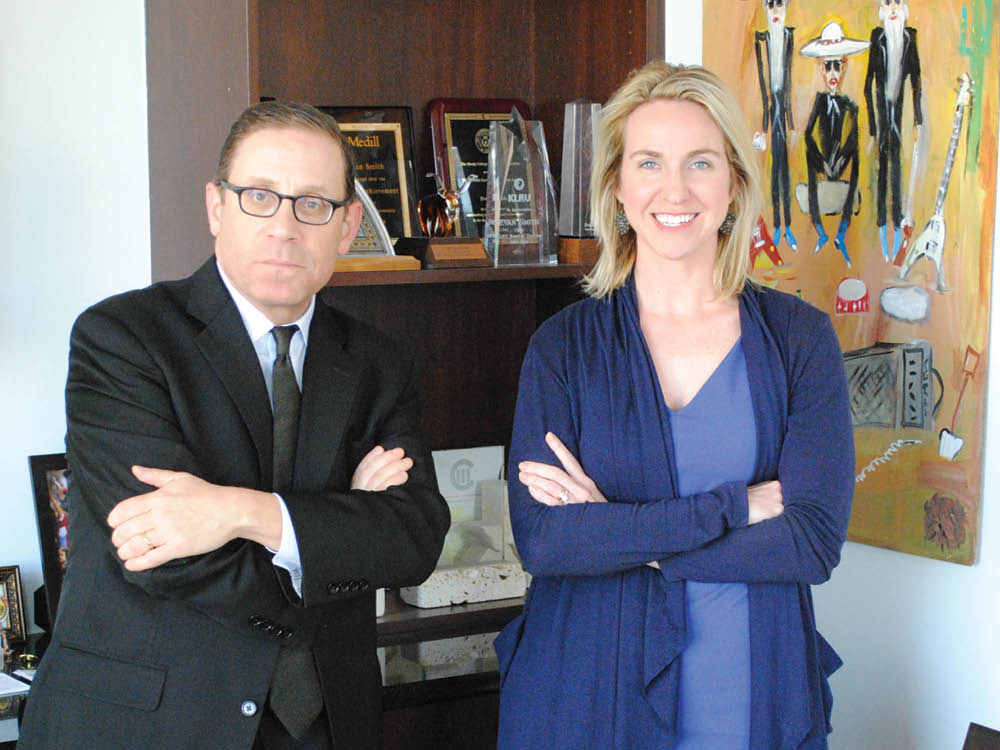 In the mid 2000s, Evan Smith (MSJ88) had been the editor at Texas Monthly magazine for nearly 18 years. So he started thinking about what was next. In 2009, the magazine won a National Magazine Award for General Excellence, beating out The Atlantic, Backpacker, New York, and W. Upon receiving this prestigious award— akin to newspapers' Pulitzer Prize—at the Lincoln Center, Smith mouthed the words "I quit" to himself. "I had this moment where I thought, 'This is a sign. There's not going to be a better time to jump off than now,'" he said. So he jumped.
Before he left Texas Monthly, Smith was already in conversations with a journalism friend about the idea of a new model for journalism. "For profit wasn't working as well as it should be," Smith recalls. They decided this new model should focus on a few key areas where there was a lack of reporting: public policy, politics and government.
Together they put the idea together for The Texas Tribune and began their fundraising efforts, convinced people would be skeptical of this new idea for a nonprofit news organization. "It was the easiest fundraise I've ever seen," Smith said. They hoped to raise $3.5 million by the end of 2009, but they raised almost $4 million that first year. Texans wanted this, and they wanted it now.
Chicago has WBEZ, New York has WNYC, Dallas has KERA, and even Austin has an NPR affiliate, but the idea of a nonprofit media organization operating like a daily for-profit was new to a town—and a state—with some of the best reporting outlets west of the Mississippi. These were reporting outlets like The Dallas Morning News, where Texas AP Managing Editors had just named Emily Ramshaw (BSJ03) Star Reporter of the Year.
Ramshaw was on, what Smith describes as, "the fantasy baseball league of reporters." He wanted her for The Tribune, among other star reporters. "Emily was a huge catch for us. Everyone on the list who we wanted, we got," Smith said.
Ramshaw was no stranger to journalism when she took the job at The Tribune. Both her parents were journalists and she's a fourth generation Northwestern alumnus. "I didn't want to be beholden to the same business model that my folks had been beholden to. I wanted the freedom and flexibility to try something totally new," she said on the allure of the Tribune opportunity. "When they came to me and told me about [The Tribune], they said 'Do you want to take this leap? It's a risk.' I said, 'Staying in the mainstream media model is a risk.' To me this felt like freedom," Ramshaw said.
The Texas Tribune newsroom is largely composed of young reporters. And that's not unintentional or to get cheap labor. "They show up on the very first day banging it. They've grown up in a world of connectedness," Smith said of his millennial reporters. "They're the guts and the heart and the soul of this place. Emily is leading a newsroom of next generation journalists," he said. "It's a technology business as much as a media business."
Many of these young journalists come from Medill. In fact, it's a very purple newsroom. "The young people who come to our organization through fellowships or through their journalism residency or through the Medill News Service, without fail, are stars. I can't think of a single one who hasn't been a star," Ramshaw said of the many Medill students who have started their careers at The Tribune.
"We've had no flameouts," Smith said. "The Northwestern students are terrifically prepared, enthusiastic about the work, grateful for the opportunity, and fearless."
In a time where newsrooms and journalism schools place importance on teaching students to be great at a variety of skills, Medill continues to emphasize strong writing and reporting skills. "The Northwestern students that come to us have the fundamentals down so strongly that they're able to jump into the deep end immediately and be major contributors to our staff," Ramshaw said. This, she says, is what sets Medill students apart from fellows and interns who come to The Tribune from other institutions.
In February, the Tribune's managing editor, Corrie MacLaggan, was named an Online News Assocation Journalism Mentorship Collaborative fellow. "We are working really aggressively to make professional development and career development a big priority for us at the Tribune," Ramshaw said. "And in the process, making diversity an even bigger priority. Mentorship is a great avenue to really empower us in both those arenas."
Since 2011, the news outlet has hosted The Texas Tribune Festival, an event uniting Texas communities with the most important decision makers in the state. In 2017, the festival had 250 speakers, almost 5,000 attendees, and generated $1.5 million in gross revenue. "It's not about the revenue, but it's not not about the revenue," Smith said.
"It's about the mission…people in Texas communities are desperate for these conversations. They want to be part of something larger than themselves."
Smith said that today the default setting is that the world doesn't trust the media. "We come into work every day with a mountain to scale. We can't make unforced errors, giving people more of a reason to mistrust us," he said. "We're enormously careful about being right, waiting to hit publish until we're positive we're right." With their free distribution model, The Texas Tribune often powers stories around the state and the nation with their coverage, placing on them an incredible responsibility to be accurate in their reporting. "People don't remember who was first, but they do remember who is right," Smith said. "We don't want to leap before we look."