NBC White House correspondent and Vox Media publisher to speak at June 2019 Medill convocations
Alumni Peter Alexander and Melissa Bell will address graduates and their families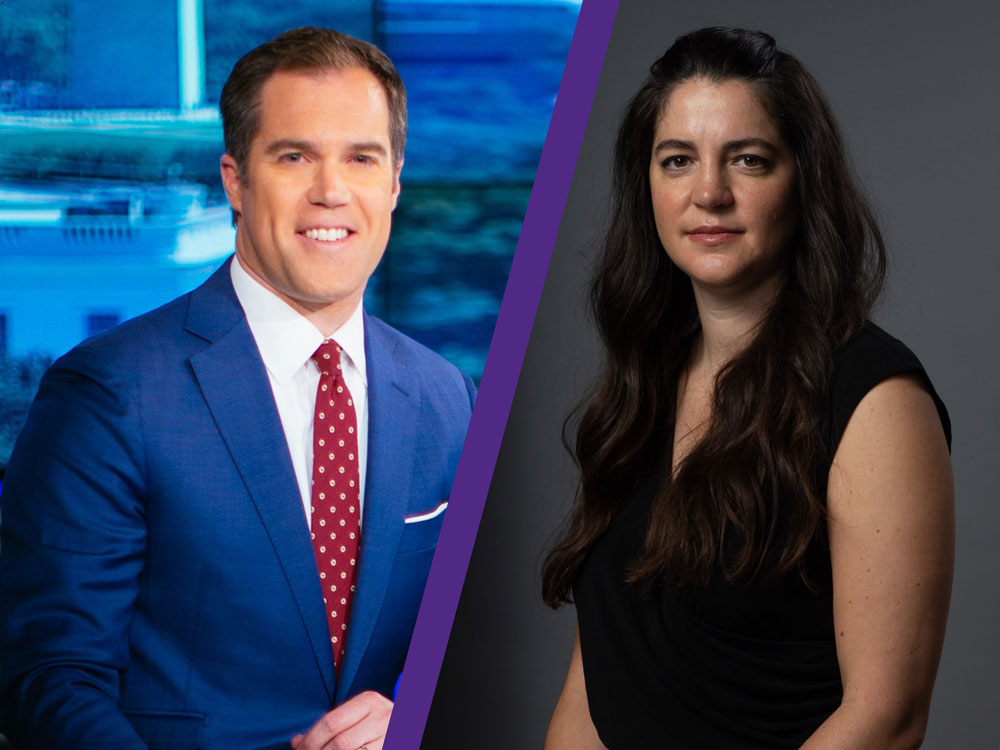 Medill alumni Peter Alexander (BSJ98) and Melissa Bell (MSJ06) will address graduates and their families at Medill's convocation ceremonies on Saturday, June 22.
Emmy Award-winning journalist Peter Alexander is the co-anchor of "Weekend TODAY" and White House correspondent for NBC News. He will speak to undergraduate journalism students at a ceremony in Cahn Auditorium in Evanston starting at 10 a.m.
Melissa Bell, publisher of Vox Media, Inc., will speak to the graduate students in the journalism and integrated marketing communications programs at an afternoon ceremony in Cahn starting at 2 p.m. Both ceremonies will be livestreamed.
"We are thrilled to have these two distinguished alumni speak to our graduates," said Medill Interim Dean Charles Whitaker. "One of the great benefits of being part of the Medill family is the opportunity to learn from and be inspired by professionals who were once new graduates themselves and have gone on to achieve great success."
Alexander joined "Weekend TODAY" as co-anchor in October 2018. As White House correspondent for NBC News, his reporting appears across all platforms of NBC News and MSNBC including "NBC Nightly News with Lester Holt," "TODAY," "Meet the Press," "Dateline" and NBCNews.com.
His reporting on the Trump administration is often cited by other outlets. During the 2018 Winter Olympics in South Korea, Alexander earned praise for his exclusive interview with senior adviser Ivanka Trump and, more recently, Alexander led NBC News' coverage of the confirmation hearings for Supreme Court Justice Brett Kavanaugh.
Alexander covered then-candidate Donald Trump during the 2016 presidential campaign. He reported from the trail of multiple GOP candidates, securing interviews with Govs. Kasich and Bush during pivotal moments of their campaigns.
He was assigned to cover the White House for NBC News in 2012. Prior to joining the NBC News White House team, Alexander led the network's on-the-ground coverage of the 2012 Republican presidential race, reporting from the trail on GOP nominee Mitt Romney through Election Day. Alexander's reporting earned him recognition as one of POLITICO's '10 Breakout Reporters of 2012.'
Since arriving at NBC News in 2004, Alexander has covered numerous international stories—from Iraq's historic 2005 election to the death of Osama bin Laden in Pakistan and the tsunami in Indonesia. He interviewed then-Cuban president Fidel Castro during Hurricane Ivan in 2005.
Before NBC News, Alexander worked as the lead reporter and substitute evening anchor at KCPQ-TV in Seattle, Washington. A recipient of the prestigious Edward R. Murrow Award, Alexander has also been recognized by the Associated Press, the Radio-Television News Directors Association and the Society of Professional Journalists.
"The skills I acquired during my four years at Northwestern laid the foundation for my career, fostering my dedication to accuracy, transparency and impartiality," Alexander said. "I'm honored to return to Medill to speak to this impressive group of graduates who I'm confident throughout their careers will demonstrate passion and a sense of purpose for truthful, meaningful reporting."
Melissa Bell is the publisher of Vox Media, the company known for building modern media properties and the platforms that enable them. She is responsible for the editorial strategy, growth and development of the company's networks, including SB Nation, Eater, The Verge, Vox, Curbed, Recode and Polygon—newsrooms whose stories reach many millions of people each month across multiple mediums, including websites, video series, podcasts, live events and television shows.
Bell is also the co-founder of Vox, Vox Media's network known for explaining the news. In the five years since Bell founded Vox with Ezra Klein and Matt Yglesias, the initial website has grown into a vast network that spans long-form features, a Netflix series, a daily news podcast as well as nine other narrative and interview podcast shows, a YouTube membership program, and more. In 2018, Vox was nominated for the Online News Association's Excellence in Journalism Award and three Emmys.
Prior to Vox Media, Bell oversaw digital platforms at The Washington Post, where she was also one of The Post's most-read bloggers and a columnist for the Style section. Before joining The Post, she helped launch Mint, a Wall Street Journal subsidiary in India, where she lived for four years.
During her tenure at Vox Media, the company was named one of 'The World's Most Innovative Companies in Media' by Fast Company in 2017, named a 'Company of the Year' by Inc. in 2016, and earned a 100-percent score on the Human Rights Campaign's Corporate Equality Index for LGBTQ-inclusive workplace policies and practices in 2019.
"I fell truly, madly, deeply in love with journalism at Northwestern and that love affair hasn't stopped," said Bell. "There's nothing more amazing than to be giving the mandate: to go out and find the stories worthy of being told. Journalism is hard and complicated and, at times, dangerous – more so now than at any time in my career. But there's nothing I'd rather be doing in the world."
Bell received her undergraduate degree from Georgetown University.
Student Speakers
Undergraduate ceremony: Melania Hidalgo (BSJ19), a journalism/political science double major, is the 2019 Medill convocation undergraduate student speaker. Hidalgo was a Global Wildcat coordinator for the Office of International Admissions, as well as the education chair of her sorority. She also co-founded the campus literary magazine Lickerish, and was selected for the American Society of Magazine Editors internship her junior year. 
Graduate ceremony: Colie Lumbreras (IMC19), is a part-time student in the IMC program. She is a member of the Student Leadership Committee and a student ambassador for Medill IMC. She received a bachelor's degree in journalism and now works on the clinical marketing team at NorthShore University HealthSystem and is a co-founder of Callie's Cupcakery, as well as a living kidney donor and advocate for organ donation.
Graduate ceremony: Alexis Jori Shanes (MSJ19) is a health, science and environment specialization student in the MSJ program. During her time at Northwestern, Shanes reported from Chicago, Washington, D.C., China and Israel, and was a member of the Knight Lab Studio and the MSJ Student Leadership Committee. She will join the USA Today Network in New Jersey in July.
Livestream Information
Due to space constraints in the venue, admission to both convocation ceremonies is by ticket only.
Saturday, June 22, 10 a.m.
Undergraduate journalism convocation livestream
Saturday, June 22, 2 p.m.
Graduate convocation livestream