Medill professor, students create multimedia tour to highlight roles of Indigenous peoples at Northwestern
Tour highlights history and current campus activities relating to Native Americans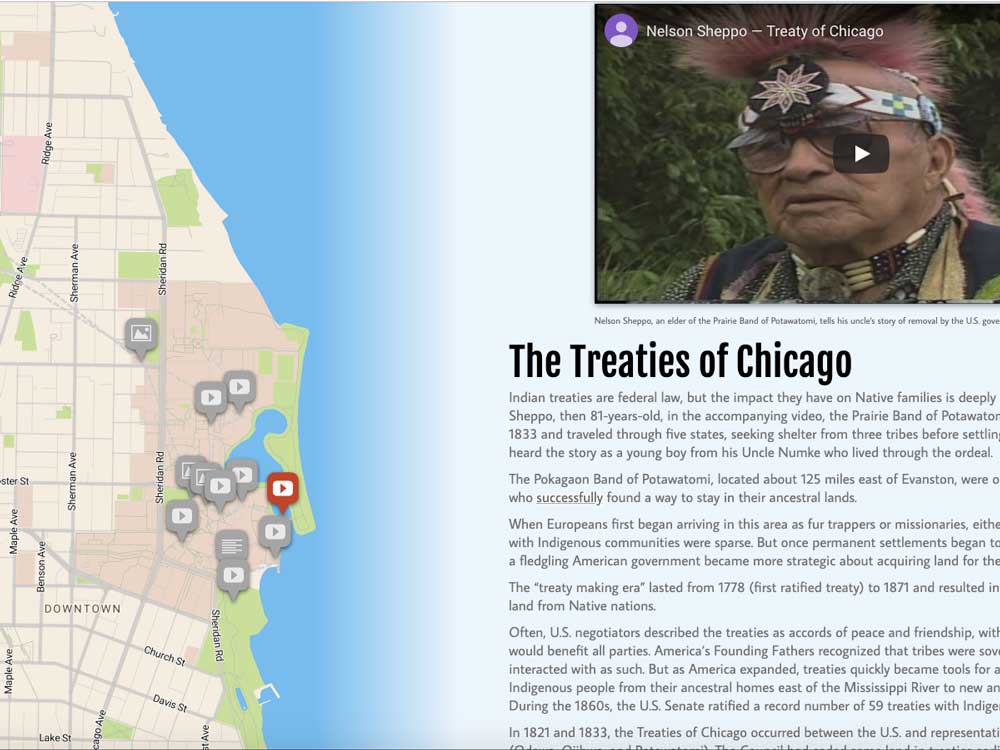 A Northwestern University Medill School professor and her students have created an interactive "Indigenous Tour of Northwestern" that explores the history of Native people in the area as well as how that history influences society and campus life today.
Medill Professor Patty Loew, who also is director of the Center for Native American and Indigenous Research at Northwestern, led the project. The tour uses the StoryMap JS tool created by Medill's Knight Lab. The tour was developed as a partnership between the Medill School of Journalism, Media, Integrated Marketing Communications, the Center for Native American and Indigenous Research and the Northwestern School of Communication Sound and Art Industries program.
"I started my time at Northwestern by listening to Native Americans in the community," said Loew. "Although there are almost 89,000 Native Americans in the Chicago area, they feel largely invisible. I wanted to help tell the history of how Indigenous people lived in the area and how that affects how we live today. This will help increase Native peoples' visibility."
Earlier this year, Loew received a Daniel I. Linzer Grant for Innovation in Diversity and Equity from Northwestern, which allowed her to work with undergraduate students in her Media History class to develop the interactive tour.
The students investigated different aspects of Native American history and wrote and recorded stories that bring people of the past to life. For example, the tour highlights key figures such as Carlos Montezuma, the first Native man to earn a medical degree at Northwestern. It also discusses historical events such as the Treaties of Chicago in which the U.S. government took lands from Native peoples, and the Sand Creek Massacre, in which John Evans, one of Northwestern's founders, played a role.
The tour also highlights how issues championed by Indigenous people are carried out today, and how Native American influences are felt all over the Northwestern campus. Some highlights include the garden outside the Norris University Center planted by student group Wild Roots that exists in accordance with food sovereignty, an important Native American issue. Another section of the tour explains the maple tree tapping for syrup that takes place across campus, and how it stems from a collaboration with the American Indian Center of Chicago.
Further, the basketball court floor at Welsh-Ryan Arena is made of sustainably sourced white maple lumber from the Menominee Nation forest in northeastern Wisconsin. And, Northwestern's James L. Allen Center hosts one of the largest collections of Inuit art in the Midwest. Images of this art are part of the tour.
In addition to the online tour, a narrated walking tour is being developed. Loew and her team are also working with Evanston's school district to create curriculum about Native peoples for Evanston high school students.
"Professor Loew and her students have done a remarkable job using digital tools to highlight the stories of the Native Americans that are part of the fabric of our campus," said Medill Dean Charles Whitaker. "Being aware of this history, some of it painful, is nonetheless important as we work to further our appreciation for the many ways that Native American culture is imprinted on and has enriched our society." 
To celebrate Indigenous Peoples' Day on Oct. 14, the Center for Native American and Indigenous Research will offer a breakfast, tour and discussion at Deering Library.