Kelly Cutler named director of Integrated Marketing Communications Part-Time and Online master's programs
Founder and CEO of digital marketing firm brings expertise to Medill IMC students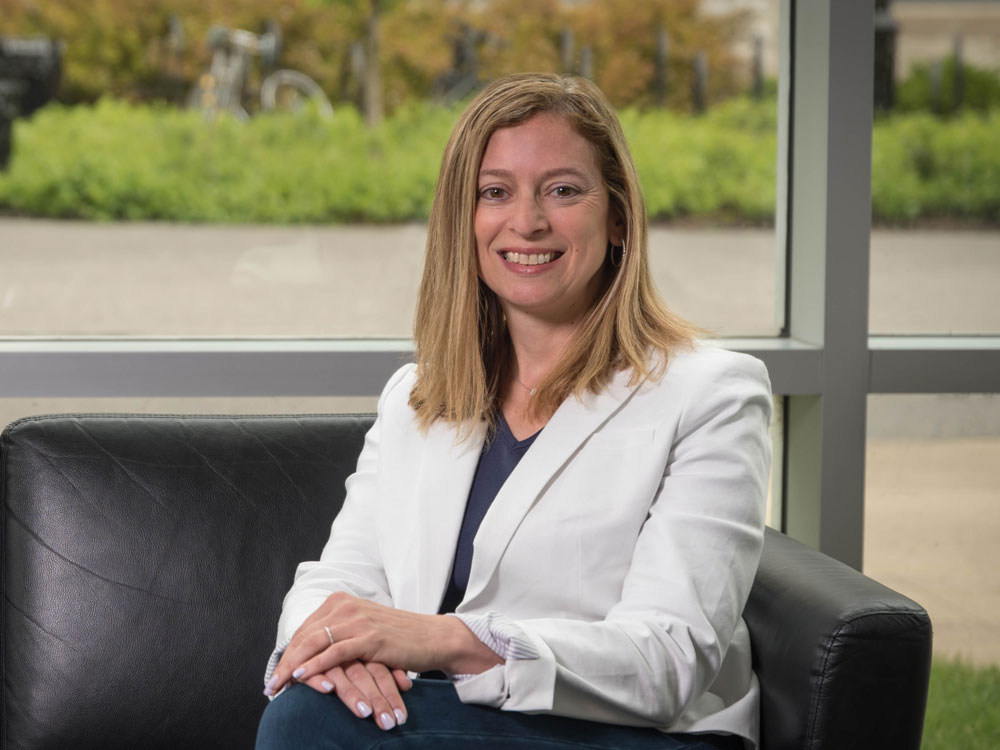 This month, Kelly Cutler assumed the role as director of the Northwestern Medill Integrated Marketing Communications (IMC) Part-Time and Online master's programs. She is also a lecturer at Medill who teaches courses in digital analytics and media. Her classes offer students hands-on experience with researching, using and measuring cutting-edge digital marketing strategies and tactics.
Cutler is the founder and CEO of Kona Company, a digital strategy firm. She brings more than 20 years of experience in digital marketing to Medill. Prior to founding Kona Company, she co-founded and led a Chicago-based search engine marketing firm for 11 years. She began her career working for Classified Ventures, Cars.com and AOL. Over the years, she has provided digital marketing and innovative solutions for companies such as NorthShore University HealthSystem, the Los Angeles Film Festival and Ryland Homes.
Cutler is excited to add to her teaching role at Medill. She shared how the IMC program is uniquely equipped to help students accelerate their careers in marketing communications.
What do you love about working at Medill?
Teaching at Medill has been an amazing and eye-opening experience. I enjoy sharing my experience and knowledge with my students. I also appreciate the wealth of learning and new information that I gather from my colleagues, guest speakers and students. Medill is an incredible school with valuable resources, which has opened my eyes to all the possibilities that come with teaching in a graduate program. For instance, during the spring quarter, my class was able to attend two site visits, hosted by local IMC-related businesses. It was amazing to see how much my students were able to learn and soak up from the speakers, panels and demonstrations provided to us. 
What excites you about your new role at Medill?
My new role will allow me to continue to spread the word about the IMC program. I am looking forward to working more closely with students and faculty to continue to develop and fine-tune the programs and content that we deliver. The Part-Time and Online programs will continue to be even more relevant in the future. With the evolution of marketing and ad tech across businesses, more people will be looking for opportunities to grow their knowledge base and transition into new and different fields. The IMC program can facilitate that process.
What skills are key for marketers today?
Marketers must be agile. The world of marketing and IMC is always changing. Digital transformation and innovation are at the forefront for most companies and marketers are the critical glue that connects customers to companies. In order to grow and evolve, marketers cannot be afraid to fail. We need to make a business case for new ideas, try things and calibrate based on data. We see companies testing virtual and augmented reality, new uses of digital channels, account-based marketing, and marketing automation. In order to stay relevant, marketers need to constantly innovate and thus remain agile without being afraid to fail.
How does the IMC approach of using both art and science equip students to succeed in their careers?
Creativity is king for marketers. However, in order to make important decisions, marketers must use data to draw conclusions. Combining the art and the science allows us to maintain creativity but put numbers and data behind our decisions. Metrics and analytics empower marketers to do more and be increasingly creative in the long run.
Share a favorite marketing book or resource you've used recently.
A few of my favorite resources include:
Podcast: How I Built This
Book: "Measure What Matters" by John Doerr
Book: "Essentialism: The Disciplined Pursuit of Less" by Greg McKeown
Book: "Unfinished Business: Women, Men, Work and Family" by Anne-Marie Slaughter
Up next, I'm going to read "The Trillion Dollar Coach, The Leadership Playbook of Silicon Valley's Bill Campbell" by Eric Schmidt, Jonathan Rosenberg and Alan Eagle.