Medill announces Hall of Achievement class of 2019
Inductees have shaped journalism, public relations, marketing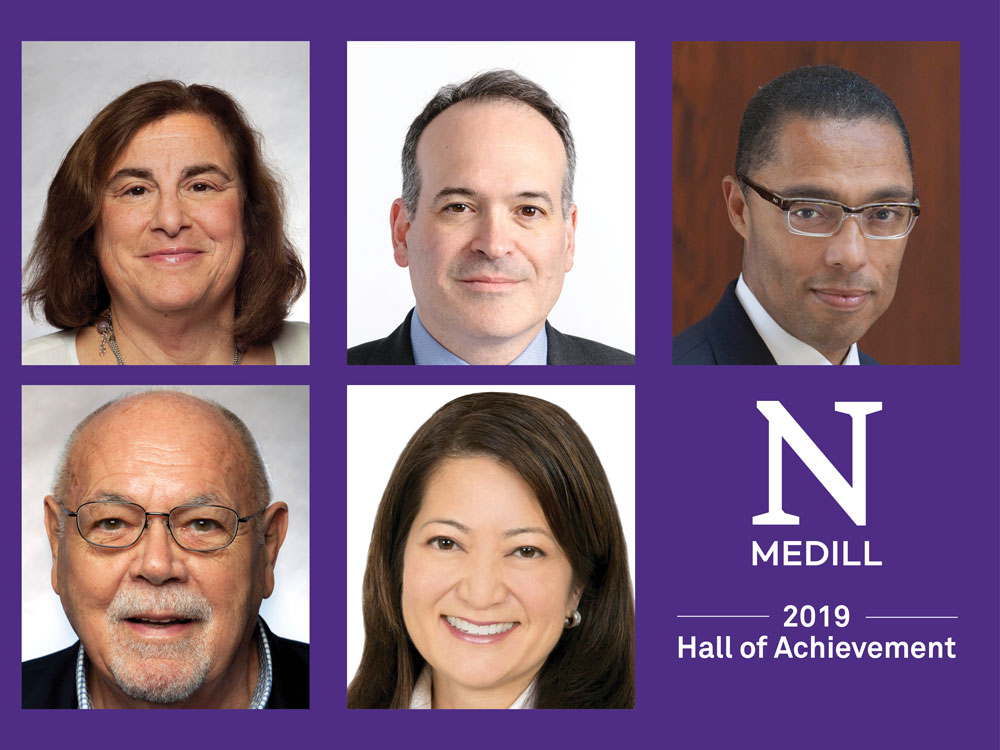 Northwestern University Medill School of Journalism, Media, Integrated Marketing Communications will welcome five inductees into its Hall of Achievement at a ceremony on May 16 in Evanston. The Hall of Achievement was established in 1997 to honor Medill alumni whose distinctive careers have had positive effects on their fields.
"Each of this year's Hall of Achievement inductees represents the best of Medill and is truly deserving of the school's highest honor," said Interim Dean Charles Whitaker. "This year's class is particularly special because it includes two long-time faculty members who have demonstrated extraordinary commitment to their students, their colleagues and their fields."
Donna Rosene Leff, Ph.D. (BSJ70, MSJ71)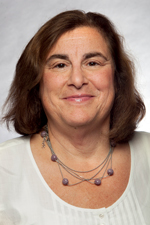 Professor Donna Leff (BSJ70, MSJ71) is currently the longest-serving full-time member of the Medill faculty and is a longstanding faculty affiliate of the University's Institute for Policy Research. She was editor of the Daily Northwestern from 1969 to 1970.
Leff teaches courses in science writing, urban reporting, urban issues, culture and the business of journalism, and media law and ethics. She does research on science/policy issues and the role of minorities and race in media coverage and in the profession. She is co-author of "The Journalism of Outrage" and several related studies on the effect of investigative reporting on social issues.
Leff's interest in health policy research is an outgrowth of her award-winning investigative reporting for Chicago Today and the Chicago Tribune newspapers and the Ypsilanti Michigan Press, where her exposés included the cover-up of murders at a Veterans Administration Hospital in Ann Arbor, Michigan, and widespread waste in public hospitals in Chicago.
Leff received a doctorate degree in public policy from the University of California at Berkeley.
Matt Murray (BSJ87, MSJ88)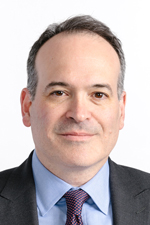 Matt Murray is the editor in chief of The Wall Street Journal and Dow Jones Newswires New York, and is responsible for all global newsgathering and editorial operations.
He previously served as executive editor since 2017, and had been deputy editor in chief since 2013. He joined Dow Jones & Company in 1994 as a reporter for the Pittsburgh bureau.
Murray is the author of two books. "The Father and the Son" tells the story of his father's spiritual quest and decision to enter a Benedictine monastery after the death of Murray's mother. He also is the co-author of "Strong of Heart: Life and Death in the Fire Department of New York," a memoir published in 2002 with former New York City fire commissioner Thomas Von Essen that chronicles Von Essen's career in the New York City Fire Department pre-and-post 9/11.
Brett A. Pulley (MSJ87)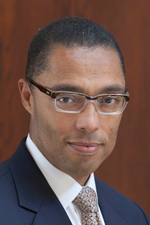 Brett A. Pulley is an executive vice president, director of corporate content and senior media strategist at Weber Shandwick, one of the world's leading communications firms. He advises corporate clients and C-Suite executives on a range of issues, including marketing communications, storytelling, crisis response, and diversity and inclusion. His responsibilities include editorial content and speechwriting for senior executives, strategizing on thought leadership and media, and managing various content-related initiatives.
A veteran journalist, author and educator, prior to joining Weber Shandwick, Pulley served as dean of the Scripps Howard School of Journalism and Communications at Hampton University in southeastern Virginia.
A longtime business and finance journalist, prior to his work at Hampton, Pulley spent three years covering the media and entertainment industries at Bloomberg L.P. where he appeared regularly on the company's wire service, website and inside Bloomberg BusinessWeek magazine. He also appeared frequently on Bloomberg Television, providing commentary and insight into media industry news. 
Formerly a senior editor at Forbes Magazine, Pulley authored many cover stories for the magazine on topics ranging from the legendary Hollywood studio Metro-Goldwyn-Mayer, to the entertainment giant, The Walt Disney Co. Prior to joining Forbes in 1999, he spent five years at The New York Times, as a national correspondent and as a local reporter covering politics and economic development. His work at The Times was nominated for a Pulitzer Prize. He also spent five years as a reporter at The Wall Street Journal. 
Pulley has received numerous journalism awards, including two first place annual prizes from the National Association of Black Journalists. He is the author of The Billion Dollar BET (John Wiley & Sons, April 2004), a book that takes an in-depth look at Black Entertainment Television and its founder, Robert L. Johnson.
Professor Emeritus-In-Service Don E. Schultz, Ph.D.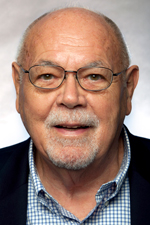 Often called the father of Integrated Marketing Communications, Don E. Schultz is professor emeritus-in-service of integrated marketing communications at Medill and president of Agora, Inc., a global marketing, communication and branding consulting firm. He joined Medill in 1977 and has served as department chair and associate dean. Schultz played a crucial role in creating the IMC master's degree at Medill more than 25 years ago.
He is the author/co-author of 28 books and more than 150 trade, academic and professional articles. He was the founding editor of the Journal of Direct Marketing and the associate editor of the Journal of Marketing Communications. 
Schultz was the recipient of Northwestern University's Distinguished Faculty Achievement Award in 2010, Direct Marketing News' Emerson Award in 2012, the Marketing Management Association Marketing Innovator Award in 2013 and the American Academy of Advertising Ivan Preston Outstanding Contributions to Research Award in 2014.
Schultz received a bachelor of business administration from the University of Oklahoma as well as a master of arts and doctorate in psychology from Michigan State University.
Mary Lou Song (BSJ91)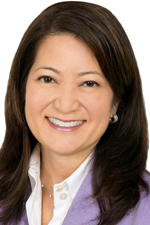 Mary Lou Song is an entrepreneur with more than 20 years of experience founding and growing technology companies in Silicon Valley. 
Song's e-commerce career began in 1996 when she joined eBay as a founding employee. She led the product management and community teams, helping grow the user base from 15,000 members to more than 20 million globally.
After leaving eBay, she continued to work on digital technologies. She joined social networking company Friendster as an early employee. She also launched several media companies focused on blogging, aggregated news and video products. Currently she is the executive chair at FuelX, a digital advertising company she founded in 2013.
Song attended the National High School Institute for Journalism—also known as Medill Cherubs—in 1986 and has been an instructor with the cherub program since 2003.
In addition to her degree from Medill, Song received a master of arts in media studies from Stanford University. 
---
Panel Event
Leff, Schultz, Song and Pulley will participate in a panel on Thursday, May 16 from noon to 1 p.m. in the MFC Forum, 1870 Campus Drive, Evanston. The panel will be followed by a mix-and-mingle lunch with these Hall of Achievement recipients from 1-1:30 p.m. immediately outside of the MFC Forum. Both events are open to the public, and no RSVP is required.