NPR's Antonia Cereijido named inaugural Cecilia Vaisman award winner by Medill, NAHJ
Cereijido to visit Northwestern in November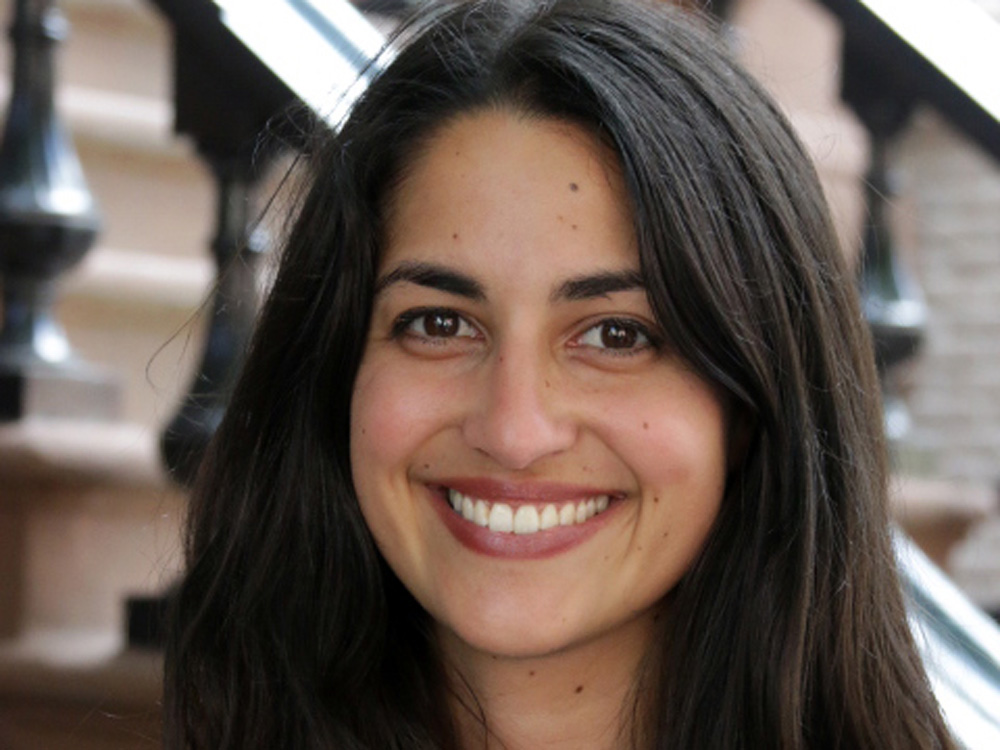 Audio journalist Antonia Cereijido has been selected as the first recipient of the Cecilia Vaisman Award for Multimedia Reporters. The award is a partnership between Northwestern University's Medill School of Journalism, Media, Integrated Marketing Communications and the National Association of Hispanic Journalists.
Cereijido is an award-winning producer at NPR's Latino USA where her coverage has included a profile of the Mexican-American man who became wealthy by building controversial shelters housing migrant children, a meditation on whether Latinos cry more on average, and a historical and feminist analysis of Mattel's Frida Kahlo "Barbie."
Members of the award selection committee, which included NAHJ Chicago and student chapter members, along with Medill representatives, selected Cereijido based on her body of work, as well as her willingness to mentor students, speak in classes and serve as a role model. The award, which will be given annually, includes a $5,000 cash prize. Cereijido will visit Medill in November to talk about her audio journalism work with students, faculty and the community.
"Antonia's curiosity and journalistic instincts, combined with her hard work and unique lens on the world make her stories both memorable and important," said Medill Dean Charles Whitaker.   
The award is named in memory of Vaisman, a Medill associate professor who was a leader in audio journalism and a member of NAHJ. The award recognizes Latinx and Hispanic audio and video journalists who bring light to the issues that affect the Latinx and Hispanic communities in the U.S. and around the world.
Cereijido is an alumna of Medill where she had Vaisman as a professor. "Through Cecilia's guidance, I learned of stories that rejected tropes that portray immigrants as one dimensional and showed how immigrants could make art of their lives by daring to envision new futures. She was a fierce advocate for quality and thoughtfulness," said Cereijido. "At the editing phase of every story I produce, I wonder what she could take issue with or what other sources she would suggest … I am deeply honored to be given this award and am very grateful to both Medill and NAHJ." 
"Cecilia Vaisman was a personal and professional mentor to Antonia during her time at Medill, and I know Professor Vaisman would be thrilled that Antonia was selected to be the first recipient of this award," said Medill Associate Professor Mei-Ling Hopgood, who served on the award committee.
Cereijido was a USC California Health and Institute for Justice and Journalism Fellow. She was the co-host of The Payoff, a podcast about personal finance for millennials from Mic.com, a guest on Buzzfeed's Another Round and on Slate's Represent. She also hosted a Twitter exclusive video for the History Channel. She has interpreted for This American Life and Love + Radio.
"It is imperative for NAHJ to support our Latinx and Hispanic journalists, who possess the moral, ethical or physical courage to bring light to issues that affect underserved communities," said Alberto B. Mendoza, NAHJ executive director. "Announcing the winner of the 2019 Vaisman award, is announcing the young journalist who will help to preserve the legacy of Cecilia Vaisman and the mission dedicated to telling the stories of people who deserve to be heard."
On-Campus Event
Cereijido will receive the award and speak at an event on the Northwestern campus from 5:30-7 p.m., Tuesday, Nov. 5, at Harris Hall, 1881 Sheridan Road (Room 108). The event is free and open to the public. No RSVP is required.