NAJA selects Trahant as 2019 NAJA-Medill Milestone Achievement Award recipient
Mark Trahant (Shoshone-Bannock) is editor of Indian Country Today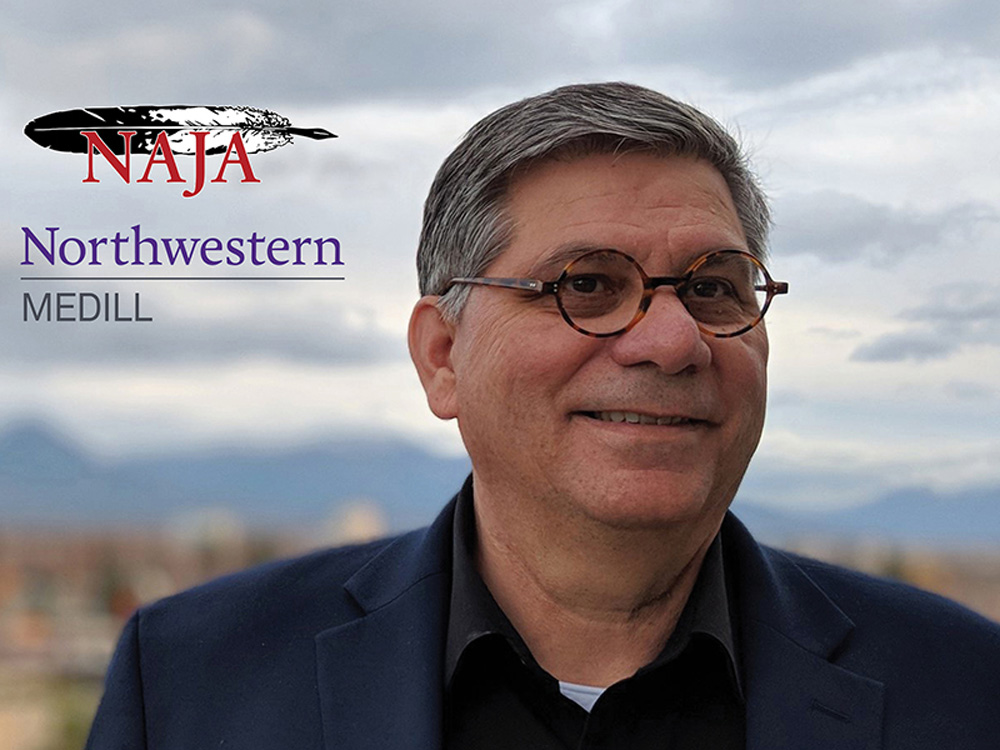 The Native American Journalists Association (NAJA) and Northwestern University's Medill School will recognize Mark Trahant (Shoshone-Bannock) as the 2019 NAJA-Medill Milestone Achievement Award recipient.
The award honors an individual who has had a lasting effect on media to the benefit of Indigenous communities. The award is given jointly by the Native American Journalists Association and the Medill School of Journalism, Media, Integrated Marketing Communications The award celebrates responsible storytelling and journalism in Indian Country.
Trahant is editor of Indian Country Today. He reflected on the first tribal editor, Elias Boudinot (Cherokee), the namesake for another of NAJA's top awards, when reflecting on the standard for Indigenous journalism.
"[Boudinot] described his paper as 'a vehicle of Indian intelligence.' Even though ink has been replaced by pixels; the task remains the same – to publish an informative daily account that's comprehensive and adds context to the stories missing from the mainstream media.
"We have so many stories to tell. Our mission is simple but important: Solid, factual reporting. Great writing. Photography that inspires and records. Provide a real service to readers across Indian Country's digital landscape," Trahant said.
"Medill is honored to continue our partnership with NAJA to recognize journalists who are making a true difference in bringing to light the stories of Native Americans," said Medill Dean Charles Whitaker. "Mark's commitment to his work is both commendable and critical at this time in our democracy."
Trahant's previously served as editorial page editor of The Seattle Post-Intelligencer and worked for the Arizona Republic, Salt Lake Tribune, Seattle Times, Navajo Times Today and Sho-Ban News.
He has been a reporter for PBS Frontline, publishing "The Silence," which detailed sexual abuse by priests in an Alaska Native village.
Trahant is known for his election reporting in Indian Country, developing the first comprehensive database of American Indians and Alaska Natives running for office. His research has been cited in publications ranging from The New York Times to The Economist to Teen Vogue.
During the 2018 election, Trahant launched a journalism initiative and as a result, more than 40 Native media professionals conducted the first ever live coverage of election night. Six hours of TV programming was produced at the First Nations Experience | FNX studios in California and viewers were able to get reports about the dozens of Native candidates running for office during this election, which included the first two Native American women voted into Congress.
Trahant was recently elected as a member of the American Academy of Arts and Sciences and has been a professor at the University of North Dakota, the University of Alaska Anchorage, the University of Idaho and the University of Colorado.
He does a weekly commentary for Native Voice One and is chair of the board of directors for Vision Maker Media, which works with Native producers to develop, produce and distribute education telecommunications programs for all media, including public TV and radio.
The award includes a $5,000 cash prize and an invitation to the recipient to speak with Medill students and faculty on campus in Evanston, Illinois, to further advance the representation of Indigenous journalists in mainstream media.