Four Medill alumnae illuminate the power of networks in Women in Marketing panel
Alumnae encourage attendees to find a network of people who support and challenge them in their careers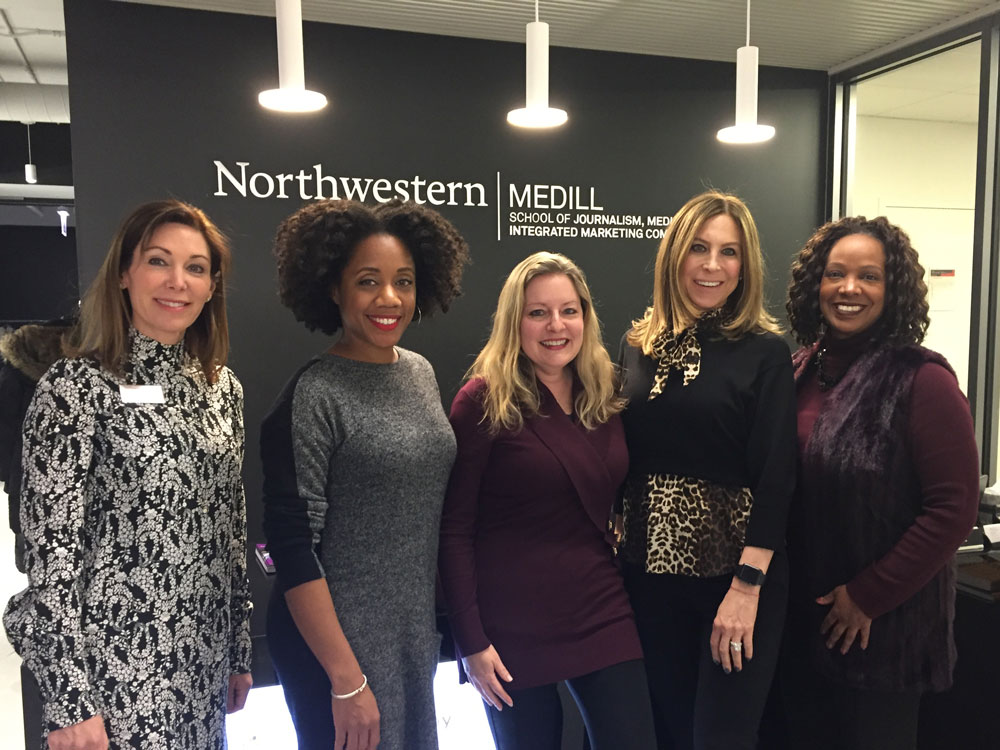 Medill gave students the opportunity to learn and network with four powerhouse alumnae in a panel event called Medill Women in Marketing – Current Trends and Challenges in an Evolving Industry. The night of networking, inspiration and conversation was hosted at Medill's downtown Chicago campus with a packed room of more than 70 students and alumni.
The event was moderated by Karen Entriken, a current IMC part-time student and marketing communications professional, who jumped right in with the theme of the evening – the strength of networks.
"My network is my safety blanket for helping me make decisions," said panelist Melissa Ben-Yoseph (WCAS95, IMC00), the founder and owner of health and wellness agency KELZ PR. "It's important to find one or two people who are your go-tos for a linear answer and can help you sort out the crazy in your own mind." 
For panelist Heidi Barker (BSJ91), chief communications officer at Cleveland Avenue, the power is in flooding a network with strong, knowledgeable and yet different women.
"My network looks like a cabinet," Barker said. "I have people who specialize in all different levels of expertise, and can give me an objective perspective because they're coming in from the outside."  
Panelist Tiffani Saxton (IMC14) agreed with Barker, saying building a solid network is one of the top three things she believes a marketer needs to master in order to be successful.
"People go out of their way to help people they like," the brand and marketing programs lead for Drift, an Allstate company, said. "Remember to always build relationships outside of marketing." 
While Entriken engaged panelists on topics from how much data informs their work today, to how they've seen the role of women in marketing shift and change, to the role influencers play in their campaigns, the panelists all reinforced how the world of marketing today truly blends the art with the science, and the key to success is in community.
"We will always need people on the forefront of technology and data analysis, so if you understand data and can translate it to what it means to people, you can be the person that helps a company grow and learn," said panelist Elisa All Schmitz (MSJ95), the founder and CEO of digital media platform 30seconds.com.
For students in the room like Tiffani Stevenson (IMC20), it's the opportunity to learn, grow and build their communities that's one of the key highlights of their Medill education. 
"This event was great because it provided an intimate setting and a safe space to meet people and to ask questions where no one sugar coated the truth," said Stevenson.
For Entriken, the opportunity to moderate the panel devoted to women in marketing was an honor. 
"I knew a discussion with four women, sharing their success and challenges, would be inspiring to me and anyone who attended," Entriken said. "I brought my two high-school-aged daughters to the event in hopes that they would learn…my daughters and I came away awed and inspired by the stories we heard and the people we met."
Saxton concluded the evening by issuing a challenge to all students in the room.
"If you want to be lifted and connected, be a person who lifts and connects," Saxton said. "Build connections early, and often, and soon."