Donors commit $1.5 million to support journalism students now and in the future
Gifts from alumna Linnea Phillip Ghilardi and Steve Armstrong recognize "the importance of great journalism to our ever-evolving democracy"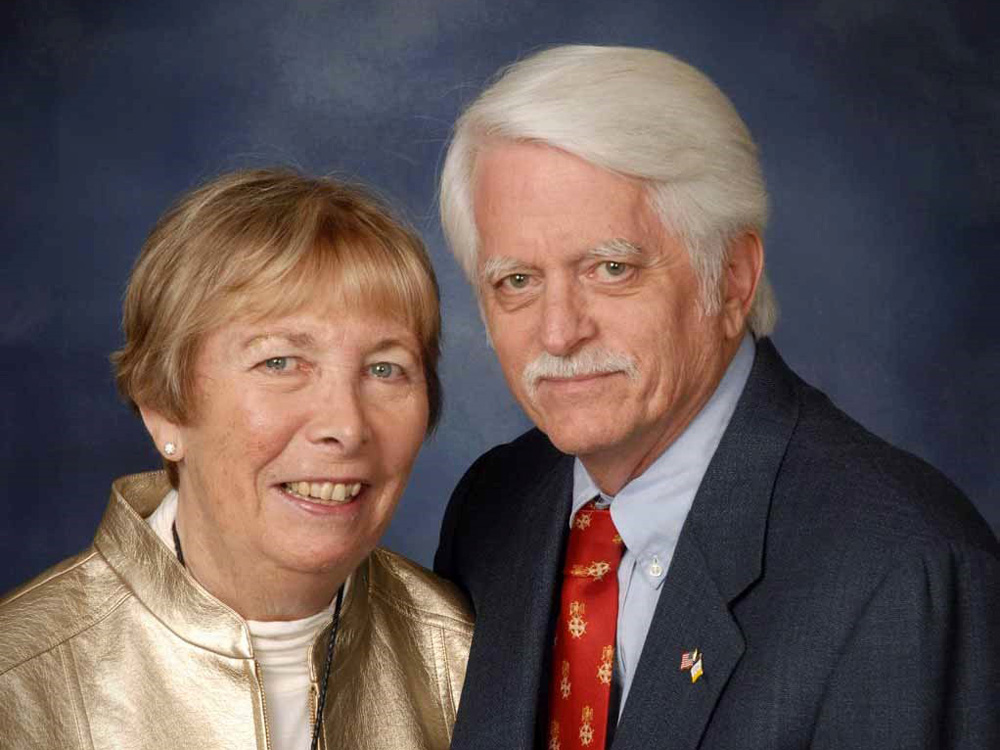 Retired history teachers Linnea Phillip Ghilardi (Weinberg BA66, MA67) and Steve Armstrong developed a deep appreciation for journalism and its role in shaping our understanding of history and current events through their years in the classroom. They also learned how a quality education can affect students.

The couple has made a $1.5 million commitment to Medill. Their commitment includes an outright gift of $100,000, which establishes the Linnea Phillip and Steve Armstrong Journalism Scholarship Fund. The fund will provide financial assistance to undergraduate journalism students beginning in fall 2021. The remainder of their gift will come in the form of a bequest that will enhance the existing fund.
"This tremendous commitment from Linnea and Steve will make a Medill education possible for generations of students, and we are deeply honored that the school will be part of their legacy," Dean Charles Whitaker (BSJ80, MSJ81) said. "Linnea and Steve's support will help us prepare future journalists to create an informed citizenry, which is a pillar of our democracy and a service that is more essential than ever in the face of current events."
"Northwestern played a critical role in my life and continues to do so," said Ghilardi, who hopes that the couple's gift will have a transformative effect on scholarship recipients. During her five years at the University, she earned undergraduate and graduate degrees in history, which provided a strong foundation for her critical thinking and communication skills. "I became a better writer and thinker because of Northwestern."
Ghilardi began teaching several years after graduating from the University. For more than 30 years, she served as a history teacher and administrator at high schools and colleges across Illinois and Montana, including De Lourdes College (Des Plaines, Illinois), Glenbrook North High School (Northbrook, Illinois), and other north suburban Chicago schools, as well as Helena High School (Helena, Montana). She later went on to pursue a doctoral degree in education, which she earned from National Louis University in 1999.
Armstrong's educational career began in the Okavango Delta of Botswana, where he was stationed as a high school teacher in the Peace Corps. When he returned to his native Montana, he secured a teaching position in history at the school where Ghilardi worked. The two wed in 1981 and spent their married lives in Helena; Bigfork, Montana, where they currently live; and the Chicago area, where they lived and taught for nearly two decades. During their time in Chicago, Armstrong taught at Adlai E. Stevenson High School in Lincolnshire, Illinois.
Armstrong earned an undergraduate degree from the University of Montana and a master's degree from Ohio University; however, he too had the opportunity to experience Northwestern over the years. He attended several history and global studies workshops at the University and what is now the Northwestern Roberta Buffett Institute for Global Affairs, and also completed a fellowship program at Stanford, where one of Ghilardi's former professors taught all of his classes. And as a member of the Northshore Concert Band, he performed several times at Pick-Staiger Concert Hall on the Evanston campus.
The couple is further connected to Northwestern through Ghilardi's family. She is the ninth member of her family to graduate from the University and was a student at the same time as two of her cousins, Phillip Zeman (Kellogg 66) and the late John Phillip (Kellogg 64). Well-known alumna, talk show host and soap opera creator Lee Phillip Bell (Weinberg 50, Grandparent 18), who served as a Northwestern trustee until her death earlier this year, was also a cousin of Ghilardi's.
Ghilardi and Armstrong made their first gift to Northwestern in 1985 and have continued to support the University over the years. Their commitment to Medill is their first major gift to Northwestern and their first planned gift. They join a dedicated community of donors who are helping to secure Northwestern's excellence far into the future. These donors are recognized as members of the Henry and Emma Rogers Society. The couple's commitment will also count toward We Will. The Campaign for Northwestern.
"Medill is among the best journalism schools in the country," Armstrong said. "Having taught history for over three decades apiece, Linnea and I are well versed on the importance of great journalism to our ever-evolving democracy. Students at Medill fit that calling. We hope that our gift encourages students to pursue journalism careers for decades to come."
The funds raised through the "We Will" Campaign are helping realize the transformational vision set forth in Northwestern's strategic plan and solidify the University's position among the world's leading research universities. View more information on the We Will. The Campaign for Northwestern website.
---
Postscript: Linnea Phillip Ghilardi passed away peacefully with Steve Armstrong by her side on Aug. 27, 2020.