Gen.G, Medill embark on "Choose Your Own Adventure" Program
Guests Jeff Eisenband and Ashley Kang kick off series showcasing journalism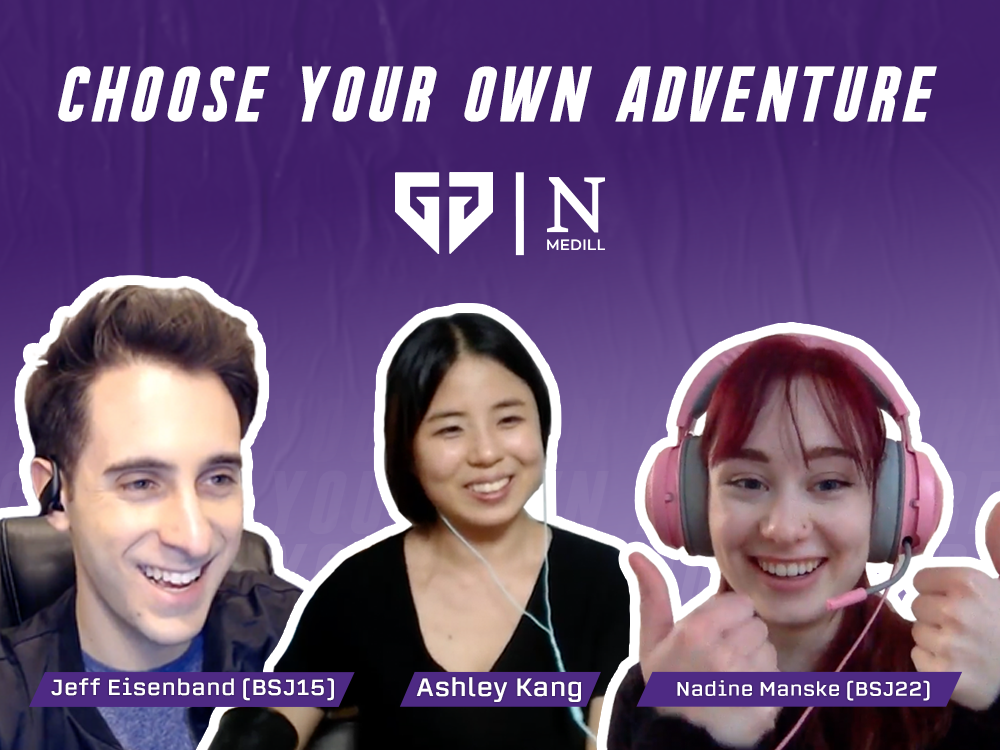 Global esports organization Gen.G and Northwestern University Medill School of Journalism, Media, Integrated Marketing Communications will share programs starting this month highlighting the growing role of journalism in esports and other arenas. 
The series, "Choose Your Own Adventure," launched today with episode one, "Breaking Into the Industry." Sports/Esports Broadcaster and Medill alum Jeff Eisenband (BSJ15) and League of Legends journalist Ashley Kang are interviewed by Nadine Manske (BSJ22) and explore the value of having an online persona. The series aired on Medill's IGTV.
Other "Choose Your Own Adventure" topics will include, "Working Sources Through Digital Media," "Broadcast Journalism: Shoutcasters & Sports Casters," and "Gaming's Convergence with Fashion: It's for the Culture." Each program will feature a journalist who will be interviewed by a Medill student. 
"We are proud to collaborate with Medill and showcase the importance of journalism in emerging digital industries such as gaming," said Gen.G CEO Chris Park. "Together we aim to reach new audiences through our digital content series and highlight the adventures Medill alumni and journalists experience on their route to success."
"Today's media landscape means journalists are covering expanding industries like esports more and more," said Medill Dean Charles Whitaker. "As Medill celebrates its 100th year of educating journalism students, we're excited to share with prospective students more about all the new opportunities available to them."
Gen.G also works with the University of Kentucky, Eastern Michigan University and University of Pennsylvania to activate esports and gaming programs connecting students and alumni.
View episode one of Choose Your Own Adventure: Breaking Into the Industry. 
About Gen.G
Established in 2017, Gen.G is the leading esports organization connecting the United States and Asia. Ranked no. 6 in the Forbes list of the "World's Most Valuable Esports Companies," Gen.G is the only major organization that owns and operates top teams in the world's leading esports markets — China, South Korea and the United States. Its unique portfolio of teams, winners of seven global championships to date, includes the Seoul Dynasty franchise of the Overwatch League; 2014 and 2017 League of Legends world champion team in South Korea; the world's top all-female Fortnite team, based in Los Angeles; and the NBA 2K League's historic expansion franchise in Shanghai.
United under #TigerNation, Gen.G's core mission is to help fans and athletes use the power of gaming and esports to get ahead in and beyond the competition. The company has quickly become a commercial and thought leader, building a global, inclusive and cross-cultural future for sports entertainment. Its widely acclaimed initiatives include: #TeamBumble, the leading team platform for the empowerment of women in gaming; and Gen.G Elite Esports Academy, the world's first fully-integrated academic esports program. Gen.G's teams, content creators and corporate staff work out of their offices in Los Angeles, Seoul and Shanghai. More information about Gen.G esports and its teams can be found at this link.
About Northwestern University Medill School of Journalism, Media, Integrated Marketing Communications
The Northwestern University Medill School of Journalism, Media, Integrated Marketing Communications was founded on Feb. 8, 1921 with nine undergraduate students. Today, Medill provides instruction on five campuses around the world and has more than 18,000 alumni who are leaders in journalism, media, marketing, communications and more.
Media Contact:
Gen.G: GenG@DKCnews.com