Investigative journalist Katie Engelhart honored with Medill's John Bartlow Martin Award
Story chronicles the first COVID-19 hot spot in the United States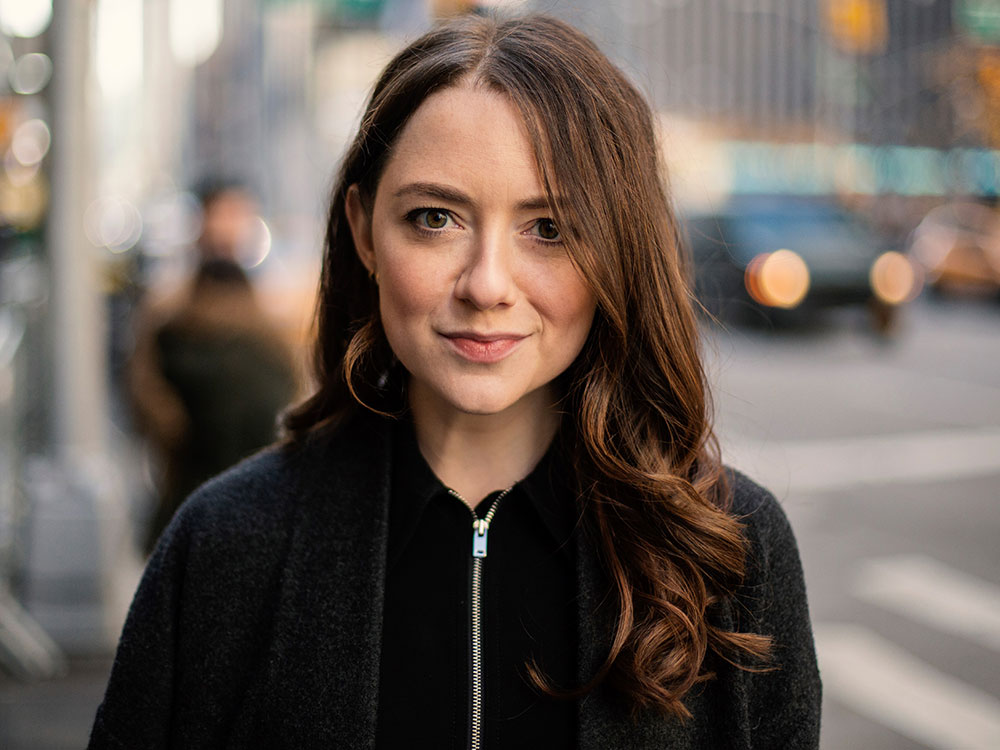 EVANSTON, Ill. -- Katie Engelhart is the recipient of the 2021 John Bartlow Martin Award for Public Interest Magazine Journalism from Northwestern University Medill School of Journalism, Media, Integrated Marketing Communications. She was honored for "What Happened in Room 10?" an investigation into the Life Care Center of Kirkland, Washington, which was host to the first COVID-19 hot spot in the United States. Her story was published in August 2020 by The California Sunday Magazine.
"In this remarkable work of investigative reporting and storytelling, Katie Engelhart has created the definitive narrative account of the first COVID-19 hot spot in the United States," says Douglas McGray editor-in-chief of Pop-Up Magazine Productions, which publishes The California Sunday Magazine. "Her work reconstructs the confusion, chaos and fear of the very first days of the pandemic and exposes both how ill-prepared we were and how we take care of our elderly."
To conduct her research, Engelhart had to collect intimate and detailed information from dozens of sources across the country, filing Freedom of Information requests and seeking out photos, videos and even architectural plans of the Life Care Center because she wasn't able to enter the facility during lockdown.
"I had to find visual cues where I could," said Engelhart. "Whether that was at the beginning getting a floor plan of the nursing home and trying to map out who was where and where different nurses were working to getting people to send me pictures and little videos of loved ones. What was chaotic was that I started working on this when we were still in the really early days of the pandemic. So especially at the beginning in May, people weren't available to talk."
In addition to the hurdles presented by the pandemic itself, Engelhart faced further challenges because many of the Life Care Center residents had some form of cognitive impairment. She interviewed some of those residents, but needed to supplement the those conversations with lengthy interviews with caregivers. Further complicating the investigation was the fact that Life Care was being sued, meaning very few staff were comfortable giving interviews.
"It's an incredible honor to win this award," Engelhart said. "Long before I fell in love with the art of writing, I believed in journalism as a form of public service. So to have a piece recognized specifically for its service to the public is enormously meaningful. I spoke with dozens of people who lived in the Life Care Center of Kirkland, Washington, whose loved ones lived there, who worked there, who are connected with the nursing home somehow, and they placed an enormous amount of trust in me to tell their story so I hope that this award reaches them, too, and they can feel like they helped to contribute. I hope this is a piece that will help to explain an important part of what this pandemic has been for the country."
Patti Wolter, the contest chair and Medill's Helen Gurley Brown Magazine Professor, was truly impressed by the caliber of the submissions for this year's awards given the added obstacles journalists faced due to the pandemic.
"Engelhart's piece was chosen because this story masterfully integrates narration and exposition to create a fast-paced and riveting read. It not only illuminates the early days of the pandemic but also expertly educates us on an entire history and understanding of nursing homes, profits and regulations in this country," said Wolter. "The circumstances of COVID-19 and this facility in particular are devastating, but Engelhart's storytelling is compassionate, thorough and visual. It brings a level of humanity to our understanding of COVID and will serve as a revealing record for decades to come."
Virtual event with Engelhart May 11
Engelhart will speak to students, the Northwestern community and the public about her award-winning story on May 11 at 5:30 p.m. Central via Zoom.
In addition to this year's winner, the judges awarded a second place and two honorable mentions. On these other noteworthy pieces, Wolter said, "This year's field of entries was competitive. The level of craft, innovation and ingenuity applied to reporting during a pandemic was unparalleled across the board. I have never been so impressed by the achievements of America's journalists. They truly advanced the ideas that the John Bartlow Martin award represents"
Second Place
Honorable Mentions
Honorable mentions for the 2020 John Bartlow Martin Award were awarded to two entries:
About the Blue Ribbon Judges
Danielle Cadet recently joined Netflix as the editorial director of Strong Black Lead, the company's brand dedicated to serving black audiences. Before Netflix, Cadet served as Vice-President, Content Strategy and Development and Managing Editor of R29Unbothered, Refinery29's fastest growing Instagram channel and digital community catering to Black, millennial women.
Fernando Diaz is currently the Edith Kinney Gaylord Visiting Professor in Investigative Journalism at Walter Cronkite School of Journalism and Mass Communication, a fellow at the Knight Lab at Northwestern University and cofounder of Chicago Standard. He will join the faculty at Medill as a full time lecturer next fall.
Hannah Dreier is a national reporter at The Washington Post. She previously worked at ProPublica, where she won the 2019 Pulitzer Prize for Feature Writing and the 2019 John Bartlow Martin Award for a year-long series on immigrants, gangs and mishandled law enforcement investigations. Before that, she was based in Venezuela for the Associated Press.
About the John Bartlow Martin Award for Public Interest Magazine Journalism
Former Medill faculty member John Bartlow Martin advanced the tenets of public interest journalism. His magazine stories about labor racketeering, poor working conditions, racism, crime and abuse of mental patients were marked by careful reporting, incisive writing and a palpable concern for victims. In many cases, these stories, published in major magazines such as Harper's, The Saturday Evening Post, Life, Look, Collier's and The Atlantic, prompted public policy changes and inspired other journalists to make a difference with their own reporting.
In his 10 years at Medill, Martin helped students become skilled reporters and writers. Medill established the John Bartlow Martin Award for Public Interest Magazine Journalism in 1988 to encourage outstanding professional work in this crucial area. The award comes with a cash prize of $4,000.
The nomination period for the 2022 award will open in November 2021. The nomination form link will be posted on the Medill website.