Investigative journalists Michael Barajas and Sophie Novack honored with Medill's John Bartlow Martin Award
Investigative journalists Michael Barajas and Sophie Novack honored with Medill's John Bartlow Martin Award
Story uncovers cycle of preventable deaths in Texas jails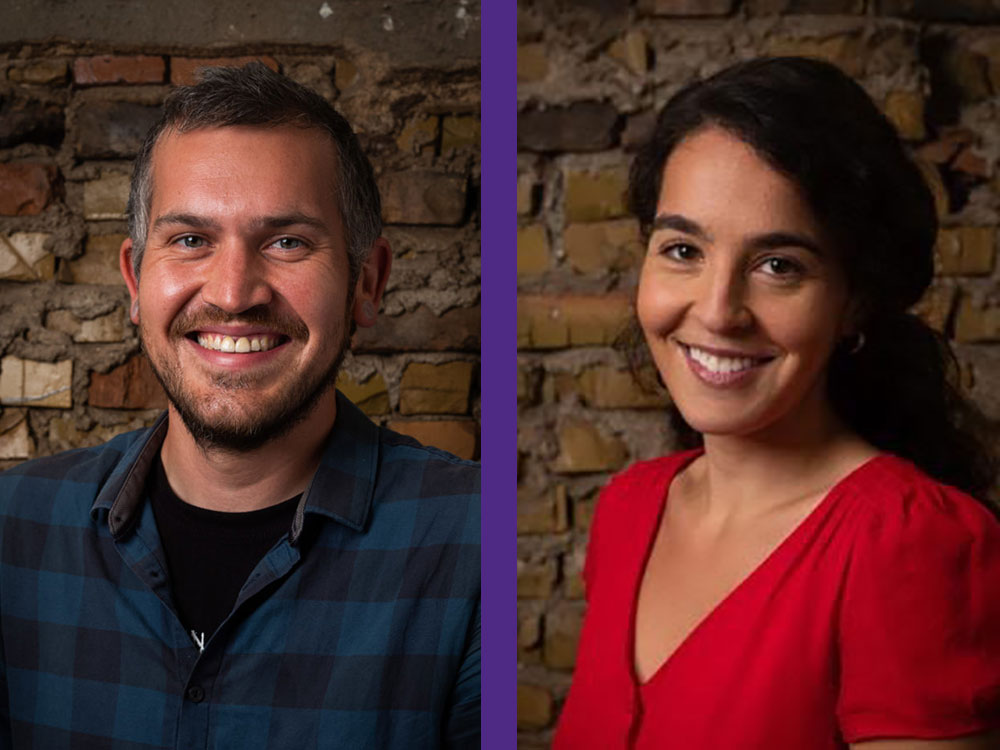 EVANSTON, Ill. – Michael Barajas and Sophie Novack are the recipients of the 2022 John Bartlow Martin Award for Public Interest Magazine Journalism from Northwestern University Medill School of Journalism, Media, Integrated Marketing Communications. They were honored for "Locked Up and Left to Die" an investigation into preventable deaths in Texas jails over the last decade. Their story was published in November 2021 by the Texas Observer with support from the Fund for Investigative Journalism.
Barajas is a journalist who covers criminal punishment, mass incarceration and voting rights. He recently helped launch a nonprofit publication, Bolts magazine, that covers local and state politics, policy and organizing around those issues. Novack is a freelance journalist mostly focused on longform narrative and investigative stories about health care access. She was previously a reporter and an editor at the Texas Observer magazine.
"After working on numerous stories about individual tragedies inside county jails, we wanted a better understanding of the problems and institutional failures that have led to the rising number of deaths in county lockups," Barajas said. "We looked at one of the key reforms that followed Sandra Bland's death that took place in 2015 while in police custody: a dramatic increase in state police investigations into jail deaths in Texas. Those investigations, which we had to fight for months to see, showed that state police regularly document lax treatment and dangerous conditions that can lead to preventable deaths—yet rarely was anybody held accountable. I hope the findings, history and individual stories we presented underscore the consequences of the current status quo of mass pretrial detention."  
"This story is particularly incredible for its use of the Texas Rangers' own investigations to demonstrate dangerous and deplorable jail conditions," said Patti Wolter, Helen Gurley Brown Magazine Professor at Medill and lead organizer of the contest. "Weaving this data with heart-wrenching stories of affected families makes for especially compelling journalism and is at the heart of the John Bartlow Martin Award."
"We read and logged thousands of pages of reports into hundreds of in-custody deaths, and each one was a tragedy, each one was individual, but at the same time so many felt familiar," said Novack. "The same kinds of circumstances that led to large numbers of seemingly preventable deaths were repeating across jails, across years, largely without consequence for those responsible. Much of what motivated and was difficult about this project was trying to find broader answers and patterns that should already be known—to do the data and investigative work that government entities should be doing. It means a great deal to receive this award for this story, and I hope it draws more attention to the persistent patterns of neglect and mistreatment in these facilities, and the people who endure them."
Virtual event with Barajas and Novack May 10
Barajas and Novack will speak to students, the Northwestern community and the public about their award-winning story on May 10 at 5:30 p.m. Central via Zoom.
Register to attend the event virtually
About the Blue Ribbon Judges and Faculty Screeners
Special thanks to our Blue Ribbon Judges: Sara Austin (MSJ98), executive editor, Elle magazine; Kaitlyn Jakola (BJS13), managing editor, The Trace and Robert Samuels (BSJ06), national political enterprise reporter at The Washington Post. We are also appreciative of our Medill faculty screeners: Doug Foster, Mei-Ling Hopgood, Louise Kiernan, Alex Kotlowitz, Karen Springen and Peter Slevin.
About the John Bartlow Martin Award for Public Interest Magazine Journalism
Former Medill faculty member John Bartlow Martin advanced the tenets of public interest journalism. His magazine stories about labor racketeering, poor working conditions, racism, crime and abuse of mental patients were marked by careful reporting, incisive writing and a palpable concern for victims. In many cases, these stories, published in major magazines such as Harper's, The Saturday Evening Post, Life, Look, Collier's and The Atlantic, prompted public policy changes and inspired other journalists to make a difference with their own reporting.
In his 10 years at Medill, Martin helped students become skilled reporters and writers. Medill established the John Bartlow Martin Award for Public Interest Magazine Journalism in 1988 to encourage outstanding professional work in this crucial area. The award comes with a cash prize of $4,000.
The nomination period for the 2023 award will open in November 2022. The nomination form link will be posted on the Medill website.