Medill Grad Honors Former Professor with Mary Dedinsky Graduate Journalism Scholarship
Scholarship will be awarded to a student this fall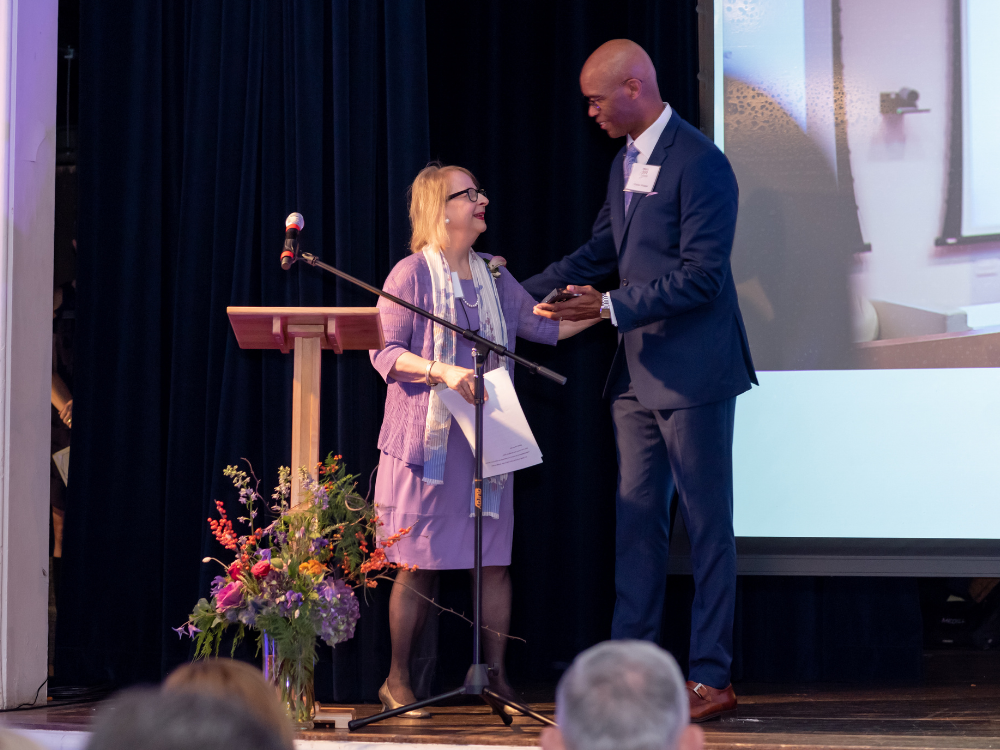 EVANSTON, ILL. -- A gift from a graduate of the Medill School of Journalism, Media, Integrated Marketing Communications and his wife will support graduate journalism students. Mike (BSJ96, MSJ96) and Kass Lazerow created The Mary Dedinsky Graduate Journalism Scholarship to honor Mary Dedinsky's (BSJ69, MSJ70) long-time service to Medill and the broader journalism profession.
The Mary Dedinsky Graduate Journalism Scholarship will be awarded for the first time to an incoming graduate journalism student in fall 2022, with a preference for a student who could add diversity to the class.
Dedinsky is a Medill emeritus professor who served as associate dean at Medill and director of the journalism program at NU-Q, Medill's pioneering program in Qatar. Dedinsky was inducted into the Medill Hall of Achievement as a part of the 2020 class. She continues to teach at Medill, and she serves on the governing board of Education for Employment, an international organization that helps young people in many countries move from school to employment. 
Before Medill, Dedinsky was an editor and reporter. At the Chicago Sun-Times, she became the first woman to be named managing editor of a major metropolitan newspaper. She also served as an education reporter, investigative reporter, editorial writer, metropolitan editor and director of editorial operations. For her work at the Sun-Times, she was elected to the Chicago Journalism Hall of Fame and twice served as a Pulitzer Prize juror.
According to Medill Dean Charles Whitaker (BSJ80, MSJ81), scholarship funding is one of the school's most essential needs. "The Mary Dedinsky Graduate Journalism Scholarship will help us attract the most talented students and make their graduate education possible," he said. "I am deeply grateful to Mike and Kass for this wonderful support — especially in tribute to Mary, who is such a cherished member of the Medill family."
In the spring of 1992, Mike Lazerow went to Dedinsky, his academic adviser, with the idea for his first entrepreneurial business venture. Dedinsky encouraged Lazerow to pursue it. Soon University Wire (U-Wire) was born, Lazerow's first tech startup created to collect and distribute news to college newspapers via the internet.
"Being his adviser, I felt I needed to always be on my toes," she said. "This young man was coming up with new ideas and new things, and it was a challenge for me to think imaginatively and creatively myself. It is so exciting when you meet someone who inspires you."
U-Wire launched Lazerow's career in entrepreneurship. Since then, he and Kass Lazerow have co-founded several businesses, invested in more than 60 tech startups and currently run their venture capital firm Velvet Sea Ventures, which has close to $400 million in assets under management.
Mike Lazerow remembers Dedinsky as much more than an adviser — she was a friend who attended his wedding in 1999.
"She didn't just teach at Northwestern," Lazerow said. "She fundamentally changed my Northwestern experience."
Dedinsky was both surprised and honored when she got the call about the Lazerows' decision to create a scholarship in her name.
"Knowing Mike and Kass has really been a gift to me and enriched my life," she said. "When I heard about the scholarship, I couldn't quite believe it."
The Lazerows named the scholarship in honor of a beloved professor and celebrated journalist hoping to inspire others to donate and support graduate journalism. So far, the couple's plan is working as the estate of a late Medill grad anonymously matched the Lazerows' donation to fund additional scholarships in Dedinsky's honor.
For the Lazerows, student support was an obvious choice for their gift. "The scholarship provides one thing: opportunity," Mike Lazerow said. "Going to Medill gives you practical skills to go out and succeed in whatever you want to do. The biggest hurdle is money. Creating graduate scholarships makes Northwestern a more competitive school, so we can attract different points of views and backgrounds." The Lazerows previously supported the Mike and Kass Lazerow Graduate Scholarship and are members of the Northwestern University Leadership Circle. Mike Lazerow also serves on Medill's Board of Advisers.
Gifts to the Mary Dedinsky Graduate Journalism Scholarship may be made online (explore "Search School and Program Funds"). Alternately, those wishing to support the fund may send a check to: 
Northwestern University Alumni Relations and Development 1201 Davis Street, Suite 1-400 Evanston, IL 60208-4410
Please make check out to Northwestern University and note the Mary Dedinsky Graduate Journalism Scholarship in the memo or enclosure.