Alex Armas
Alex Armas (IMC19)
Vice President at Armas Enterprises, Inc.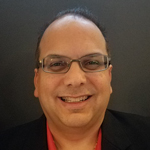 Alex Armas has spent years in marketing for companies like Sears, Walt Disney Co. and most recently, the agency Armas Enterprises, where he serves as vice president. In 2017, he decided to update his skillset and integrate art, data science and customer-centric thinking into his work—and that's why he enrolled in the IMC program. What he learned has elevated his career.
What are your main responsibilities as vice president of Armas Enterprises? 
I monitor sales performance to achieve target numbers and P&L budgets, work closely with buyers to identify opportunities and needs, and manage order flow logistics. I travel extensively to trade shows/meetings in the U.S. as well as China and Latin America to learn the latest trends and meet regularly with buyers from the region. I also work on product development and marketing initiatives with retailers to promote products/brands at the point of sale in order to communicate effective messages with our end users. Furthermore, I am responsible for the hiring, supervision, and coaching of my staff members who assist in customer service and support.
How has the IMC way of thinking that blends art and science helped you in your career?
The IMC way has helped me to better appreciate and develop a full customer-centric mindset by managing the complete journey and relationship of my clients. I now seek long-term perspectives rather than focusing solely on short term sales-product placements.
I also developed a better appreciation of the importance of data in order to make effective decisions. Data provides an objective perspective to impact profitability, revenues as well as maximize marketing efforts.
Why did you decide to pursue your master's degree?
I wanted to equip myself with the new vision of marketing based on customer centricity as well as learn the latest trends including digital transformation, data analysis, and agile marketing. Medill is where IMC was founded, and I wanted to be part of such a prestigious marketing program and university by learning firsthand from the experiences of our professors, staff as well as fellow students.  
Was the flexibility of the IMC program beneficial for your life and career?
Absolutely—The IMC program offers tremendous flexibility to continue with your job and family responsibilities while participating in the classes, group discussions, and sync sessions.
It is an intense, challenging and rewarding experience that I highly recommend for any candidate seeking to learn the latest knowledge in marketing, business, and technology from the best as well as discover more about you as a person, leader and contributor to our world. IMC is truly an executive program that provides the necessary tools to excel in today's working and transformative environment. At the same time, you will be exposed to ideas and suggestions from brilliant peers with years of experience holding key management positions in organizations around the world.
What is an experience or class from the IMC program that stands out for you?
I really enjoyed all my classes both in the online format as well as some short-term, on-site classes. There are two courses that stand out from my overall experience. The first one was my Asia course traveling to Beijing, Shanghai, and Tokyo for two weeks with Professors Jenna Massey and Vijay Viswanathan along with great students. I saw IMC and technology development from an international perspective by visiting top companies including Google, Tencent, JD.com and IDEO.  
The second class was Global Perspectives - Brand Innovation in Santiago, Chile with Associate Professor Tom Collinger. This course gave me a greater appreciation on disruptive forces affecting global companies as well as innovation from a Latin America's point of view. We also had a wonderful opportunity to learn from key managers from companies including AgroSuper, Google and Concha y Toro.
What advice do you have for someone considering Medill?
There are many graduate programs out there as well as various types of degrees, but if you want a unique and transformative degree that adapts to the disruptions and challenges taken place right now in the marketplace, Northwestern Medill IMC is a program for you.