Jenny Bennett
Jenny Bennett (IMC16)
Senior Account Director at Beam Suntory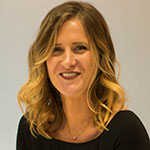 Jenny Bennett has worked in marketing on both the agency and client sides, giving her a unique perspective that—along with her Medill Integrated Marketing Communications (IMC) master's degree—has advanced her career. Her extensive experience stretches wide, from consumer packaged goods (CPG) to leading a music and video game platform to working in lifestyle marketing with brands like Nike.
Through Northwestern Medill, Bennett went across the world, learning about integrated marketing communications in Asia and Europe. She is grateful for those experiences both for what they taught her and the friendships she made during them.
Bennett currently applies her IMC skills in her  leadership role as senior account director at Beam Suntory.
Tell us about your career so far.
I started my career on the marketing/advertising agency side, initially translating my hospitality experience to the Heineken brand then working across a few agencies/brands (including Leo Burnett/Arc) in Chicago. Eventually, I moved to L.A. to work for a digital agency and lead a music and video game platform (and enjoy the weather!).
In 2013, after a three-month career break to travel Southeast Asia, I decided to return to Chicago and attend the Medill IMC master's program for working professionals. I coupled that with a return to Leo Burnett, where I spent four more years working across a variety of brands. I left Leo Burnett to work on the Reynolds and Hefty brands (among others) at Havas Chicago, focusing on digital/social, print and broadcast/TV channels. In 2019, I decided to refocus on my goal to shift from agency to client/brand side. I am now approaching year two with Beam Suntory.
What are your main responsibilities at Beam Suntory?
I am in a leadership role within the in-house agency team. We drive strategic, creative and business agendas forward on behalf of our brands. I work across almost all of the Beam Suntory brands including Jim Beam, Courvoisier, EFFEN, Cruzan, The Cocktail Project and more. While our in-house agency team is structured similar to outside agencies, the connection to our brand's business and organizational goals is exactly what I was seeking when going "client-side." I'm fortunate to work with amazing and creative individuals who have such diverse experience.
How do you apply the IMC way of thinking that uses both art and science in your job?
I strive to understand the consumer—not just from a demographic standpoint, but what motivates and influences them. Additionally, it's important to recognize what is happening in culture and how that affects their day-to-day lives. Building creative solutions that deliver on the business and communication objectives is key to ensuring relevance and success in building brands.
What other types of master's programs did you consider?
I considered an MBA but was swayed by Medill IMC because of the ability to link and apply creative solutions that are meaningful for consumers.
What is an experience or class from the IMC program that stands out for you?
I was fortunate to be a part of the Global Perspectives course that included a trip to Seoul, Tokyo and Shanghai to meet with a variety of companies and experience the work culture in the different markets (a great comparison to my career break of leisure travel and culture). Additionally, Professor Candy Lee encouraged me to join her and other students for a trip to Paris and London to meet with luxury, retail and entertainment companies. Both experiences were not only educational in a real-world application sense, but also helped cement lifelong friendships. [Editor's note: IMC now offers a course for IMC Professional students in London.]
How has the IMC program helped you advance your career?
While I decided to join the program after a good number of years of work experience, I believe it has helped me to stand out from other candidates by having the professional and academic background that can be applied to brand-building efforts. Additionally, there are multiple benefits in being part of the broader Northwestern network.
How have the Northwestern/Medill network and/or Medill Career Services helped you in your career?
A few years ago, Medill Career Services helped me with refining my resume. After so many years of experience, my resume was getting long so it was helpful to hear a point of view that was informed by reviewing so many resumes. Medill Career Services helped me build a more concise and results-focused resume.
What advice do you have for someone considering Medill?
It's a commitment so make sure you do your "homework" to make a well-informed decision that is right for you. Also, check with your company and take advantage of tuition reimbursement if it is offered. I was fortunate to have tuition reimbursement by calendar year and while I finished the program in two and half years, it was over four calendar years. Either way, I recommend the program and am happy to be part of the Northwestern network!