Bret Begun
Bret Begun (BSJ98)
Features Editor at Bloomberg Businessweek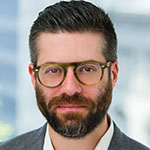 Why did you choose Medill?
I had the best summer of my life as a Cherub. I couldn't imagine going anywhere else after that.
What is your fondest memory of your time at Medill?
I freelanced a story for an alternative weekly, New City, about Northwestern's football team going to the Rose Bowl. And I got to go.
Why do you think Medill is unique?
The Journalism Residency program can often lead to a job after college, and working at The Daily or other campus media will make you an even stronger candidate.
How has your Medill training helped you in your career so far? Are there skills or lessons you learned at Medill that you still use today?
Little known secret: Even after graduating, you spend the rest of your life trying to avoid a Medill "F."
How have you tapped into the Medill network in your career?
I owe many interviews, and at least a couple of jobs, to the Medill network. It's real!