Brennan, Wilbon join Medill as professors of practice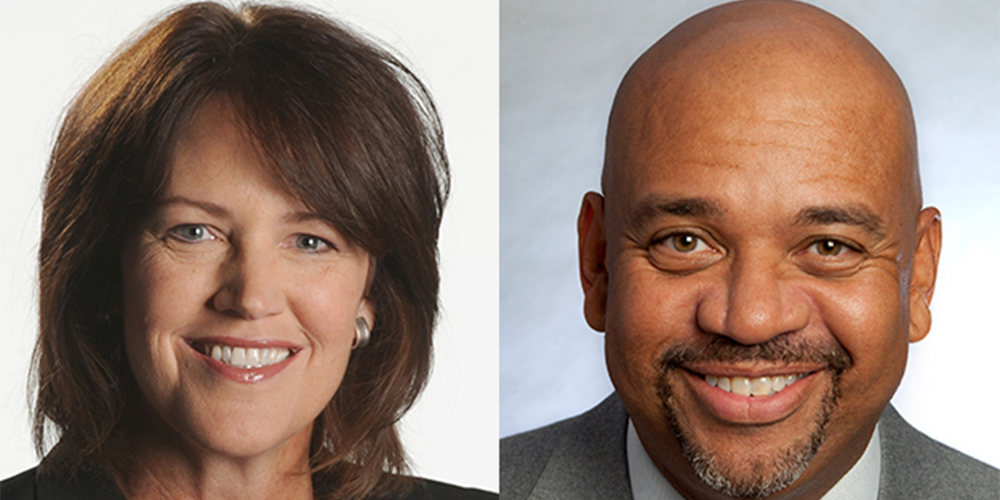 Leading national sports journalists Christine Brennan of USA TODAY and Michael Wilbon of ESPN will join the faculty of Northwestern University's Medill School of Journalism, Media, Integrated Marketing Communications as professors of practice as part of the school's new sports journalism graduate program.
In addition to continuing their current professional roles at USA TODAY and ESPN, respectively, Brennan and Wilbon, former Medill classmates and distinguished alumni, will teach part time at Medill. Operating out of Medill's Washington, D.C., newsroom, they will contribute regularly to classes, projects and events on Northwestern's Evanston and Chicago campuses.
"Christine and Mike care deeply about educating and inspiring the next generation of sports journalists," said Medill Dean Brad Hamm. "They are ideal role models for our students, and I appreciate their strong commitment to the excellence of Medill and Northwestern."
Brennan (BSJ 80, MSJ 81) is an award-winning national sports columnist for USA TODAY, a commentator for ABC News, CNN, PBS NewsHour and National Public Radio, and a best-selling author. She has covered 16 consecutive Summer and Winter Olympic Games, numerous Super Bowls and college football and basketball championship games, and international events in more than 20 countries. She has written seven books, including the 1996 best-seller, "Inside Edge," which was named one of the top 100 sports books of all time by Sports Illustrated, and her father-daughter memoir, "Best Seat in the House."
Brennan, the first full-time female sportswriter at The Miami Herald and first woman to cover the NFL for The Washington Post, was the first president of the Association for Women in Sports Media (AWSM). As president of AWSM, she started a scholarship-internship program that has supported more than 130 college-age women pursuing careers in sports media. At Northwestern, Brennan has initiated mentoring and speed-networking events for Medill students as well as student-athletes. She also has started an annual summer fellowship to provide support for Medill students doing unpaid journalism-related internships.
"Medill didn't just prepare us to be journalists," Brennan observed. "It literally launched us into the adventure of a lifetime. Michael and I have known each other since the first day of our freshman year, so it's a great honor for us to be able to serve the school we love in this manner."
Wilbon (BSJ 80) serves on Medill's Board of Advisers, and both he and Brennan serve on Northwestern's Board of Trustees. In addition, both are members of Medill's Hall of Achievement for distinguished alumni.
Wilbon is co-host of "Pardon The Interruption" (PTI) on ESPN, a contributor to ESPN and ABC's coverage of the NBA, and a columnist for ESPN.com and ESPN Chicago. Wilbon enjoyed a 30-year career at The Washington Post, including 20 years as a sports columnist. During his career, he covered numerous Summer and Winter Olympic Games, Super Bowls, Final Fours, NBA Finals, major golf championships and Stanley Cup Finals.
The Society of Professional Journalists honored Wilbon as top sports columnist in America in 2000. The National Association of Black Journalists awarded Wilbon its lifetime achievement award in 2009. He has edited two books with NBA Hall of Famer Charles Barkley, "I May Be Wrong But I Doubt It" and "Who's Afraid of a Large Black Man," both of which made the New York Times Best Sellers list.
Wilbon and his former Washington Post colleague Tony Kornheiser have co-hosted PTI since the show's debut in October 2001. PTI earned the 2009 Sports Emmy Award in the "Daily Studio" category. Previously, Wilbon appeared on a pair of WRC-TV-4 sports shows in Washington, D.C., "Redskins Report" and "Full Court Press," both with broadcaster George Michael.
At Medill, sports journalism students are mentored by many Medill alumni. They participate in excursions and brief residencies with media, teams and sports brands, travel to different cities to understand sports in a new environment and take selected courses in sports journalism and communication. Graduates will join the legion of Medill alums who are sports media professionals.
The sports journalism program also features signature speakers and discussion events, such as the recent "Beyond the Box Score: The Female Voice in Sports Media." Brennan moderated the program, featuring CNN and Turner Sports' Rachel Nichols (BSJ95), Fox Sports' Pam Oliver and ESPN's Cassidy Hubbarth (BSJ07).
Medill adjunct faculty members include Lester Munson of Sports Illustrated and ESPN and LZ Granderson of CNN. The program also hosts many guest speakers from Medill's vast network of alumni working in sports journalism including ESPN Radio's Mike Greenberg (BSJ89), ESPN's NFL Insider Adam Schefter (MSJ90) and ESPN's J.A. Adande (BSJ92), as well as executives in major sports franchises and television networks.
The program's home base is suburban Chicago, one of the nation's primary sports hubs, which affords myriad opportunities with major media outlets and the chance to cover and interact with professional sports franchises including the Bulls, Bears, Cubs and White Sox, Blackhawks, Fire and Sky, plus the Big Ten and its television network, and of course Northwestern athletics.  Sporting News named Chicago the Best Sports City in 1993, 2006 and 2010. Medill also hosts chapters of AP Sports Editors (APSE) and the Association for Women in Sports Media (AWSM).