Not your same old toothpaste: Colgate COO tells IMC students about rapidly changing industry
Northwestern alumnus Justin Skala talks about ability to maintain strong brands worldwide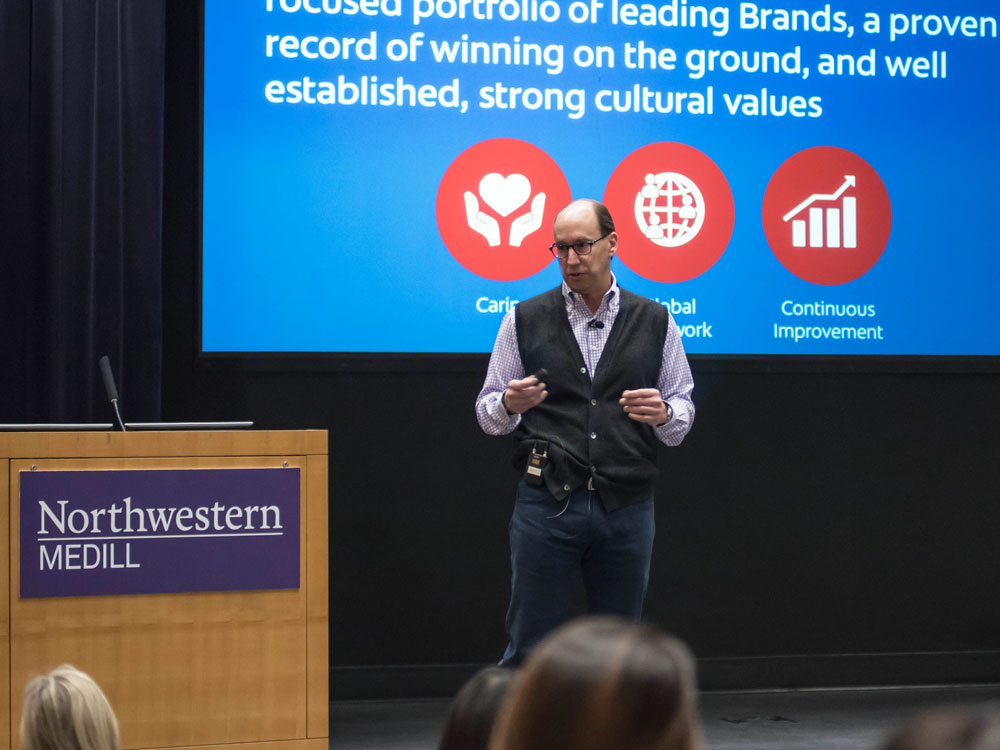 Every morning for years you've reached for your toothbrush and toothpaste in the exact same way, but over those years, the consumer packaged goods industry for healthcare products has changed rapidly.
Colgate Chief Operating Officer Justin Skala (Weinberg82) spoke to Full-Time Integrated Marketing Communications (IMC) master's students about these changes during an IMC Strategic Process class on March 12.
According to Skala, big shifts such as globalization, speed of technology innovations, limited resources, local competition, e-commerce expansion and accelerated customer activism have led Colgate to shift its product lines, distribution and marketing, while remaining true to its core brand values.
One of Colgate's strategies has been to maintain a strong portfolio of brands across the world, and this means being people-centric and evidenced-based. This often involves adapting brands to the local market and finding ways to expand into emerging markets around the world by developing new products that meet consumers' functional and emotional needs.
This rang familiar for Medill IMC students, who learn every day how to put the customer at the center of all marketing communications efforts and use quantitative and qualitative ways to learn about consumers and engage with them in meaningful ways. 
"Skala spoke about how Colgate's success is based on two things: one, being people-centered (the art), and two, being evidence-based (the science)," said IMC student Rachel Walker. "This aspect of the "art and science" drives home what we've learned through Medill IMC, which is that companies and campaigns require both quantitative and qualitative elements to be successful."
Skala was quick to point out that information alone does not equal insights. Insights are uncovered at the intersection of human truths, brand truths and cultural truths, he said.
"The Medill IMC mindset emphasizes what matters most," Skala said. "We share the view that success requires a full understanding of our consumers and that digging into the data can reveal key insights and enable better decisions."
In talking about what makes visits such as Skala's so valuable for IMC students, Walker said, "Listening to guest lecturers who are current industry leaders and experts provides the context that helps us make connections and apply what we're learning in the classroom to the real-world challenges we'll face in our future careers."
Colgate has been a friend to the IMC program for several years. IMC students have worked at Colgate on individual and team projects during Immersion Quarter. Several students also have been hired to work at the company after graduation, both domestically and abroad.
"We love how the Medill IMC students and faculty demonstrate a burning curiosity about consumers and then use what they learn to solve specific business challenges," Skala said.