Alum panel: IMC connections, key lessons pave path to success for future grads
Event highlights how IMC creates connections that benefit alums in the careers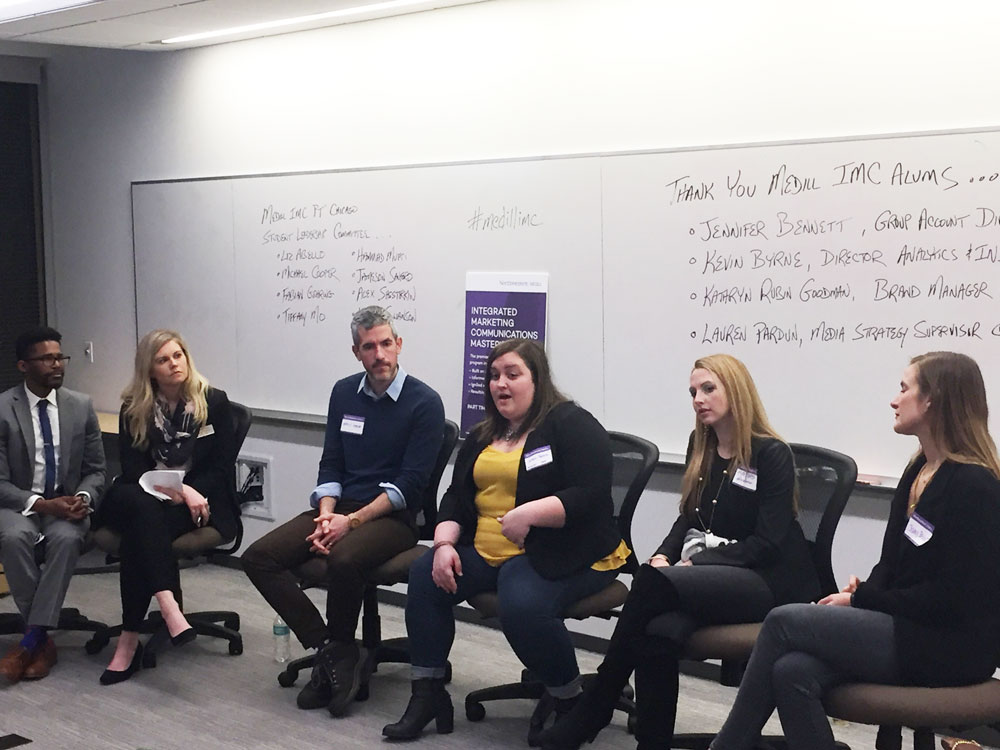 Jennifer Bennett (IMC16) knew she wanted life to be different when she moved back to Chicago from Los Angeles a few years ago, but she hadn't determined what would change. A connection with a former colleague helped shaped the plan.
"A former boss who had spoken highly of his IMC experience sparked my interest in the program," said Bennett, group account director at Havas. "I not only wanted my life to be different, but I knew different was going to include graduate school part-time."
Bennett spoke with other Medill IMC alumni at a KnowledgeX event sponsored by the Medill IMC Student Leadership Committee on Feb. 9. They said one of the great benefits of an IMC education starts and ends with connections—the ones formed during and after their decision to attend Medill for graduate school.
Lauren Pardun (IMC14) used agency connections made during the IMC Immersion Quarter to find a job as a strategy supervisor with OMD, a global, integrated communications agency.
"The connections built through the program and the recognition of the program helped us stand out from the competition," Pardun said.
For Kevin Byrne (IMC10), director of analytics and insight with Spark Foundry, IMC provided another type of connection based in the lessons he learned while an IMC student.
"IMC's practice of encouraging students to take different classes in different areas equipped me to connect the dots in order to bring data to the forefront of decision making," said Byrne.
Others added that Medill IMC taught them to define the problem and identify the insight. It always goes back to who is the consumer and what companies are solving for them.
"One can get stuck on a creative idea or start to include his or her own preference into the equation," Bennett explained. "Fortunately, the IMC program reinforces time and time again to not look at only one thing, whether it be the problem, the insight or the strategy, but to really think about all the pieces before making a decision."
"We don't have to be the expert on everything, but we can make sure the questions asked help inform the strategy needed to make the investment," Byrne added.
"IMC embraces all facets of marketing, offering an opportunity to understand the whole picture, not just one sliver of the business," Bennett concluded.