Medill student work tells important stories
Experiences and skills from Medill help students find, create published works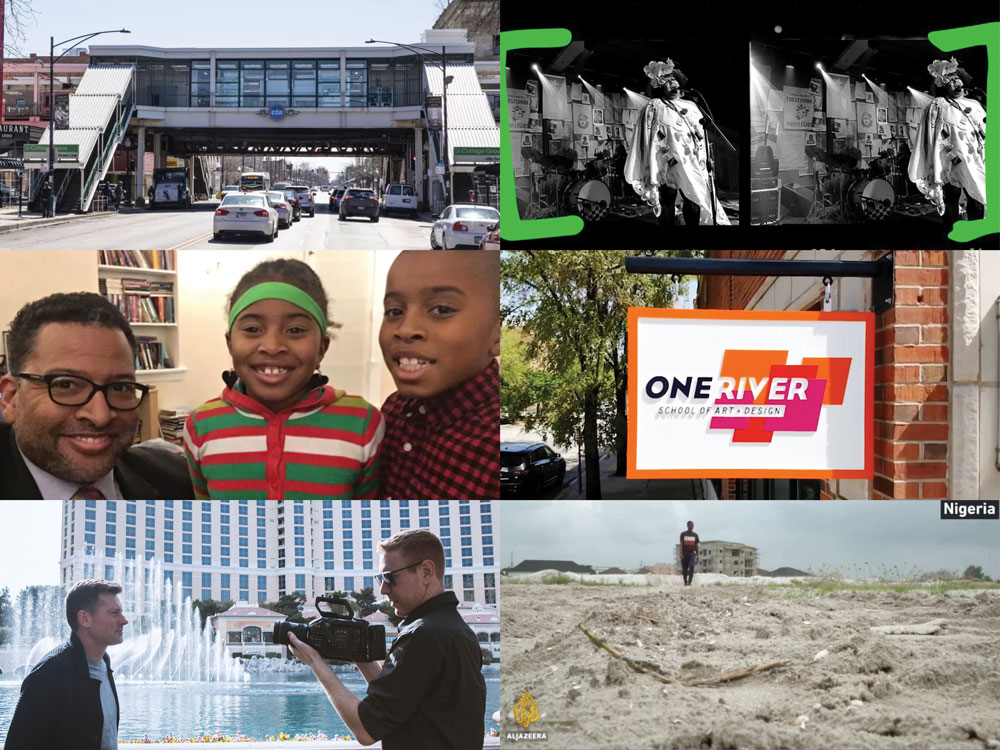 Medill students consistently produce high quality work that is published by various media outlets and companies. They take the skills they learn in the classroom and apply them to real-world situations to tell powerful stories. Here is a small sample of the work that was published this past quarter by Medill journalism and integrated marketing communications students. Many of the stories arose from opportunities and partnerships provided by Medill, and with support of and guidance from Medill faculty members. 
"Woodlawn development rises in the east, but some wonder when it will head west"
By Troy Closson (BSJ20)
Published in Chicago Sun-Times on May 5, 2019
Closson's article was published on the front page of the Chicago Sun-Times. He started working on the story, which looks at economic development in the Woodlawn neighborhood, during his Journalism Residency at the Sun-Times this winter.
"We Could Do Things Without Having to Ask Permission"
After Hurricane Maria, life on Puerto Rico is incredibly hard. But the island's queer scene is more vibrant than ever.
By Justin Agrelo (MSJ19)
Published in Slate on April 17, 2019
Through Medill Explores, Agrelo traveled to Puerto Rico to report on how impoverished communities were recovering after Hurricane Maria and also learn best practices for global and bilingual reporting. 
"Inside the Edge: A Professional Blackjack Adventure"
By Chris Buddy (IMC20)
Documentary released through Gravitas Ventures on May 21, 2019
Buddy's feature documentary film looks at the world's elite professional blackjack players who have beaten casinos for millions of dollars while trying to evade casino surveillance. It was released through Gravitas Ventures and will be most cable providers/all Video-On-Demand platforms + Blu-Ray/DVD
"Illinois' Medicaid backlog leaves more than 100,000 without health coverage"
Becky Dernbach (MSJ19)
Published in Chicago Sun-Times on May 3, 2019
Dernbach's investigation appeared in the Sunday print edition of the Chicago Sun-Times. She is a student in Medill's Social Justice and Investigative Reporting Specialization.
Content Strategy for One River School
Richard Chou (IMC19), Livy Davey (IMC19), Chang He (IMC19), Inés Nava (IMC19), Crispin Hu (IMC19) and Hannah Ventola (IMC19)
Integrated Marketing Communications (IMC) master's students created marketing strategies and content—including videos—for local Evanston business through Professor Candy Lee's Content Strategy course. One group worked with One River School and developed a plan to drive awareness with the goal of having children sign up for one of the company's art classes.
"To Return a King"
By Dan Order (MSJ18) and Kaitlin Englund (MSJ18)
Published by Al Jazeera English on June 3, 2019 
Graduate journalism students in Associate Professor Brent Huffman's class last summer traveled to Lagos, Nigeria to produce a documentary. It looks at the impoverished Nigerian waterfront community of Otodo Gbame that police razed.