Medill's five-day course helps IMC students ask the right MarTech questions
Immersive course in San Francisco tailored to part-time and online students who are working professionals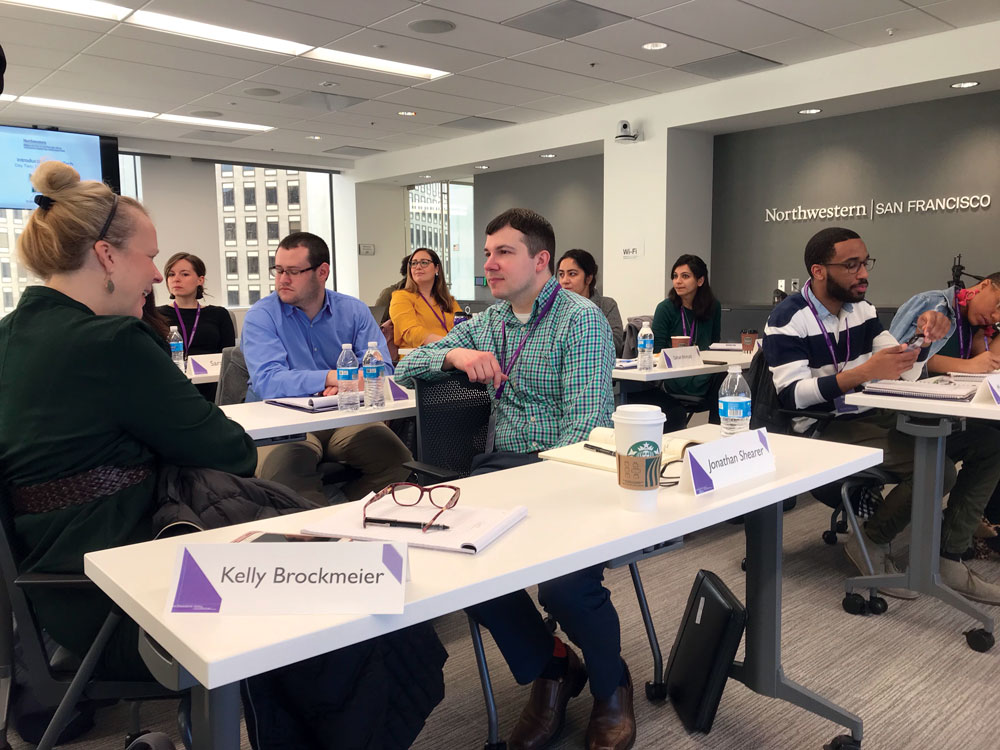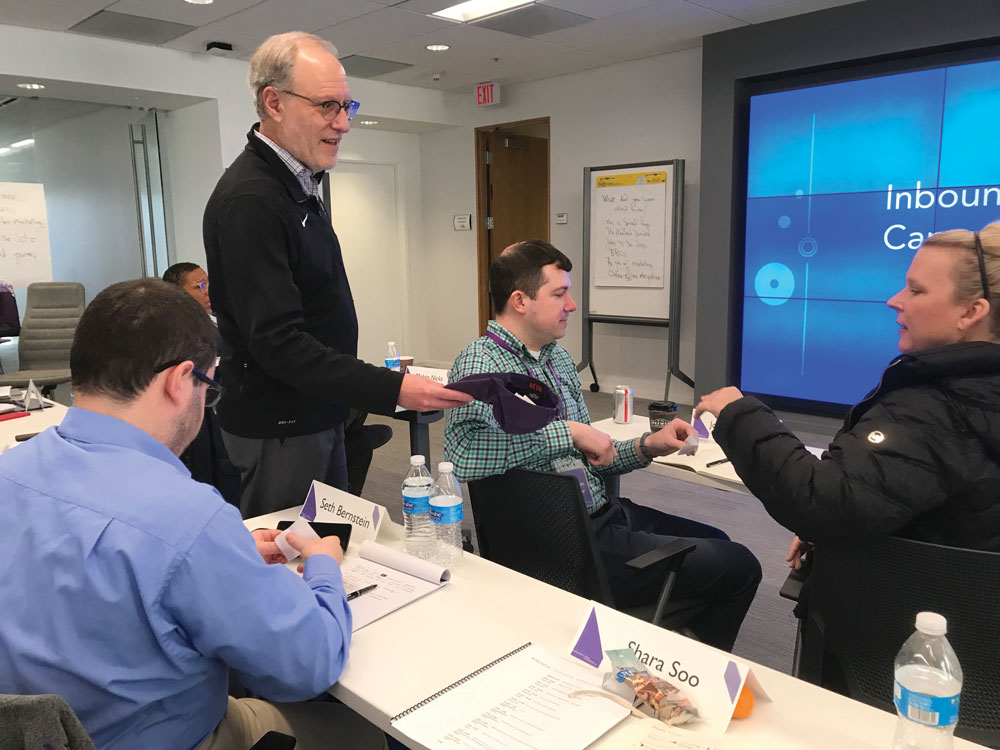 Medill faculty member Jonathan Copulsky led a team of 24 IMC Part-Time and Online master's students through a caffeine-fueled, five-day immersion course in Marketing Technology (MarTech) at Northwestern's San Francisco campus in the heart of the city's financial district in March.
MarTech is the blending of marketing and technology, especially programs and tools that harness technology to achieve specific marketing goals.
"This course is intended to peel back the onion a bit for marketers who may be familiar with concepts like personalization, recommender systems, remarketing and programmatic buying, but are curious to understand a little more about the technologies necessary to deliver these concepts," Copulsky said. "It also exposes students to what's next, in terms of the technologies that will become increasingly more prominent in the next 2-3 years."
He added, "The class is meant to be introductory in nature where the goal is to equip you to ask smart questions. This isn't for the expert."
The experience, which counted as a full class credit, brought in 13 guest lecturers from companies such as ZenReach, Hubspot, Salesforce, Deloitte Digital and Google. Discussion themes included the new marketing reality, designing campaigns, conversational AI tools, integrating the physical and digital worlds, inbound marketing, the MarTech "stack," enterprise-level solutions and best practices.
The goal was for students to be able to identify how marketing technologies create value by enabling responsive customer journeys and understand what a MarTech stack looks like in its most complex forms and how all of this can generate actionable insights. 
With phones put away and laptops shuttered, students in this class went back to the classic pen-on-paper note taking system as speakers unraveled the many layers of modern MarTech tools.
Marketers almost never have the luxury of starting on a clean slate; legacy systems are always in place and you just have to layer new capabilities on top of those, Copulsky and most of the guests pointed out throughout the week. When Carla Borsoi talked through Patreon's marketing technology stack comprising nearly 30 pieces across general, event, blog and engagement tools, she looked at the sheer number listed on her slides and admitted that this is the reality of MarTech at work.
Great customer journeys happen when brands are able to attract, delight and engage prospects and customers no matter when and where they interact and help them progress in the moments that matter most. Technology is redefining consumer expectations from brands. Salesforce presented research results saying nearly 80% of customers point to their experiences with the brand's touchpoints being as important as the product itself. Nearly the same percentage of customers expect a consistent experience with brands irrespective of the channel on which they are engaging. 
In the small and big moments, the SFO MarTech course served as a reminder that tools in any industry are there to help customers. "You don't need a complex tool when a simple tool can do the same job," said Copulsky, putting an IMC lens on all the jargon.
Student participant Wyeth Watnik (IMC19) summed up one of the course's key takeaways. "Many of the tools can perform essentially the same tasks with only small points of differentiation. The people using the tools matter more than the tools," Watnik said. "It is better to find a rock-star employee and let them use the tools they are comfortable with." 
Midway through the week, a group of Medill IMC graduates came to speak to the group to discuss the changing marketing landscape and how technology is playing a role. The speakers, Any Cheng (IMC08), head of product marketing, Wi-Fi technology, international marketing at Facebook; Christiana Stewart (IMC15), senior marketing manager, loyalty promotions at Sephora; Kimberly Lee (BSJ13, IMC CERTIFICATE 13), associate director, business development - international business at Tencent America; and Brandon Manzano (IMC16), regional marketing manager, North America at Ingenico ePayments, discussed how they are applying MarTech tools in their career after the Medill IMC program.
Lee revealed how facial recognition technology is already in use at Tencent events and the primacy of artificial intelligence in the company's future planning. Stewart said Sephora's next big leap would be in using a combination of chatbots and conversational tools to deliver the right products to customers at just the time they may be running low or running out of their previous stocks.
This alumni event got a lot of great reviews from the group. "I intended to stay an hour and ended up there much later, jet lag and all," said Corinne Aaron-Pavic (IMC19), an online student who flew in from the Netherlands for the course. 
If there was one question that dominated the week, it was, "Where does a contextual customer journey end and when does it get 'creepy'?" Cheng got a rousing round of applause for her answer during the alumni panel: "Oh, we're nowhere near doing it right, we're still 10 years away from great customer journeys."
Sylvia Yu (IMC20), one of the few San Francisco locals in the course, said she really loved hearing from people outside of Silicon Valley talk about technology. "I feel sometimes people in the Bay Area are caught up by technology. They end up overlooking the focus, which should be the consumer we serve and the value which marketing creates for business, not the different tactical tools."