Northwestern Medill IMC master's students turn tribulations into triumphs during 2020 Immersion Quarter
Northwestern Medill IMC master's students turn tribulations into triumphs during 2020 Immersion Quarter
The 10-week program pairs students with real companies, real business problems and real opportunities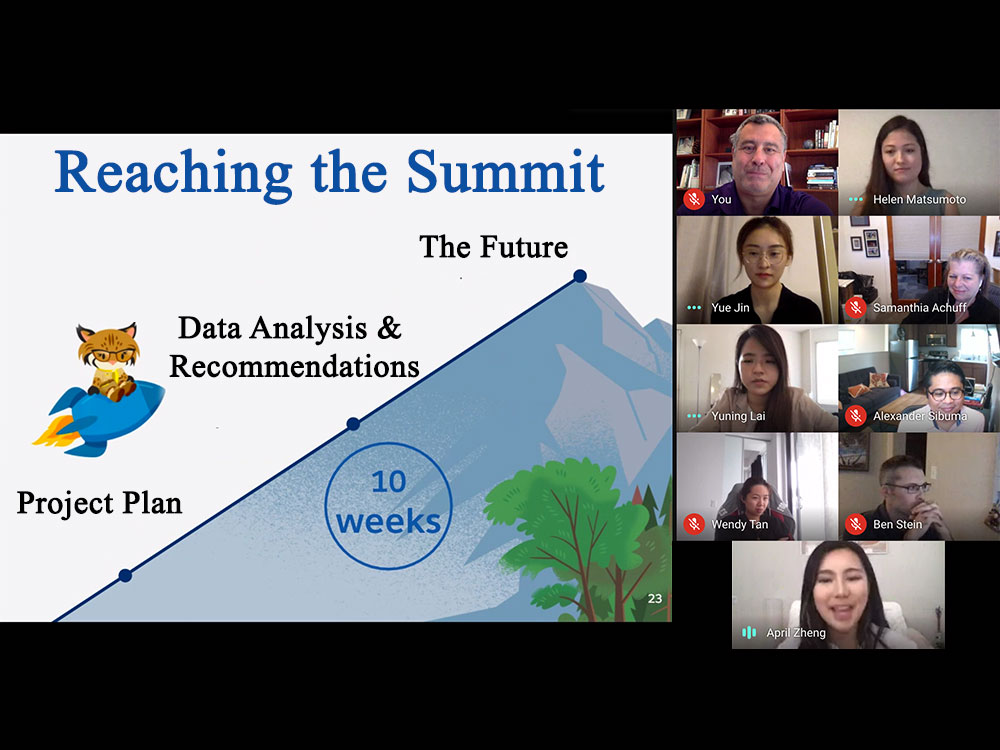 Hands-on experiences are a hallmark of a Northwestern Medill education. When the COVID-19 pandemic hit earlier this year, it became apparent that the longstanding Medill Immersion Quarter would look different than in years past. While the format was different—virtual rather than in-person at companies across the U.S.—what didn't change were the opportunities for students to complete real-world consulting projects, the resume-building experiences and the networking opportunities.
During Immersion Quarter, Integrated Marketing Communications (IMC) Full-Time master's students work individually or in teams of three to five. The experience combines on-campus leadership training with working on-site at a company for 10 weeks during the summer quarter. The new virtual format this year required students and sponsors to adapt.
"I was so impressed with the students and sponsors who participated in the 2020 Immersion Quarter," said Hamad Bin Khalifa Al-Thani Professor of Integrated Marketing Communications and Associate Dean of IMC  Vijay Viswanathan. "Students were faced with not only their particular project but also with having to complete it entirely online to maintain social distancing. Despite these challenges, the students demonstrated tremendous resilience and produced stellar work that's reflective of their top-tier abilities and preparation from the IMC program."
One of the students who participated in this year's Immersion Quarter is Helen Matsumoto (IMC20). She worked on a team at Salesforce that was tasked with creating a machine learning model to segment Salesforce customers so that they can be targeted with tailored marketing. Matsumoto described the project as "very challenging" but says it instilled in her a resourcefulness she didn't know she possessed. "I learned to have the mindset of when you run into a wall, find a way around it," Matsumoto said.
Students are supported throughout their projects by faculty advisers who act as mentors and sounding boards for ideas. As Matsumoto notes, "We had so much support from Northwestern professors and advisers, especially Associate Dean Viswanathan. During the most challenging stages of the data analysis, he was more than happy to meet with us multiple times and week to provide us with his guidance and expertise. It was because of his encouragement and belief in our abilities that we were able to push through."
That support and Matsumoto's resourcefulness paid off when Salesforce offered her a full-time data analyst position so that she could continue the work her team began during Immersion Quarter. "I was so thrilled," she said. "Before this project, I wasn't seriously considering pursuing a job in data, but I discovered that I really loved the project and learned that I have a knack for analysis. It's changed my entire thinking on what kind of career I want to have."
Joan Yanabu, vice president of customer adoption and growth at Salesforce, has worked with Medill students on several projects over the years and she sponsored Matsumoto's team this year. "The students have been amazing and many are experts in their own right, bringing both professional and academic experience to the table," said Yanabu. "Medill IMC students are smart, empowered, creative problem-solvers who consistently bring a beginner's mind to the problem and seamlessly partner with existing employees to solve for the problems. They are open-minded and very receptive to coaching and being mentees and their work ethic and dedication create high-quality deliverables."
Assistant Professor and Director of Immersion Quarter Gerry Chiaro (MSA84) says that the program is grateful to work with the corporate sponsors who support the program. "Our sponsors really come together for us," said Chiaro. "Their commitment and energy help us introduce students to real-world experiences that give them the opportunity to excel in the program and succeed in their careers after graduation."
Some students like Samantha Huang (IMC20) choose to work on individual projects during Immersion Quarter. Huang worked at The Coca-Cola Company where she was tasked with researching consumers' needs and tensions with a current product. Once she had completed her research, she got to collaborate with Coca-Cola's research and development team to create a formula for a new drink that her research showed may meet customer expectations.
Huang's sponsor, Augusto Elias, who is the global marketing head of advanced hydration at The Coca-Cola Company, said, "I really appreciated Samantha's energy, enthusiasm, ability to work independently under difficult situations such as remote work during quarantine, creativity and ability to tell a story. She has all the right skills and attitudes we look for."
Huang said she connected with her supervisor twice a week to talk about the project as well as career advice. "It was very similar to the work I will be doing in the future," Huang said. "I had to take the initiative and cooperate with people from different functions. The experience pushed me into a real-world scenario, which has been very valuable to me."
One group of students whose work was not only affected by the pandemic but was also about helping stop it was the team working at QIAGEN. The leading global biotech company took part in the pandemic response by launching rapid portable tests that can provide results in fewer than 15 minutes. The Medill team was tasked with supporting the activation plan of a molecular testing product. Janet Wen (IMC20) was part of the team and said that her responsibilities were analyzing data, designing visuals and collaborating with her team on market strategies, development and content creation.
"My favorite aspect of the project was working with my teammates," Wen said. "I was amazed by how each of us brought different skillsets to the table and were able to tackle challenges together. I really appreciated their support and care for me."
Miranda Hanson-Baseler, who sponsored the team and serves as the director of campaign management and molecular diagnostics at QIAGEN, was impressed by the team as well. "This year's group went above and beyond expectations every day to ensure delivery of high-quality work," Hanson-Baseler said. "Their ambition, dedication and professionalism were evident on day one and only grew stronger by day 63. I was very impressed by this group's teamwork and perseverance—particularly due to the format being virtual. Their consideration for each other and their passion in the work that they were doing were inspiring to see."
Visit the Medill website to learn more about Immersion Quarter and how it helps prepare students for their future careers.