Medill Survey Respondents Say Their News Organizations Are Increasing Diversity Efforts
Changes Accelerating Since Social Justice Protests in 2020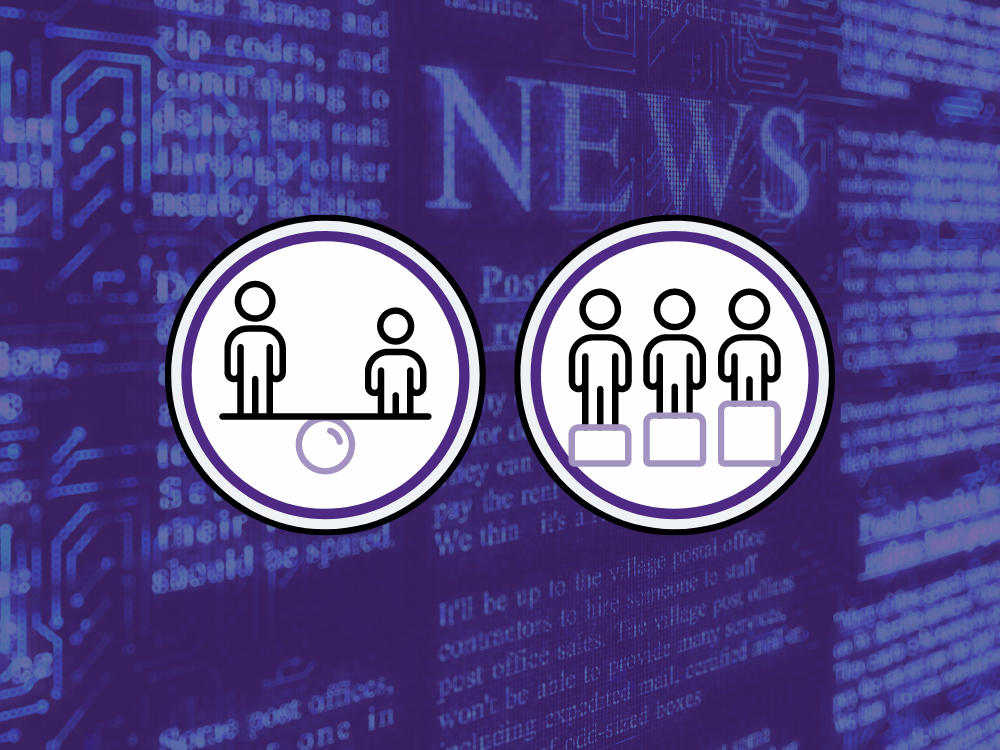 EVANSTON, ILL. -- More than a year after social-justice protests called attention to the lack of diversity in newsrooms, journalists report notable changes at their media organizations, including new training programs, hiring procedures and policies related to language used about communities of color, according to a survey from the Medill School of Journalism, Media, Integrated Marketing Communications at Northwestern University.

Nearly four of every five survey respondents said the new efforts to promote diversity, equity and inclusion (DEI) have positively affected the journalism industry. The survey also found that 56.3 percent of those responding said their news organizations have formal positions devoted to DEI and advocacy work. More than 1,500 members of the U.S. news media completed the questionnaire.

The survey results indicate "a shift" may be occurring, said Stephanie Edgerly, Medill associate professor. "A majority of people see diversity as a benefit, as a positive for the industry," she said. "But digging in and committing to culture change in newsrooms will require more change, effort and support. There is still a lot more work to be done."

One difficulty in measuring progress is the lack of a baseline, said Danielle K. Brown, the Cowles Professor of Journalism Diversity and Equality at the University of Minnesota, who helped conduct the survey. "There are more people at the table. A lot of people are thinking about ways to change," she said. "But I don't think they have a grip on the whole package that's needed to change radically, which is what they pledged to do."

Diversity in newsrooms has lagged the nation overall for generations, and newsroom employees still are more likely to be white and male than U.S. workers in general.

The Pew Research Center found that 77 percent of those who work as reporters, editors, photographers and videographers in the news business were non-Hispanic whites, according to an analysis of 2012-2016 American Community Survey data from the U.S. Census Bureau. Workers in all occupations were 65 percent non-Hispanic whites, a 12 percentage-point difference. About 61 percent of newsroom employees identified as men, more than the 53 percent level of all workers.

The highest level of satisfaction was found among those working in TV news.

Asked if their media organizations value diversity, equity, inclusion and advocacy work, 71 percent of the survey respondents overall agreed. Among television journalists, more than 80 percent agreed, and TV journalists were more likely than people working for other types of news organizations to agree that DEI efforts were comprehensive at their employers and that they were satisfied with DEI efforts in their newsrooms. TV news organizations also were more likely to have formal positions devoted to DEI and advocacy work, the survey found.

In some cases, TV executives recognize an opportunity to expand their audiences, said Dorothy Tucker, a veteran investigative journalist at CBS 2 Chicago who serves as president of the National Association of Black Journalists. "They're looking at the bottom line," she said. "If we devote some resources to these stories, at the end of the day our audience will increase."

One indicator to watch is the future status of newsroom executives who recently were put in charge of DEI and advocacy work.

After the murder of George Floyd on May 25, 2020, newsrooms came under pressure to make immediate changes, and some chose to appoint a head of diversity, noted Doris Truong, director of training and diversity at The Poynter Institute for Media Studies, a school for professional journalists and a journalism think tank.

But it isn't clear those executives are being supported, as some work on DEI part-time, in addition to other duties, or in isolation from other staff. "You can tell your stakeholders, 'We have someone in charge of DEI,' but what is that person equipped with?" Truong asked. "It's not something one person can undertake."

Similarly, hiring a reporter or team devoted to race could in the long run discourage deeper cultural change at news organizations, Truong said. "People who don't see the importance of diverse sources might say, "Well, if you want me to interview that kind of person, that's the race reporter's job.' "

The staying power of diversity efforts could get a boost from changing economics, as news organizations become less dependent on big advertisers, said the University of Maryland's Rosenstiel.

While advertisers pushed newsrooms to tailor coverage toward the wealthier, white-collar audiences they wanted to reach, a business model increasingly dependent on subscriptions could encourage more inclusive coverage, Rosenstiel said, "For publications to survive on subscriptions, memberships and donations, they need to serve pockets and neighborhoods they've ignored for years and years.

Another indicator to watch, the experts say, is the demographic make-up of high-ranking decision makers at news organizations. The journalism industry has repeatedly seen efforts to hire diverse talent fall flat when retention and promotion policies fail to change.

Even the predominantly white journalists who completed the Medill survey voiced doubts about newsroom efforts to encourage retention and inclusion of diverse colleagues. Just 30.7 percent of survey respondents said their organizations have made changes in that area, well below the numbers that expanded training and updated language policies, for instance.

"What really needs to happen is that news organizations need to build cultures of belonging," said Reynolds. "A lot of people feel they don't belong. They feel they're the only one there. Their stories and sources aren't deemed as worthy. They're not paid equitably. They're mistreated as colleagues. How could you ever feel you belong?"

NABJ's Tucker has seen journalists of color choosing to leave mainstream news organizations when they're unable to get ahead. "They're not as patient as we were," Tucker said. "We waited it out. We believed that if we continued to do our job that someone would recognize us. Young people today are smarter than we are, and they're saying, 'No.' "

For proof that today's diversity efforts are making a difference, count the African Americans in top management positions in newsrooms of the future, Tucker said. "It is still difficult for Black journalists to reach that level."

Medill used Cision, a media listings database, to obtain email contact information from individuals who had at least one of the following keywords in their profile: columnist, correspondent, director, editor, producer, reporter, writer, then sorted the list for news organizations exceeding a minimal audience size. Exactly 25,000 people were invited to participate in the survey, which was open between Nov. 30 and Dec. 31.

For details about how the Medill Media Survey was conducted, please visit the Local News Initiatve website. The survey will be the subject of a discussion at a Medill Centennial panel at 6 p.m. Central on Thursday, Feb. 3, featuring newsroom leaders of ABC News, The Wall Street Journal, the Los Angeles Times and Vox Media. Register for Medill's panel on representation in media.